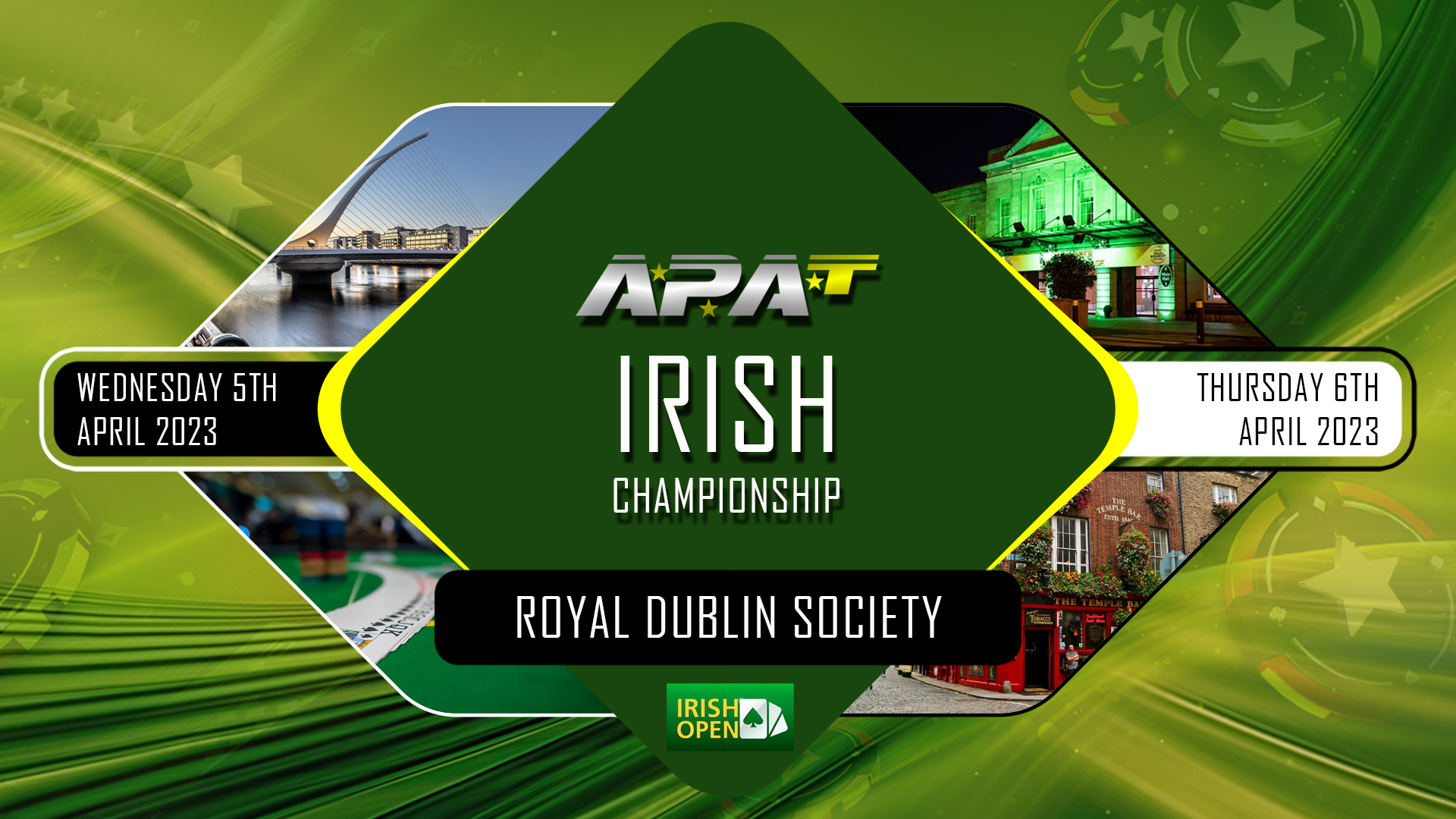 Dates : Wednesday 5th April 2023 until Thursday 6th April 2023
Venue : Royal Dublin Society, Merrion Road (R118), Dublin
Website : www.irishpokeropen.com
How to get there :
By Car :
Dublin City Centre is approximately a twelve-minute drive from The RDS. For traffic information updates around Dublin and city centre visit  AA roadwatch.
The RDS is located on Merrion Road (R118) which is a main artery into Dublin city centre. The RDS is within easy reach of the M50 north and south bound. There is ample parking available onsite at the RDS.
InterCity Rail services run from 2 different Dublin stations: Heuston Station and Connolly Station:
Heuston Station has trains to and from to Ballina, Westport, Galway, Limerick, Tralee, Cork, Waterford, Portlaoise and Kildare
Connolly Station has trains to/from Belfast, Sligo, Dundalk, Kildare, Longford and Rosslare Europort. The Luas Red Line links the two stations door to door
Heuston Station/Connolly Station to RDS: please visit Transport for Ireland for options.
The RDS is linked to the train stations by the DART at Connolly Station. Connolly Station is linked by the DART service to Lansdowne Station and Sandymount Station both of which are approximately a 5-minute walk from the RDS.
Schedule :
Wed 6pm : Irish Amateur Poker Championship Day 1 (€250) – play to in the money / 2am latest
Thu 12pm : Irish Amateur Poker Championship Day 2
Additional Event Info :
Open to everyone – all players must have photo ID to register.
Buy-in is available in-person, in the venue, on the day.
Hosted as part of the Irish Poker Open 2023 festival, the Irish Amateur Poker Championship will play with a single Day 1 as a 2-day NLHE MTT FREEZEOUT, and play to 'in the money' on Day 1, or 2am latest.
The prize pool will be confirmed on completion of the late reg period, which is for 8 levels, and the clock reduces to 20 min when 3-handed.
APAT Championship Gold, Silver and Bronze Medals will be awarded to the top 3 individuals – no player deals on payouts are facilitated.
STRUCTURE
| Level | Small Blind - Big Blind | Big Blind Ante |
| --- | --- | --- |
| 1 | 100-100 | |
| 2 | 100-200 | 200 |
| 3 | 100-300 | 300 |
| 4 | 200-400 | 400 |
| 5 | 300-600 | 600 |
| 6 | 400-800 | 800 |
| 7 | 500-1000 | 1,000 |
| 8 | 600-1,200 | 1,200 |
| 9 | 800-1,600 | 1,600 |
| 10 | 1,000-2,000 | 2,000 |
| 11 | 1,500-3,000 | 3,000 |
| 12 | 2,000-4,000 | 4,000 |
| 13 | 3,000-6,000 | 6,000 |
| 14 | 4,000-8,000 | 8,000 |
| 15 | 5,000-10,000 | 10,000 |
| 16 | 6,000-12,000 | 12,000 |
| 17 | 8,000-16,000 | 16,000 |
| 18 | 10,000-20,000 | 20,000 |
| 19 | 15,000-30,000 | 30,000 |
| 20 | 20,000-40,000 | 40,000 |
| 21 | 30,000-60,000 | 60,000 |
| 22 | 40,000-80,000 | 80,000 |
| 23 | 50,000-100,000 | 100,000 |
| 24 | 60,000-120,000 | 120,000 |
| 25 | 80,000-160,000 | 160,000 |
| 26 | 100,000-200,000 | 200,000 |