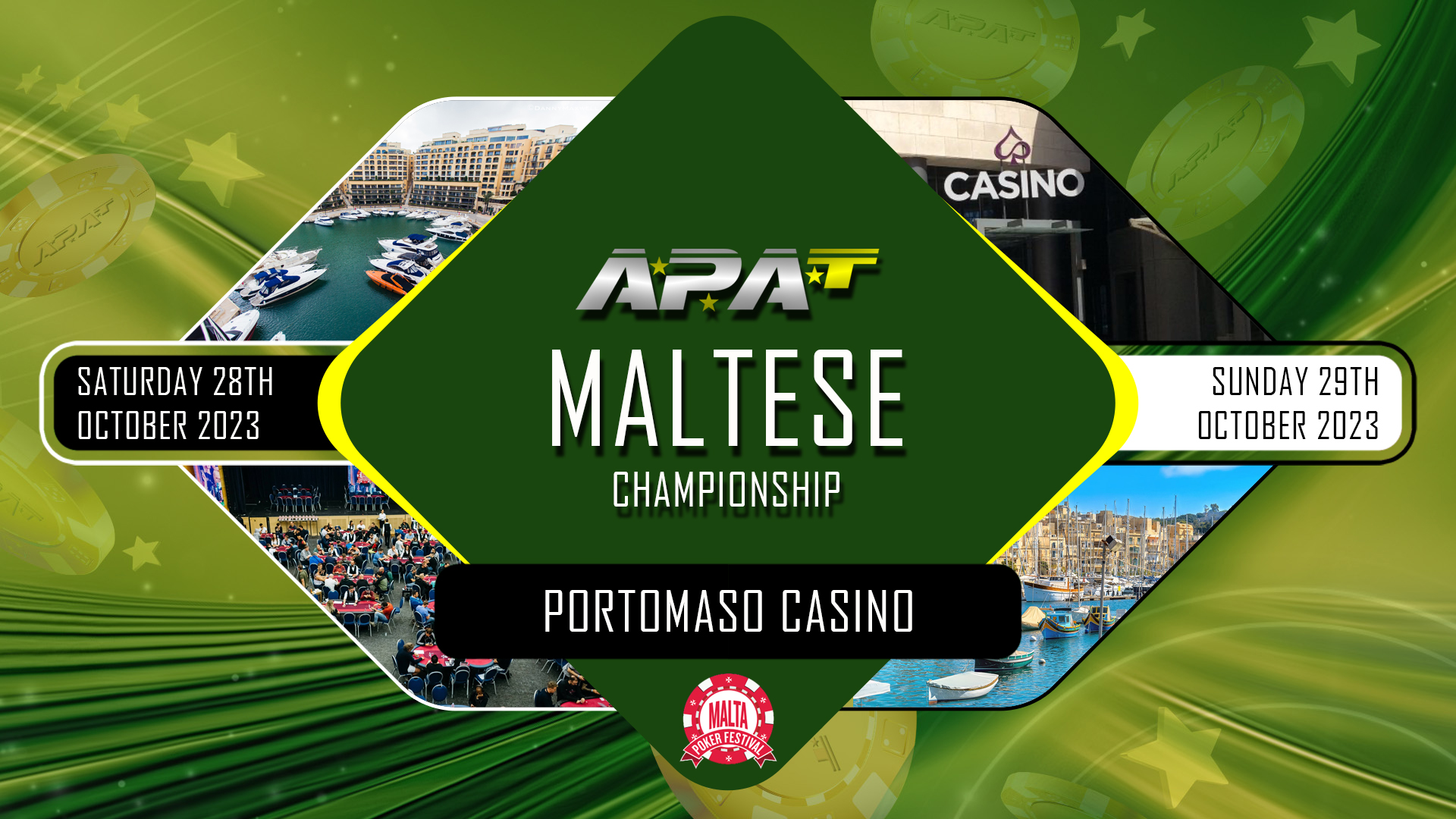 Dates : Saturday 28th October 2023 until Sunday 29th October 2023
Venue : Portomaso Casino, St Julian's, Malta
Website : www.portomasocasino.com
Tel :+356 2138 3777
How to get there :
By Air : Direct Flights available from most European countries
Schedule :
Sat 5pm :   Maltese Open Championship Day 1 (€100+€20)
Sun 2pm :    Maltese Open Championship Day 2
Additional Event Info :
The event is open to everyone – all players must be members of Portomaso Casino to be able to play poker, and photo ID is required to join, though we strongly recommend that ALL attendees bring Photo ID with them (ie even if a member).
Buy-in is available in-person, in the venue on the day.
Hosted at Portomaso Casino, St Julian's, Malta on Saturday 28th & Sunday 29th October 2023, the Maltese Open Championship will play with a single Day 1 as a NLHE 2-day MTT with re-entry / late registration allowed for 8 levels of play.  Day 1 will play down to 15% of entries who will come back for Day 2 in the money.
Day 2 starts on the level after which Day 1 completed, OR rolls back to a guaranteed minimum 33 x BBs for the start of Day 2, with all stacks put in play guaranteed a min cash.  The prize pool will be confirmed prior to the start of Day 2, and the clock reduces to 20 min when 3-handed.
APAT Championship Gold, Silver and Bronze Medals will be awarded to the top 3 individuals – no player deals on payouts are facilitated.
EVENT STRUCTURE - DAY 1
| Start | End | Level | SB | BB | Ante | Duration |
| --- | --- | --- | --- | --- | --- | --- |
| 17:00 | 17:30 | 1 | 200 | 500 | BB | 00:30 |
| 17:30 | 18:00 | 2 | 300 | 600 | BB | 00:30 |
| 18:00 | 18:30 | 3 | 400 | 800 | BB | 00:30 |
| 18:30 | 19:00 | 4 | 500 | 1,000 | BB | 00:30 |
| 19:00 | 19:20 | Break | | | | 00:20 |
| 19:20 | 19:50 | 5 | 600 | 1,200 | BB | 00:30 |
| 19:50 | 20:20 | 6 | 800 | 1,600 | BB | 00:30 |
| 20:20 | 20:50 | 7 | 1,000 | 2,000 | BB | 00:30 |
| 20:50 | 21:20 | 8 | 1,200 | 2,500 | BB | 00:30 |
| 21:20 | 21:40 | Break | | | | 00:20 |
| 21:40 | 22:10 | 9 | 1,500 | 3,000 | BB | 00:30 |
| 22:10 | 22:40 | 10 | 2,000 | 4,000 | BB | 00:30 |
| 22:40 | 23:10 | 11 | 2,500 | 5,000 | BB | 00:30 |
| 23:10 | 23:40 | 12 | 3,000 | 6,000 | BB | 00:30 |
| 23:40 | 00:00 | Break | | | | 00:20 |
| 00:00 | 00:30 | 13 | 4,000 | 8,000 | BB | 00:30 |
| 00:30 | 01:00 | 14 | 5,000 | 10,000 | BB | 00:30 |
| 01:00 | 01:30 | 15 | 6,000 | 12,000 | BB | 00:30 |
| 01:30 | 02:00 | 16 | 8,000 | 16,000 | BB | 00:30 |
| 02:00 | 02:30 | 17 | 10,000 | 20,000 | BB | 00:30 |
| 02:30 | 03:00 | 18 | 10,000 | 25,000 | BB | 00:30 |
EVENT STRUCTURE - DAY 2
| Start | End | Level | SB | BB | Ante | Duration |
| --- | --- | --- | --- | --- | --- | --- |
| 14:00 | 14:40 | 17 | 10,000 | 20,000 | BB | 00:40 |
| 14:40 | 15:20 | 18 | 10,000 | 25,000 | BB | 00:40 |
| 15:20 | 16:00 | 19 | 15,000 | 30,000 | BB | 00:40 |
| 16:00 | 16:20 | Break | | | | 00:20 |
| 16:20 | 17:00 | 20 | 20,000 | 40000 | BB | 00:40 |
| 17:00 | 17:40 | 21 | 25,000 | 50,000 | BB | 00:40 |
| 17:40 | 18:20 | 22 | 30,000 | 60,000 | BB | 00:40 |
| 18:20 | 18:40 | Break | | | | 00:20 |
| 18:40 | 19:20 | 23 | 40,000 | 80,000 | BB | 00:40 |
| 19:20 | 20:00 | 24 | 60,000 | 120,000 | BB | 00:40 |
| 20:00 | 20:40 | 25 | 80,000 | 160,000 | BB | 00:40 |
| 20:40 | 21:40 | Break | | | | 01:00 |
| 21:40 | 22:20 | 26 | 100,000 | 200,000 | BB | 00:40 |
| 22:20 | 23:00 | 27 | 125,000 | 150,000 | BB | 00:40 |
| 23:00 | 23:40 | 28 | 150,000 | 300,000 | BB | 00:40 |
| 23:40 | 00:00 | 29 | 200,000 | 400,000 | BB | 00:20 |
| 00:00 | 00:20 | 30 | 300,000 | 600,000 | BB | 00:20 |
| 00:20 | 00:40 | 31 | 400,000 | 800,000 | BB | 00:20 |
| 00:40 | 01:00 | 32 | 500,000 | 1,000,000 | BB | 00:20 |
| 01:00 | 01:20 | 33 | 600,000 | 1,200,000 | BB | 00:20 |
| 01:20 | 01:40 | 34 | 800,000 | 1,600,000 | BB | 00:20 |
Tom Brady
APAT Operations Director
Live Events & Tour
Email: tombrady[at]hotmail.co.uk
Facebook: https://www.facebook.com/TomBrady65/
WhatsApp: 07957 977 057