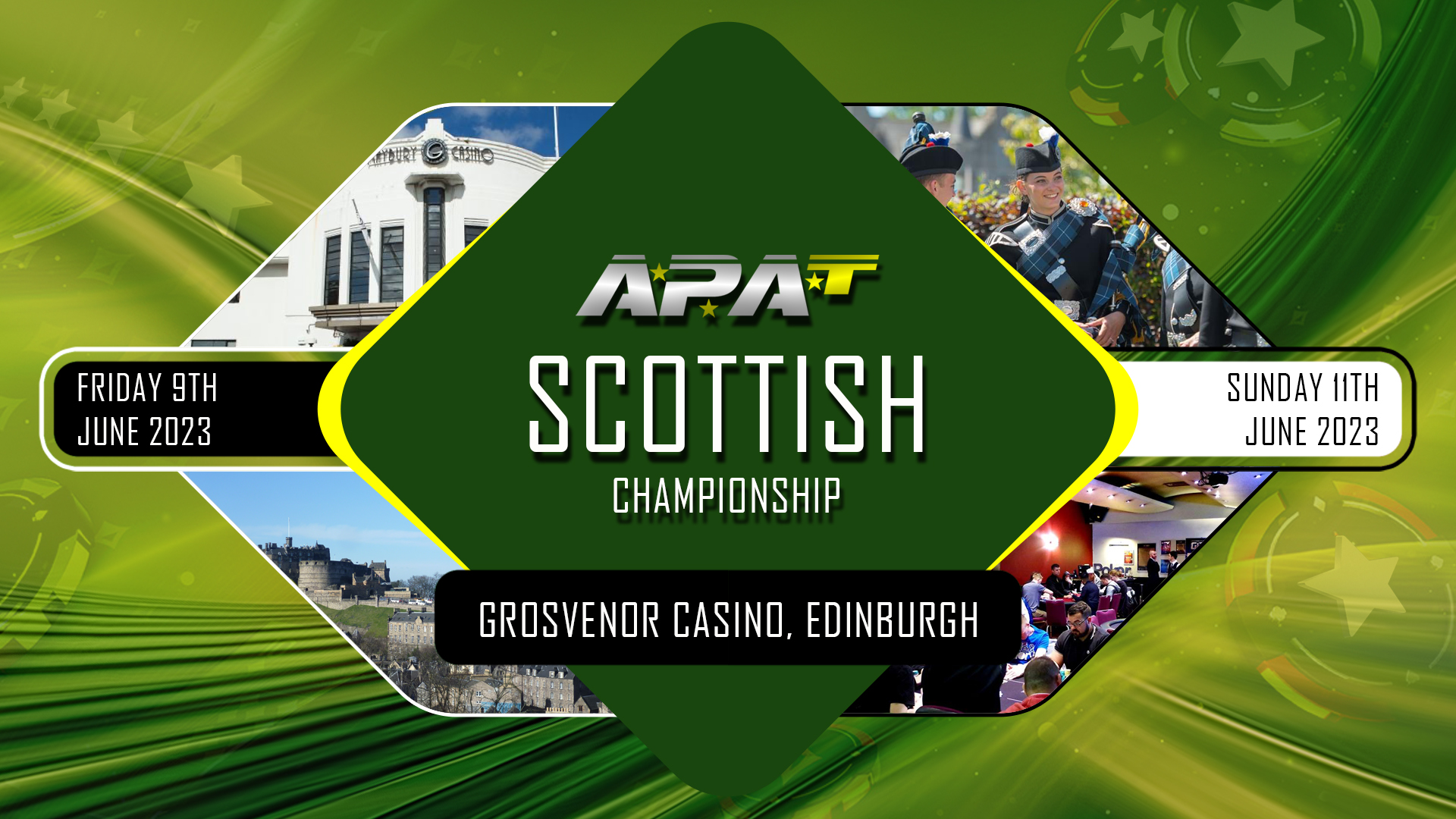 Dates : Friday 9th June 2023 until Sunday 11th June 2023
Venue : Grosvenor Casino, 1-5 South Maybury, Edinburgh, EH12 8NE
Tel : 0131 338 4444
How to get there :
By Car : The Grosvenor Casino Edinburgh, long-known as The Maybury, is situated in an original Art Deco building, just one mile from Edinburgh Airport.
Schedule :
Fri 9th 6pm : Scottish Amateur Poker Championship Day 1A (NLHE) (£100+£20)
Sat 10th 3pm : Scottish Amateur Poker Championship Day 1B (NLHE) (£100+£20)
Sat 10th 8pm : NLHE £58+£12
Sun 11th 1pm : Scottish Amateur Poker Championship Day 2
Sun 11th 2pm : Scottish PLO Amateur Poker Championship £100+£20
Sun 11th 5pm : NLHE £58+£12 
Additional Event Info :
All events are open to everyone – all players must be members of Grosvenor Casino, and photo ID is required to join, though we strongly recommend that ALL attendees bring Photo ID with them (even if already a member).
The Scottish Amateur Poker Championship Main Event will play with multiple Day 1's as a NLHE 2-day MTT DAILY FREEZEOUT.  A player may have 1 bullet in each Day 1 (including online), with Day 1's playing down to 15% of entries, with those coming back for Day 2 'in the money'.  Any player firing a subsequent bullet will immediately on their subsequent entry auto forfeit any Day 2 stack already won.
Day 2 starts after the level which finished earliest from the LIVE Day 1's, OR rolls back to a guaranteed minimum 33 x BBs (usually L17) for the start of Day 2, with all stacks put in play guaranteed a min cash.  Where an Online Day 1 is held, if this effects the live Day 1 33 BB average (eg completes earlier than L17) then the latest the Day 2 will commence will be L15, and L15, L16 and L17 will all play to the Day 1 clock (ie 25 or 30 mins – whichever was longest for the live Day 1's).   The prize pool will be confirmed after the completion of the final Day 1.
Pre-registration for all MAIN EVENT LIVE DAY 1's is available via GGPoker Online Holding Tanks and in-person in Grosvenor Maybury.
GGPoker BUBBLE PROTECTION
Qualify or Direct Buy-in for the Main Event via GGPoker and if you are the last player to bust before the end of play,
GGPoker will refund your £120 buy-in.