All hail Aspers Stratford London, and the clan McBride!
Strange title for APAT London, but certainly abiding memories of a great visit where right from the outset on Friday evening it wasn't only apparent that the local players where 'up for it', but also that Janis, which some may remember from his time at Grosvenor and especially his involvement in Goliath, and his team were also 'up for it' – in no small measure.
And not only that – they were well ahead of the game – outside of DTD I've never felt so comfortable in the knowledge that 'others' have got this – from Steve, one of the Aspers Casino General Managers coming to greet us on our arrival on Friday, to Janis and his poker management team and dealers, and the valet staff and even the casino security team, what an absolute breeze, and pleasure, to have them all look after us this weekend.  I hope, and believe, that it wasn't only Leigh, Des and I that thought this – I think the APAT regulars in attendance thought so also, which of course all added up to a cracking APAT London – only our second live event post-Covid!  Aspers London certainly warrants a repeat visit.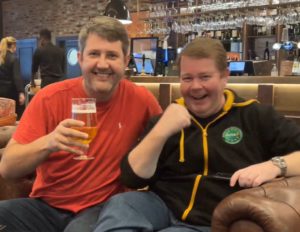 There was more chance of Des

buying a drink than either him or Steve Bayliff

missing the Liverpool match on Saturday!
But Poker – that's what we were there for!  So, following on from our new structure used at DTD for the UK Team Championship in Feb, we also held an Online Day 1 on the preceding Sunday evening, brought in a new 'play to in the money' structure, and introduced a new concept of 'Daily Freezeout' where players could fire 1 bullet in each Day 1 (with any previously acquired Day 2 stack forfeited).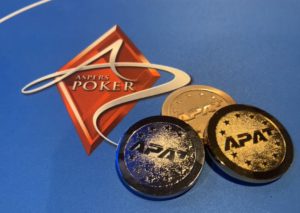 And the outcome of all that!  Remains to be seen from player feedback, but for me – went pretty darn well overall.  The online Day 1 I think is a no-brainer – it gives players opportunity to come to an APAT for Day 2 where otherwise they may not have been able to find the time to come for a whole weekend – Joby Plunkett being a case in point.  Joby played the online Day 1 and qualified through with a 1. 3m stack (65 Big Blinds) and popped in on Sunday to take his chance with everyone else.  Joby has had a busy few years with him now being a proud Dad of 2 young kids…  and he simply just couldn't commit to a full weekend away (but jeez Joby, was nice to get away I bet!).  This being exactly why, in tandem with our sponsors Party Poker, we have an online Day 1 – flexibility – convenience – and adds to the pot of course!
Speaking of which – £100 APAT event – £42,900 prize pool – 5 bags up top – absolutely thrilled to see such a prize pool.  But also, at the other end of the scale, with our new 'Day 2 in the money' structure – well, just ask Ken McBride about it – but for me, it works – and the expectation going forward is that whilst we retain this, the 'min cash' should remain around 'double' the buy-in – ish.
Check out this short clip of Des and Leigh having a chat and a 'walk round' the APAT Poker Room on Day 2 – take note of the last 'interview' Leigh had at 4 mins in – video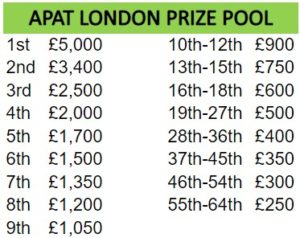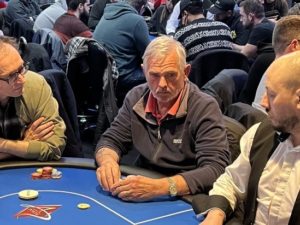 Whilst Ken made Day 2, he was however short stack of the 64/429 who progressed – 42.9m chips in play with an average stack of 33 x Big Blinds –  and no doubt his 12,500 stack was a little underwhelming for him, and whilst the inevitable happened pretty soon after SUAD, he did seem quite pleased with the £250 min cash – and although Ken had 2 bullets for this weekend, he sure looked pleased enough with that as a min cash – come on Ken let us know – you're not getting off scot-free – well, actually, you did!  You can follow Ken's departure at 2 mins 40 secs into this video.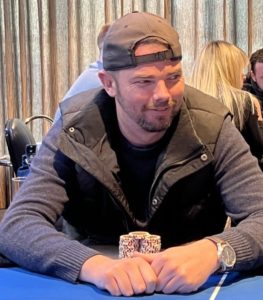 But if he was happy with that – well – Gary McBride – son and pride and joy of Ken – what can we say Gary except HUGE congrats on your 3rd place and APAT Bronze Medal – and although not for the 5 bags up top, 2.5 bags looks pretty good right now I would say.  Well, I'm aware Gary cashed for 2.5 bags, but with he and 'Dad Ken' having a 50% share of each other – well played Dad – easy game – your biggest 'cash' ever and we hope you both enjoy your 1.25 bags each.  Of course, it was Gary who left with the APAT Bronze Medal.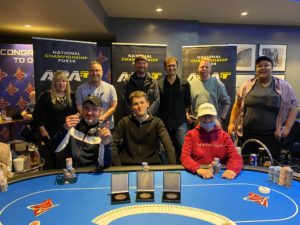 Day 2 had all players 'in the money' and

awarded £23,200 to 10th to 64th 
Down to Heads Up and everyone is talking about bags!  5 big ones (£5k) up top to be precise, along with the APAT Gold Medal, and with £3.4k and APAT Silver Medal for the 2nd placed – all being decided between Lee Houghton and Martin Kalinov.
You can view the Heads Up action with Leigh on video.
With around 43m chips in play, and Martin with a small chip lead, on 400k/800k Blinds it was Lee who made the first move pushing All In on the first hand, only to show 56off when Martin folded.
Though a few hands later Martin makes the same move and gets it through, and then on the Button next hand he does the same, but this time with Lee snap calling and flicking over As Kh, with Martin showing Ac 6s.
Flop 5s 5c 6c puts Martin ahead, and it stays that way with 3d Turn and 6d River.  With Martin's stack counted at 20.4m it wasn't quite enough to take Lee out, but reduced him to 2.1m chips which he pushed on the very next hand with Martin of course calling and showing 83off and Lee with Kd 7d.
Lee ahead and on a Flop of 7c 10h 10c he is even more comfortable, and looking even better with Ah Turn – until 8h River hits the table and it's all over for Lee Houghton as he bags £3,400 and APAT Silver Medal, with Martin Kalinov grabbing APAT London glory at the very last minute and taking home APAT Gold Medal – and 5 bags with it of course.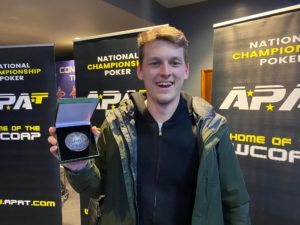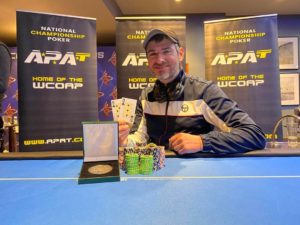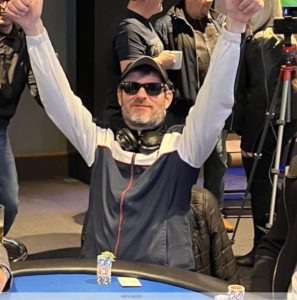 Tom Brady
APAT Live Events Director