APAT Blackpool's Got Talent
A return visit to Blackpool saw plenty of both APAT and local regulars for the NLHE and ROE PLO/PLO8 English Amateur Poker Championship events over the weekend, with NLHE side action filling the void for those unlucky not to go deep enough in either.
With 108 individuals firing a bullet for Day 1A on Friday evening, they played down to 31 remaining who would all return on Sunday for Day 2 with a min cash guaranteed – and they were joined by a further 13 qualifying through from Day 1B on Saturday with their min cash confirmed at £250, and with a total of £13,100 to be fought for at the Final Table.
Leading the Day 2 pack were Dean Laybourne on 1.8m chips, with APAT regulars Tom Clark 1.45m, Gareth Howard 1.44m and Ricky Buckland 1.36m, with David Thomson 945k, Ian Munro 865k, Steven Rooney 850k, Stephen Barnes 830k and Gregor Gillespie 795k – with 6 of those individuals going on to Final Table the event!
Whilst it was Stuart Harrow, who started Day 2 on a short stack 175k, who was first to depart in 29th spot for a £250 payday, with Blinds 10k/20k and an average stack of 33 Big Blinds the field was reduced to 3 tables when Daniel Plumb departed in 26th and simultaneously Barry Simpson went in 25th after going ahead on the flopped Board 6♣ Q♠ 5♥ his K♦ Q♠ bettering the 9♥ 9♣ of Steven Rooney only to see 7♣  on the Turn with the dreaded 8 coming on the River.
Callum Dawson pushed All-In-Pre-Flop to see Gregor Gillespie re-shove and send Mark McBride into the tank – and after 2 mins Mark open folded AKoff… Callum showed J♥ Q♥ up against K♣ K♠ of Gregor… Flop A♥ 9♠ 6♥ to give Callum the Flush draw whilst Mark seems irritated at having passed his AK pre…. 8♠ Turn and Gregor still ahead and bangs the table in delight when 10♣ hits on the River avoiding the flush draw of Callum .. only to have it pointed out Callum hit a straight on River, and Callum increased to 600k.
Down to 14 players and Blinds 25k/50k and Tom Clark is reduced to 700k when his AKoff got outdrawn by 8♣ J♣ hitting a straight on the River, whilst the start of Day 2 chip-leader Dean Laybourne Q♠ Q♣ is unlucky All-In-Pre-Floop against the A♠ K♠ and A♦ comes in window and holds, and Dean is involved again shortly after running his A♣ 10♥ into pocket 8's which hold and Dean departed in 13th for £400.
Action went to the Final Table when well know APATer Andy Kingan ran his A3 into Gareth Howard's AK, but with 2345 coming to the Turn he just needed to avoid a  with Gaz holding K♠ for a flush draw – but the inevitable happened and Andy missed out on a Final Table spot in 10th place for £500.
Main Event Final Table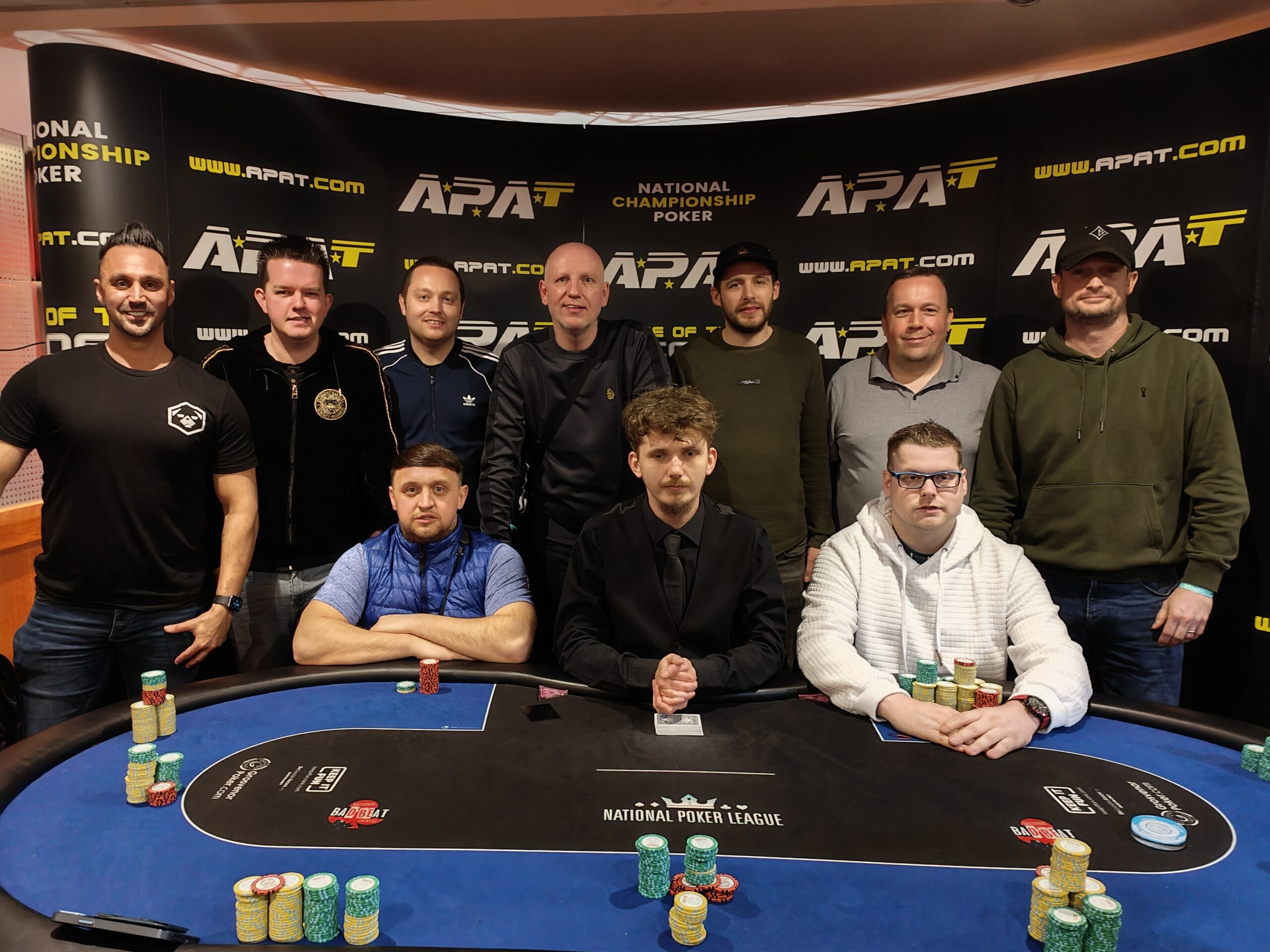 Gaz Howard shipped his stack pre-flop with Gregor Gillespie going into the thinking tank before calling and throwing down Q♠ Q♦ – Gaz shows 7♥ 7♠…
Flop 6♥ 7♣ 8♦ and its enough and Gaz sent Gregor to the rail in 9th for £600.
Gregor Gillespie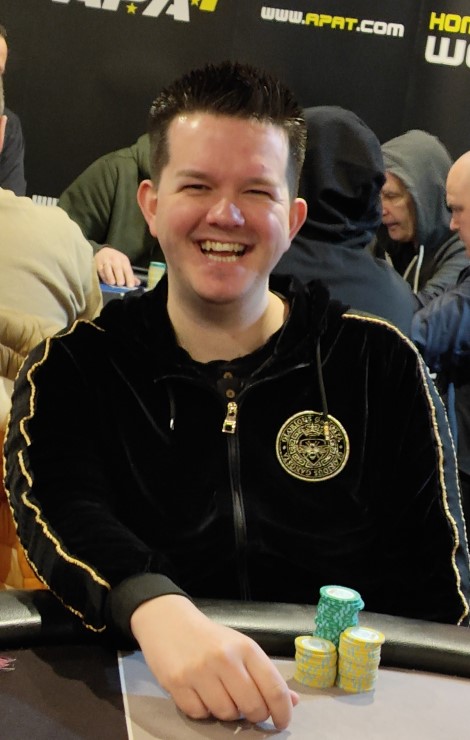 Tom Hibbert had no luck with his short stack holding Q♦ J♠ when against Tom Clark short stacked 6♥ 10♦ and hitting 6♠ on Flop to send Tom to the rail in 8th for £700, with Liam Crawford following in 7th (£800) running his A♥ Q♦ into K♣ K♠.
Tom Clark in the Small Blind with 2m in chips had it all in but ran into Ricky Buckland in the Big Blind holding Q♣ Q♦ – Tom's A♥ 2♣ hiting 2♥ on the Flop for some more outs, but improves no more and left in 6th with £1,000 cash.
Blinds moved to 50k/100k with players averaging 38 Big Blinds:
Gaz Howard 8.7m
Ricky Buckland 5.3m
Ian Munro 1.9m
David Thomson 1.7m
Adam Jukes 1.6m
Gaz Howard hit 2-pair on the Flop holding 4♠ 3♥ and he and Ian Munro got it all in – Ian holding K♦ 3♦ on the Flop 3♣ 4♦ K♥ and Ian had flopped a bigger 2 pair and held and took 2.1m from Gaz.
Ian Munro stays busy when Blinds 60k/120k and on a Board 7♦ J♥ 4♥ all the chips went in between Gaz Howard and him… Gaz 7♣ 4♣ hit 2 pair and Ian A♥ 9♥ had a flush draw, which he misses as the Board runs out Q♦ 9♣ and Gaz doubled through to 4.7m chips.  Ian then went head-to-head again, this time with Adam Jukes holding 5♠ 5♥ against Ian's A♠ K♣ and again Ian finds no luck as he doubles up Adam for circa 2.7m from his stack.  Ian down to around 1.3m before he got a double through when his A♠ J♥ kept ahead of the J♦ Q♦ of Gaz Howard – Ian on 2.5m before shortly after departing in 5th for £1,250.
Gaz Howard went Heads Up against Adam Jukes who is showing 9♥ 9♠ with Gaz flipping over A♥ 5♥… Board 8♣ 10♥ 4♦ K♣ 5♦ and Gaz finished 4th picking up £1,500 but just missing out on a Championship Medal.
Gaz Howard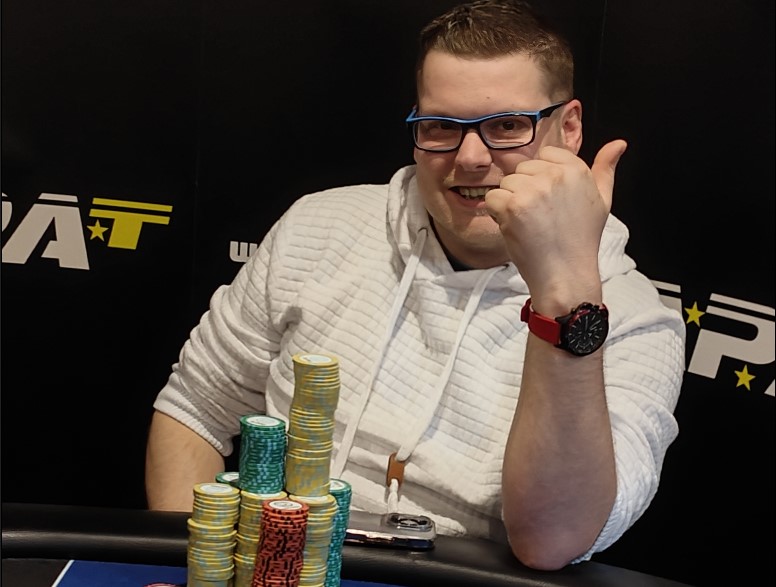 Plenty of action ensued until Ricky Buckland had it All-In against Adam Jukes… Ricky K♠ 2♠ up against Adam 9♦ 9♣ and on a Board 3♠ 3♥ K♠ to put him ahead but, 9♥ Turn followed by J♣ and Ricky departs and picks up £1,800 for his 3rd place and the APAT National Championship Bronze Medal.
Ricky Buckland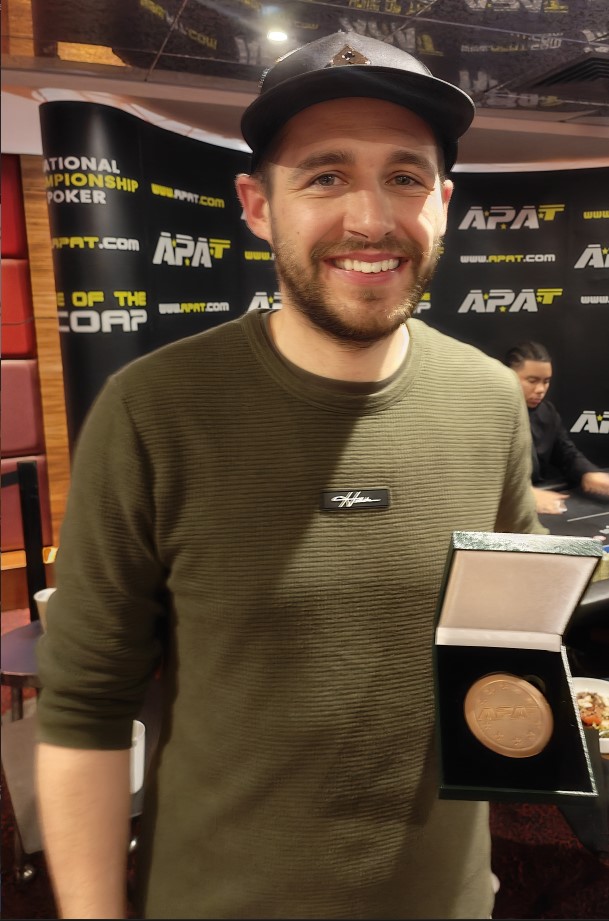 Adam Jukes v David Thomson Heads Up with Adam having a huge chip lead, and it doesn't take long… David pushes… Adam smiles and says 'go on I'll give you a spin' and flips over A♣ 2♥ who is ahead of David's K♦ 2♦ and David is at risk of elimination.
Board comes down Q♣ 7♣ 6♣ 8♣ 5♠ and with Adam holding the A♣  David finished in 2nd place for £2,250 and National Championship Silver Medal.
David Thomson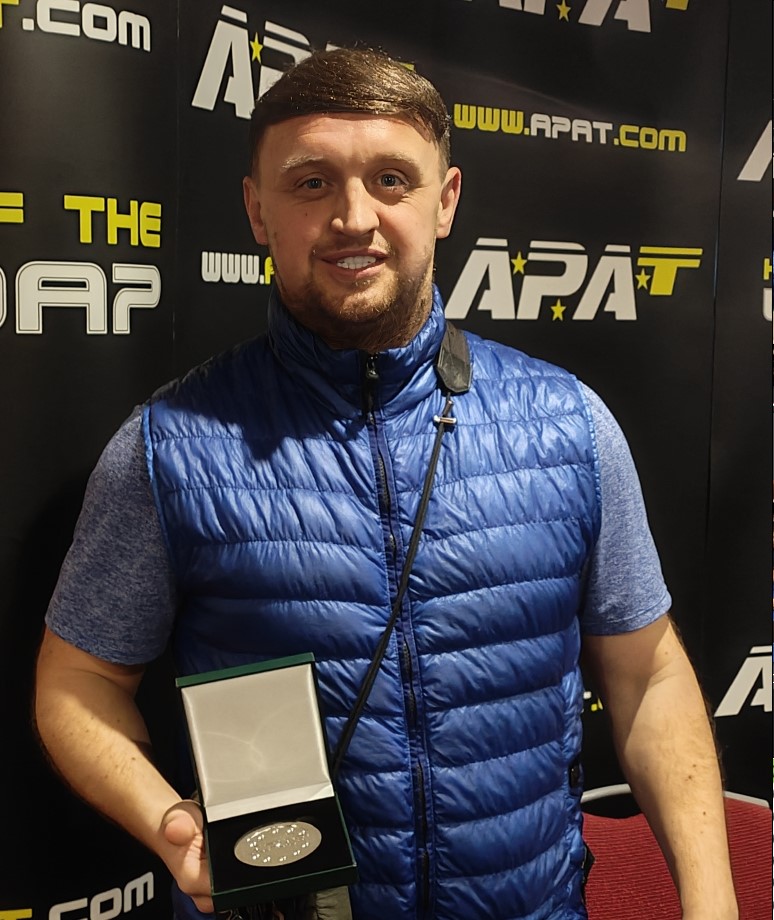 And the English Amateur Poker Champion is crowned in Blackpool – Adam Jukes picking up £3,200 and National Championship Gold Medal.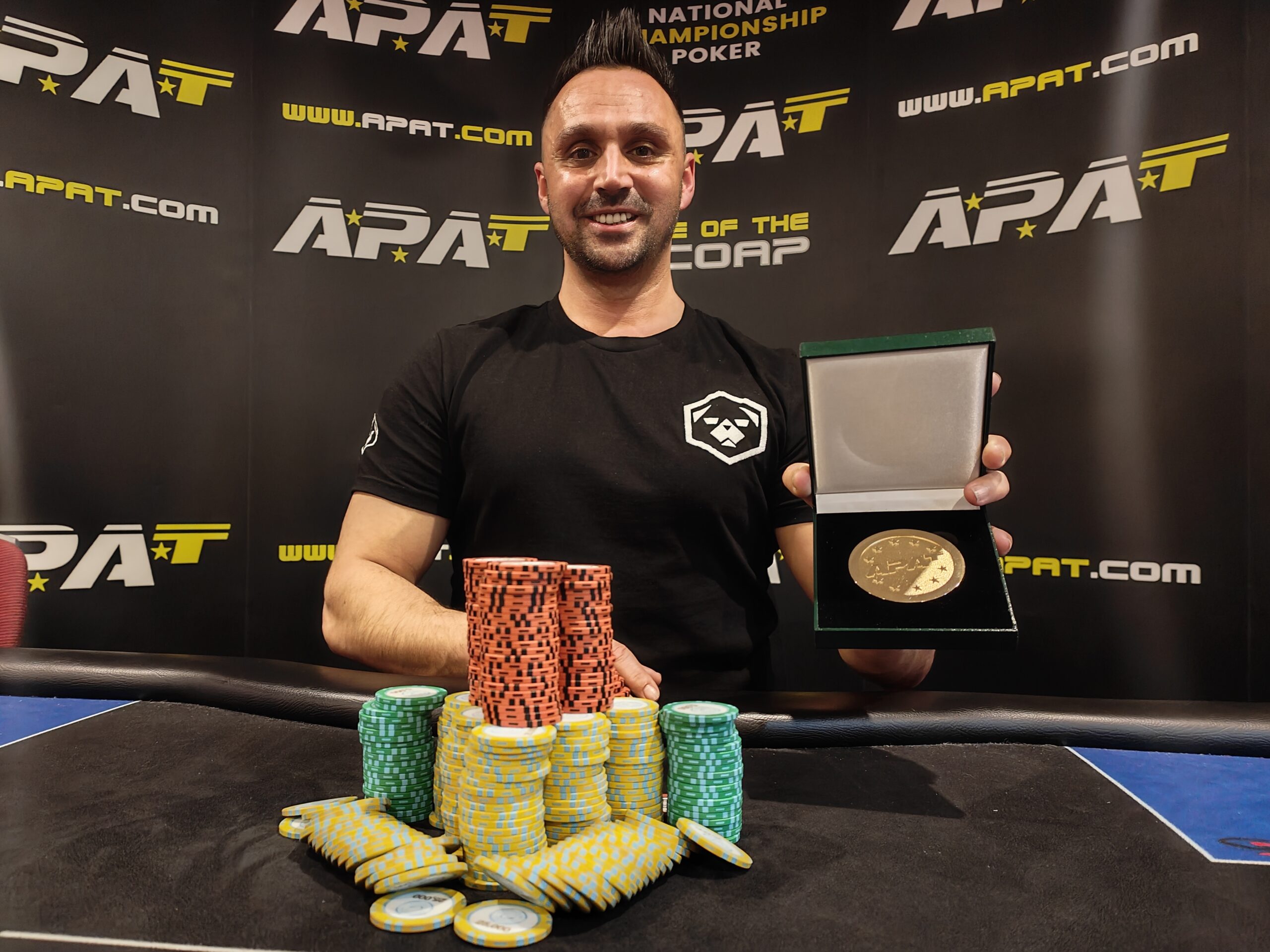 Of course the action didn't end there, as the players in the ROE PLO/PLO8 Championship event hit a Final Table 8: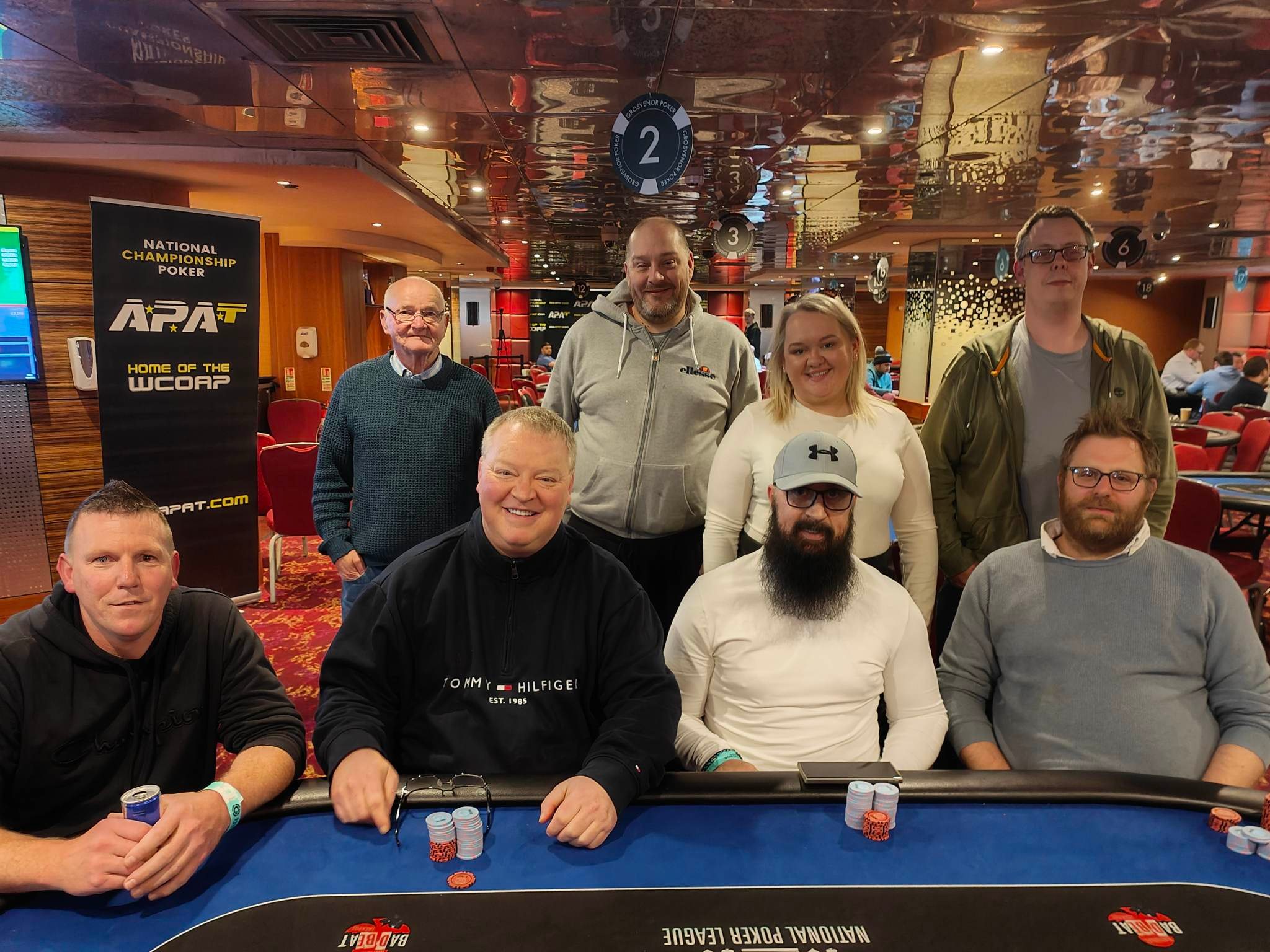 Raymond Thomas
Ky Hutchinson
Shane Pollington
Gordon McArthur
Steven Rooney
Jason Chillmaid
Jo Chillmaid
Andrew Buckley
With the top 6 getting a payday, the action got to the business end of 3-way 'in the medals' with the departure of:
4th Shane Pollington £380
5th Raymond Thomas £280
6th Jo Chillmaid £210
3-handed in the ROE PLO/PLO8 Championship event between Ky Hutchinson, Gordon McArthur and Steven Rooney and Ky and Steven get it all in…
Ky Hutchinson A♦ A♠ 2♥ 2♣ against Steven Rooney 10♥ J♠ Q♥ K♦
Board 8♠ 6♥ 9♦ 4♥ 2♠ and Ky scoops the lot, with Steven Rooney finishing in 3rd place for £560 and Championship Bronze Medal.
Heads Up action between Ky Hutchinson (2.3m) and Gordon McArthur (1,2m) was plentiful and drawn out with £1,230 up top and £840 for 2nd – and of course the Gold and Silver Championship medals.
Blinds 40k/80k and Ky has a 3:1 chip lead over Gordon.
Gordon makes it 240k only to see Ky comes over the top to 720k and Gordon, and whilst it continues to and fro with Ky slowly increasing his chip lead, Blinds move to 50k/100k when Ky raises to 250k and short stacked Gordon shoved and we see the cards…
Gordon 7♣ 9♣ 10♦ Q♥ against Ky 8♦ 8♣ Q♠ K♠
Board: 2♣ 9♥ 10♥ 3♥ J♦
With Gordon top 2 pair on the Flop, it is Ky holding K♠ and Q♠ who prevails with the River J♦ playing for the straight 9-K and Gordon is our Silver Medalist, picking up £840.
Huge congratulations to Ky Hutchinson, the English ROE PLO/PLO8 Amateur Poker Champion winning £1,230 and Championship Gold Medal.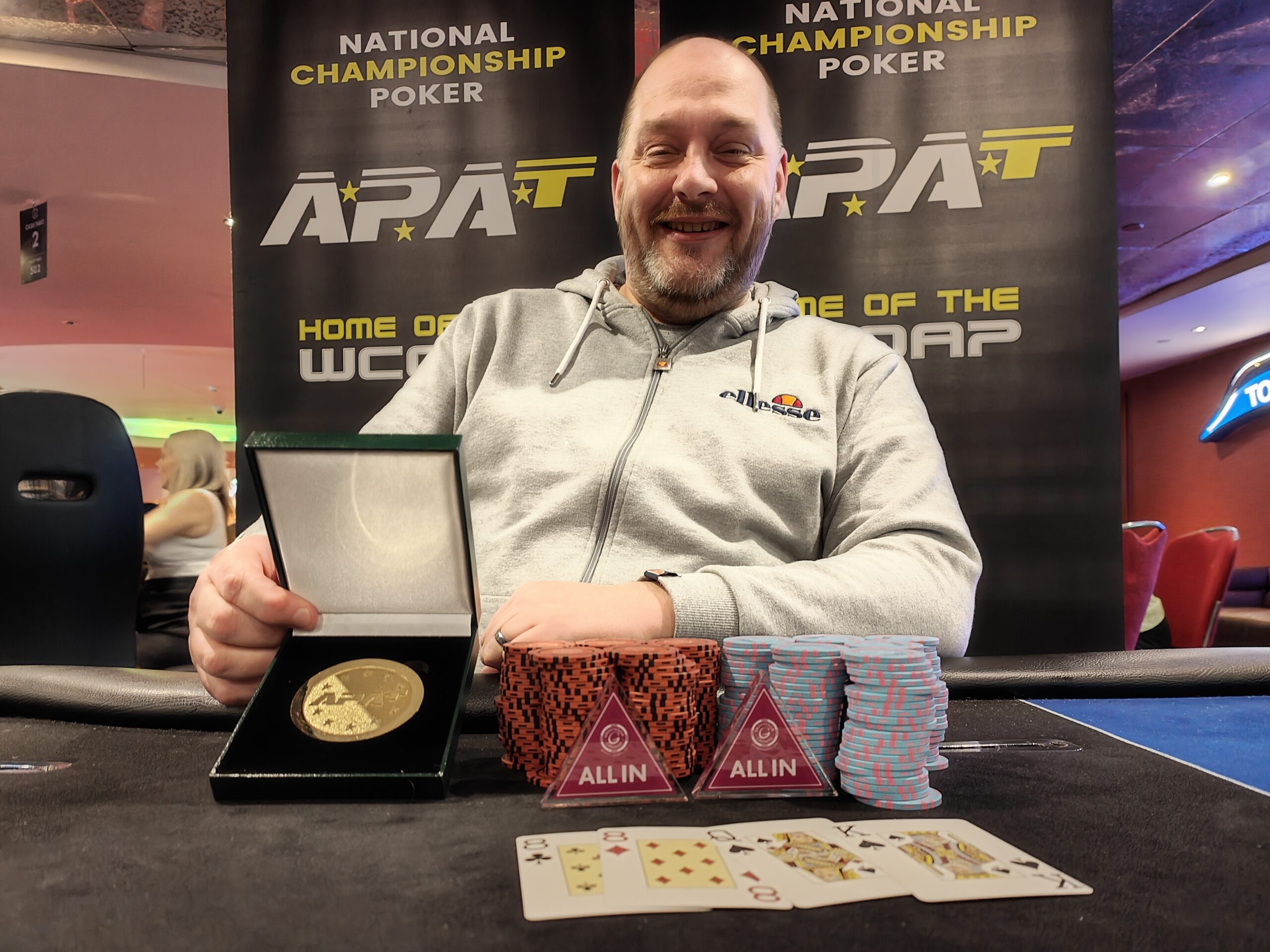 You can keep up to date with the APAT Live tour future stops and information via the website https://www.apat.com/tour/season-16/
Tom Brady
APAT Operations Director
Live Events & Tour
Email: tombrady[at]hotmail.co.uk
Facebook: https://www.facebook.com/TomBrady65/
WhatsApp: 07957 977 057