APAT at the Biggest Irish Open Ever
Dublin is a special place for APAT, and it all started back in June 2007 with APAT's first venture beyond UK shores when a sold out Fitzwilliam Card Club played host to 150 competitors competing for the first-ever Irish National Championship title and medals.
16 years later and Dublin again had an APAT first – this time hosting the Irish Amateur Poker Championship, alongside the record breaking Irish Open at the hugely impressive Royal Dublin Society venue, when 214 unique entries took to the felt for the single Day 1 APAT Irish Amateur Poker Championship on Wed 13 Apr at the RDS, playing down to hit 15% of the field, being 31 players, to come back for Day 2 all in the money with a min cash of €405 locked up.
Just missing out on that min cash, the action began when Oliver Gayko made a 65k bet on a Board 5♦ 10♠ 4♠ 6♠ 3♣ – Abdullah Alshanti painstakingly thought it through and eventually made the call, flipping over A♦ 10♥ for top pair whilst Oliver showed Q♠ 3♠ for the Turned flush – and Abdullah departed on the Bubble with the remaining 31 players returning the following day to chase Championship Medals and a top prize of just under €10,000.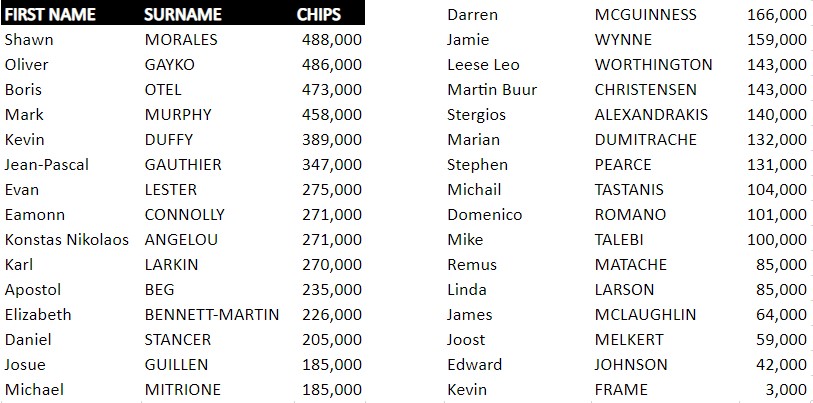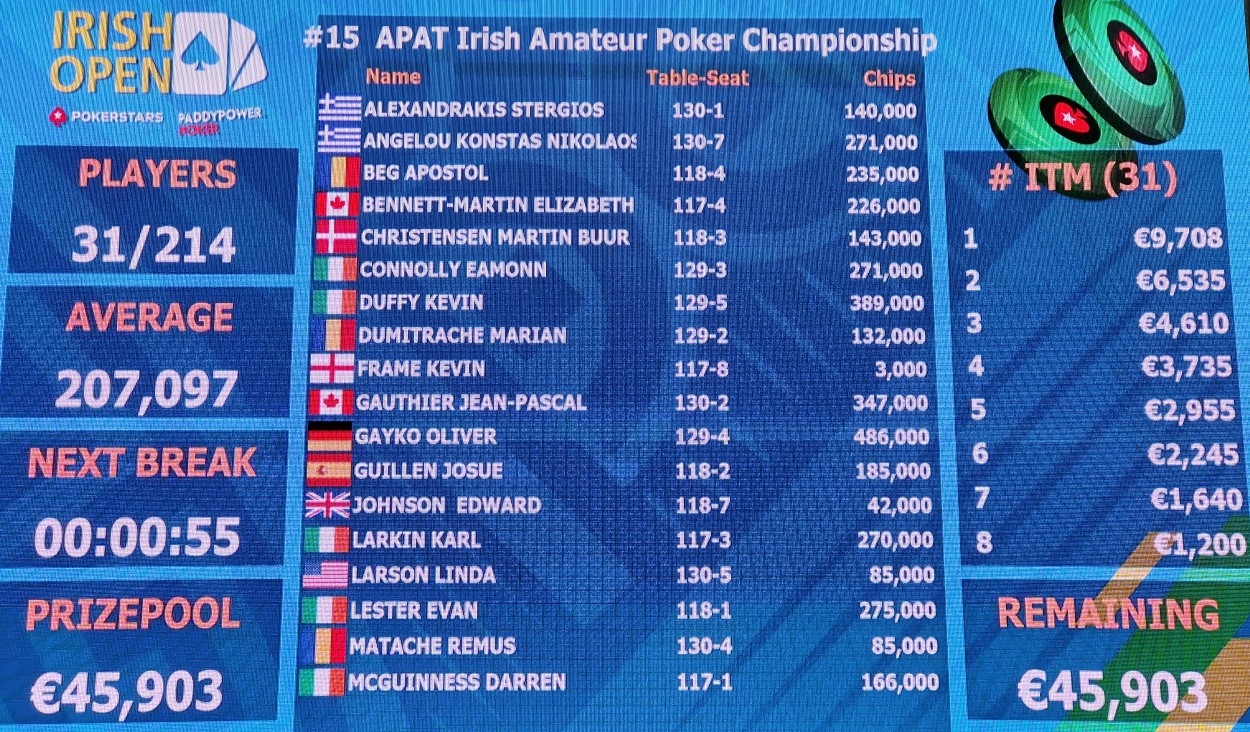 Whilst the short stacks depart, and a few slip out, Michael Tastanis ships his 80k stack pre-flop and Evan Lesters ships over the top and they go to Heads Up action.  With Michael at risk of elimination he shows A♦ 8♣ but has ran into the A♠ Q♣ of Evan, which holds on a Board J♥ 9♦ 3♠ Q♦ 3♥ and Michael hits the rail in 25th for €450 as players reduce to 3 tables.
Michael Tastanis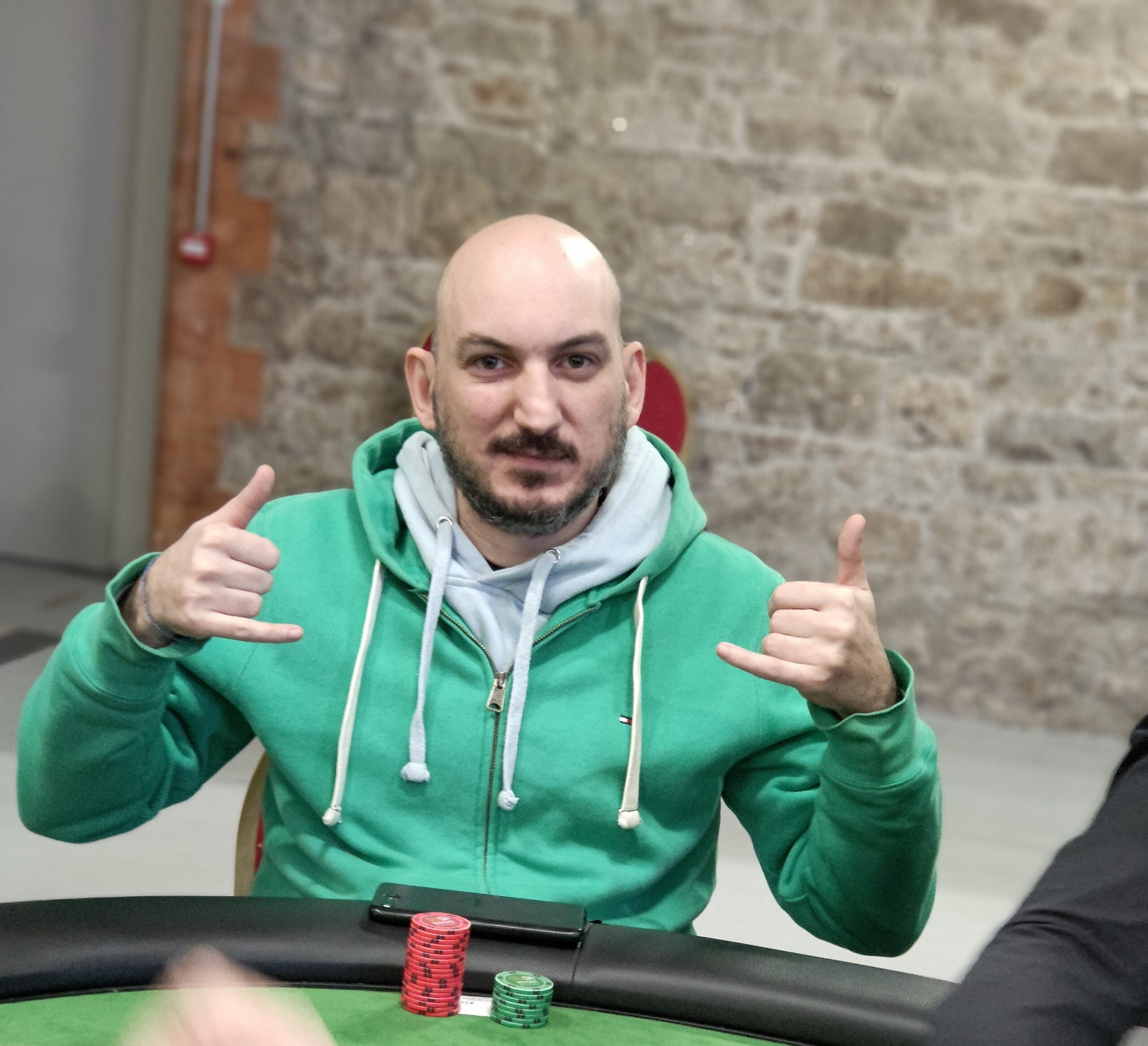 With the final 2 tables on the horizon, Karl Larkin on 80k ships it pre-flop with Michael Mitrione making the call showing A♥ 8♥, and with Karl holding K♣ 3♠ he goes ahead on the Flop 5♠ 2♠ K♥ hitting top pair, then J♥ on Turn he just needed to avoid an Ace or a ♥  but with the River coming Q♥ to give Michael the Flush, Karl Larkin's active run came to an end in 17th spot for €610.
Elizabeth Bennett-Martin hit the rail in 16th before the Blinds moved to 8k/16k with an average stack of 25 Big Blinds.
Evan Lester made the call against the short stack 80k shove of Jamie Wynne who held A♣ 8♠ with Evan holding Q♠ 5♠.  Flop came J♥ 3♠ 7 ♣ with A♠ on Turn gives Jamie top pair but that A♠ possibly doing more harm than good for Jamie and of course the inevitable happened when J♠ hit the table on the River to give Evan the ♠ Flush and Jamie walked in 15th for €680.
Evan Lester departed in 14th just prior to a 3-way All In when Stephen Pearce pushed his 175k forward only to be immediately followed by Eamonn Connolly for his 173k stack – and also the big stack Marian Dumitrache making the call.
Stephen Pearce Q♠ J♠ v Eamonn Connolly 6♦ 6♠ v Marian Dumitrache 10♥ 10♦ with both Stephen and Eamonn at risk.
Board 10♠ 8♠ 9♥ K♥ K♦ and we lose both Stephen Pearce (12th) and Eamonn Connolly (13th)
On a Board 4♣ 9♦ 2♠ 4♠ Boris Otel shoved his 415k stack only to be snap called by the big stack of Marian Dumitrache who shows 10♠ 10♥ for an over pair, with Boris showing 9♠ 8♠ for top pair and a Flush draw but Marian holds with 2♣ River and Boris picks up €840 for 11th, as does Nikoloas Konstas in 10th whilst Darren McGuinness hit the rail in 9th for €990 to bring it to a Final Table 8.
S1 Kevin Duffy 700k
S2 Mark Murphy 1.4m
S3 Michael Mitrione 520k
S4 Apostol Beg 480k
S5 Stergios Alexandrakis 490k
S6 Marian Dumitrache 1.7m
S7 Shawn Morales 850k
S8 Oliver Gayko 300k
Shawn Morales in the BB got active when betting out every street to take a 500k pot uncontested on the River, with Kevin Duffy folding to Shawn's 85k River bet.  Then Kevin and Mark Murphy go head to head… Kevin pushes in the SB and Mark in the BB sees one card and says 'good enough' and flips over A♣ 3♦ against the K♥ J♦ of Kevin, who is at risk – the Flop was good enough for Mark as it comes down A♥ A♦ 8♣ and Kevin is reduced to circa 105k before in the cut- off he pushes his 105k and gets 3 callers, though he ends up HU and scoops the pot and now had a stack of 500k.
Some 3-way action All In pre-flop followed:
Stergios Alexandrakis A♥ 4♣ and at risk
Shawn Morales 3♥ 3♣
Oliver Gayko A♠ 10♠ and at risk
Board 9♣ K♥ 10♦ 10♣ Q♥ and Oliver scooped the lot and Stergios Alexandrakis departed in 8th place and picking up €1,200.
Blinds 30k/60k and Shawn Morales on the Button makes it 120k with Kevin Duffy involved again, this time in the BB pushing his 320k stack and Shawn snap calls… Kevin ahead with K♠ 9♠ against J♦ 10♠ and Kevin bangs in 3 spades on the Flop to increase his stack to 670k.
Michael Mitrione hits the rail in 7th for €1,640 when All In pre-flop his A♠ 4♦ gets outdrawn by the K♦ 7♠ of Mark Murphy when 7♥ comes on the Flop, and shortly after he is followed in 6th by Apostol Beg for €2,245 when A♣ Q♥ outdraws his 8♠ 8♥ – swiftly followed by Kevin Duffy who runs his K♦ 8♥ into A♥ 10♣ which holds and Kevin picks up €2,995 for 5th
On the National Championship Gold, Silver and Bronze Medal bubble:
Mark Murphy 2m
Marian Dumitrache 2.3m
Shawn Morales 700k
Oliver Gayko 1.4m
4-handed Blinds 40k/80k average stack 20 BBs and Marian Dumitrache picks up 500k pot as it is checked all the way with 3 players and his 8♦ 8♥ is good enough.
Shawn Morales gets a double through against Oliver Gayko when he pushes and is called by Oliver and Shawn's 8♠ 6♠ spikes 2 pair on River.  Oliver then makes a move in the SB with K♠ 2♠ but runs into K♦ Q♣ which holds and as Oliver departs in 4th (€3,735) it is 3-handed and in the National Championship medals for the top 3 players.
The Championship Bronze Medal goes to Shawn Morales when he pushes at risk with A♠ J♥ into the K♠ 8♠ of Mark Murphy, and with 8♣ in the window Mark holds and Shawn picks up €4,610 for his 3rd place.
Shawn Morales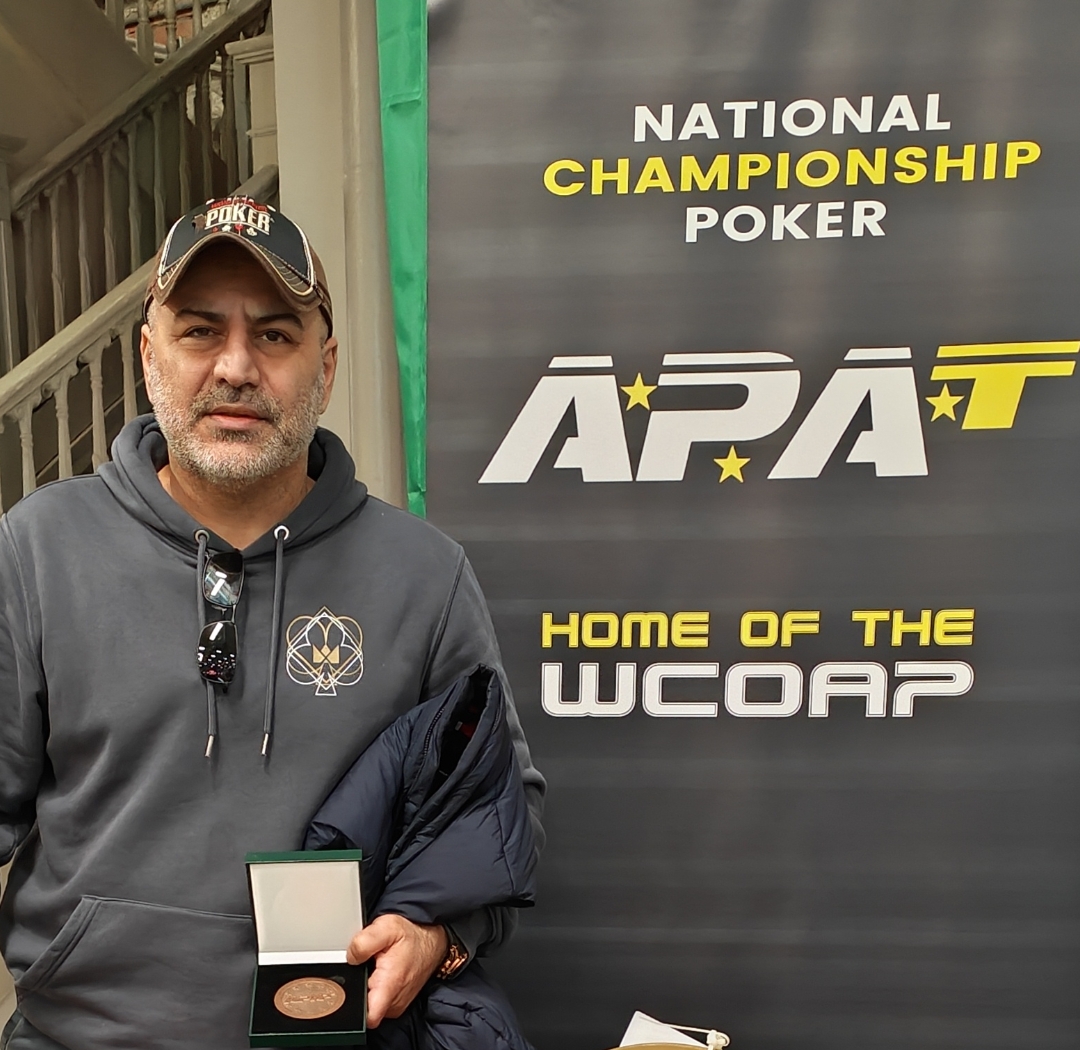 Mark Murphy 2.58m
Marian Dumitrache 3.86m
Blinds 50k/100k
Mark raises to 225k and we see a flop A♠ 2♣ 7♣  and as Mark places a small bet Marian announces All In and takes the pot.
Marian almost 2:1 chip lead, and as we see some pre-flop and flop action there is 800k in the pot and it goes to Marian, and soon after we have a result when Marian shoves his big stack and gets the call.
Marian Dumitrache J♠ 10♠ and Mark Murphy K♣ 4♦
And in the window it is all over with 8♠ 7♦ 9♠ giving Marian the flopped straight as the Board runs out 4♣ 8♣
Mark Murphy – APAT Irish Silver Medalist winning €6,535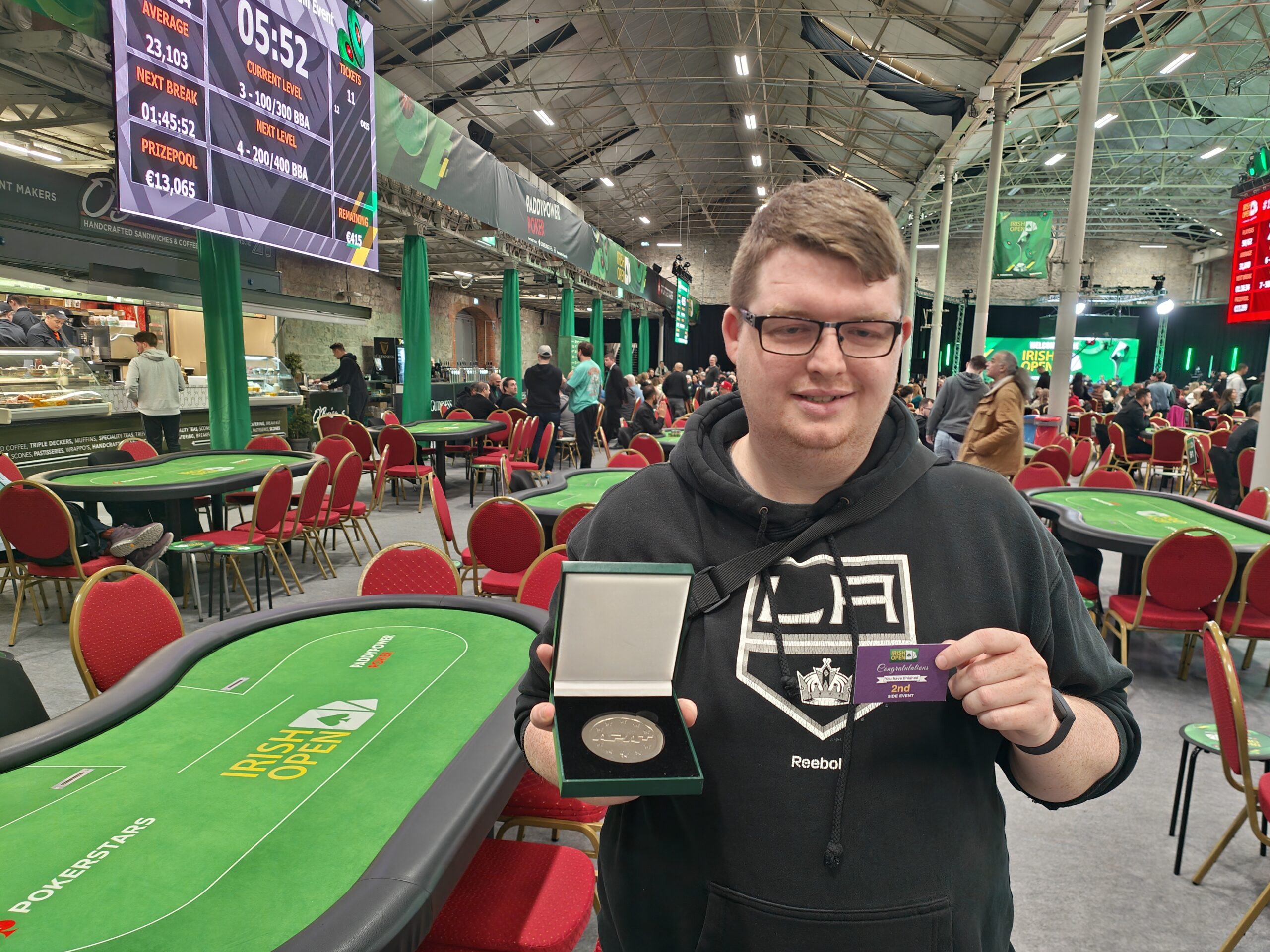 And the Irish Amateur Poker Champion is crowned with Marius Dumitrache taking the title, Championship Gold Medal and a €9,708 top prize.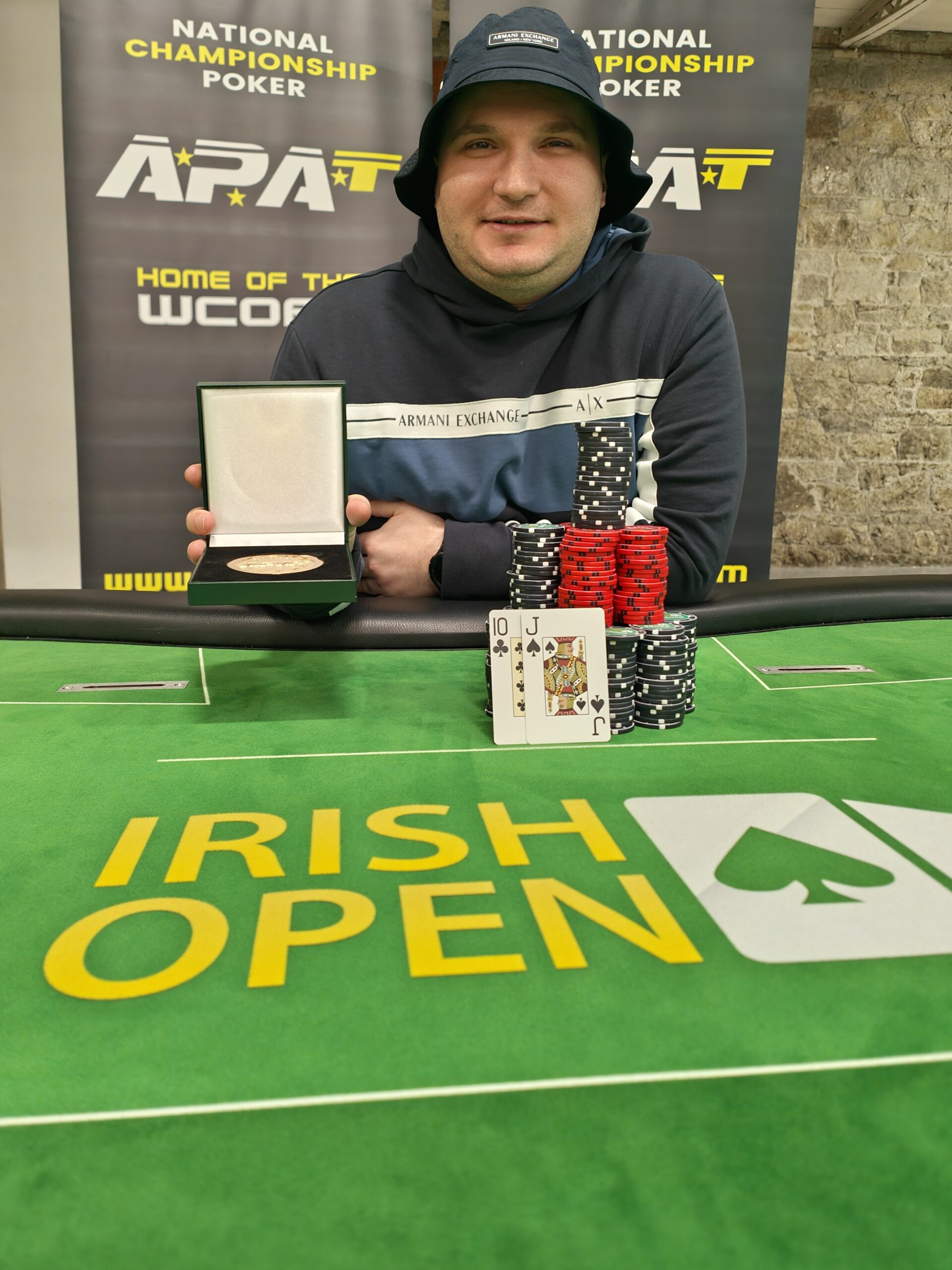 You can keep up to date with the APAT Live tour future stops and information via the website https://www.apat.com/tour/season-16/
Tom Brady
APAT Operations Director
Live Events & Tour
Email: tombrady[at]hotmail.co.uk
Facebook: https://www.facebook.com/TomBrady65/
WhatsApp: 07957 977 057