APAT MALTA Spring Championship
A new time of year and a new partnership with The Malta Poker Festival, this time for the inaugural Spring Festival, which saw APAT return to the beautiful island shores for the third time to host The APAT Maltese Championship.
With the usual €100+€20 buy-in, players received a 100,000-chip stack and played to a 30 minute clock on Day 1 on Sat 30 Apr, and early on in Level 3 we stumbled across Caroline Cove enjoying a chat at the table whilst involved in a hand and with a decision to make https://www.facebook.com/TomBrady65/videos/528493972072799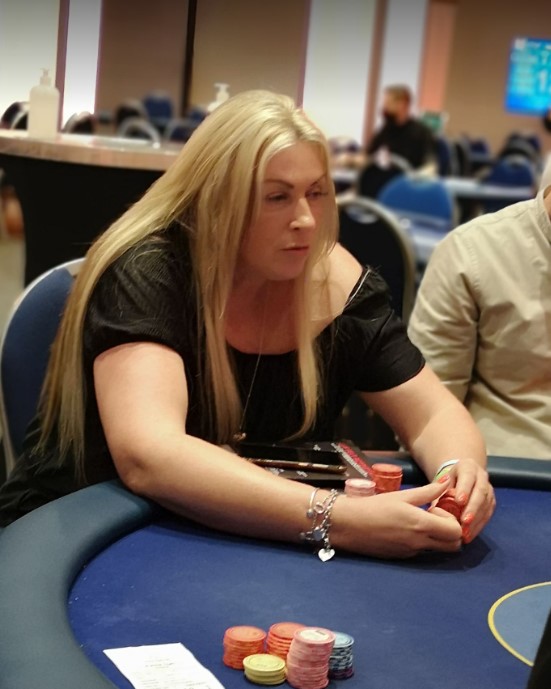 With the new APAT structure, which saw the field of 271 entries reduce to 15% by the end of Day 1, that gave us 41 players into Day 2 all 'in the money' with a min cash of €248 locked up, along with a top prize of €4,500 and APAT Championship Gold, Silver and Bronze Medals for the Top 3 Players.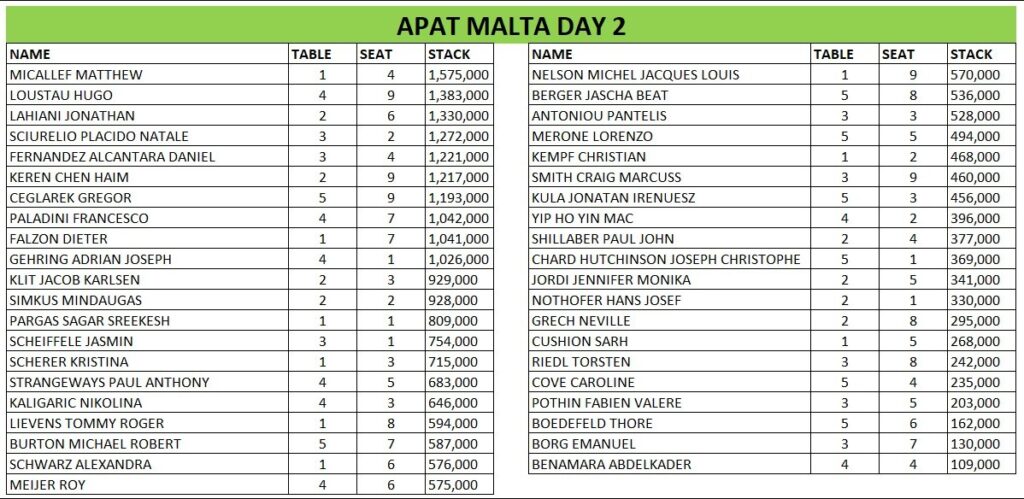 With Day 1 completing shortly into Level 19 at 15,000 / 30,000, Day 2 subsequently rolled back the blinds under the new APAT structure to 10,000 / 20,000 to ensure at least a 33 x Big Blind average for the start of the final day – and with the clock extended to 40 minutes.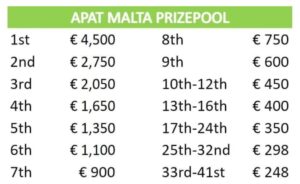 As play steadily reduced the field, and as we approached Level 20 with 28 players remaining, we saw plenty of action in a hand which included Craig Smith and a 3-way all in https://www.facebook.com/TomBrady65/videos/732051197968996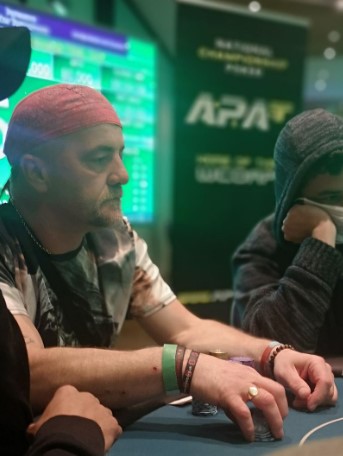 At Level 23 we reached the Final Table 9 as we went on a 60-minute dinner break, returning to Blinds 40,000 / 80,000 and playing with an average stack of 37 x Big Blinds.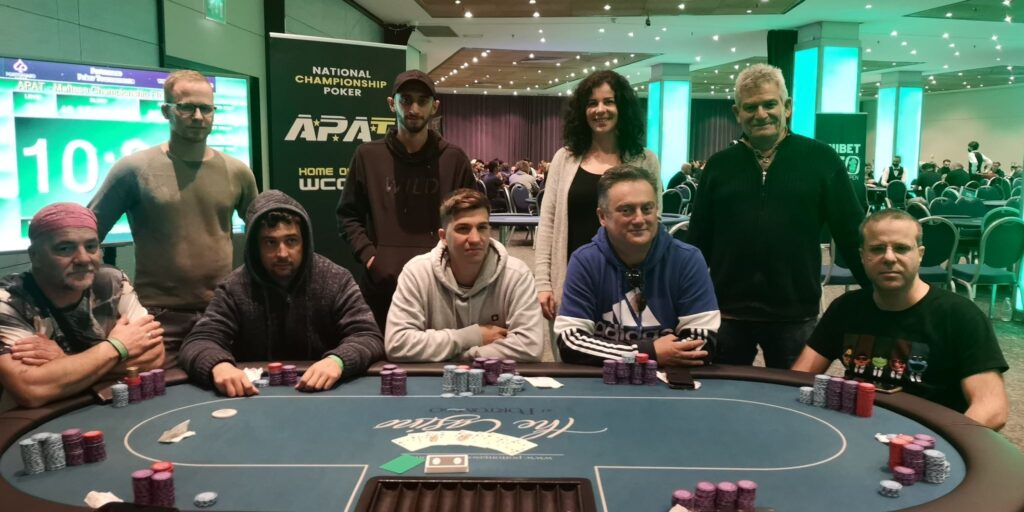 With the departure of Jonathan Lahiani in 9th for €600, and Nikolina Kaligaric 8th for €750, play was 7-handed with Blinds  60k/120k and average stack is 3.8m and Matthew Micallef has it all in with Qd Qs against Kd Kh.
A beautiful flop for Matthew with Qh coming down, along with Jd and Jh to give him a flopped Full House v his opponents pocket K's.  9h on the Turn… only for Matthew to see the Kc River fall… giving his opponent a Rivered higher Full House and we lose Matthew in 7th for €900.
Next to depart in 6th Craig Smith pushed with Kh 9d to be called by pocket 8's and he had no luck on the Board for €1,100 cash, and was followed by Chen Keren in 5th (€1,350) before play went on for a very long time 4-handed until Dieter Flazon hit the rail for €1,650 and just missing out on an APAT Championship Medal in 4th spot.
So, 3-handed and we've bagged a medal!
Daniel (Fernandez) Alcantara 18mil
Hugo Loustau 4.5mil
Jascha Berger 5mil
Hugo quickly gets a Double Up at the expense of chip leader Daniel when his 77 holds against K5 off – Daniel losing circa 5mil from his 18mil stack.
In the very next hand Daniel himself then picks up 77, only to run into the KK of Jascha which holds and Daniel loses another 4.5mil – now reduced to around 10mil v 9mil v 9mil.
A few minutes into 3-handed and Jascha pushes All In over the raise of Daniel who calls, with Jascha showing As Qc against Qc 10h and with the Board coming 8s Qh Js 3c 4h Jascha doubles up his 5.1mil stack.  Play went on for a while before we got to Heads Up when Daniel folded his Button and Jascha flat called before Hugo announced All In and Jascha immediately called with his As 8s and Hugo showing Jd 9d – with Hugo hitting a 9 on the Turn he reduced Jascha to around 3mil whilst doubling up his 6mil stack – with Daniel having over 10mil.
The very next hand Jascha pushes and Daniel makes the call showing 6h 2s and saying 'no problem'… Jascha tables Qc 2c… and the inevitable 6 comes on the Turn to send Jascha to the Rail in 3rd spot.
Heads Up was short-lived… Daniel holding a chip lead and on the Board is 5d As 2d 9d and Daniel immediately said All In… it takes a couple of minutes for Hugo to make his decision, with his tournament life on the line… and he eventually calls showing 10d 2c… bottom pair with 10d for flush draw… against the Kd 5s of Daniel with a higher pair and higher flush draw… Qs on the River and it's all over as Hugo Loustau takes 2nd spot and we crown our latest APAT Malta Champion Daniel (Fernandez) Alcantara.
So whilst we leave you with the winning photos from #apatmalta, a big thanks to all those involved, especially Ivonne Montealegre and Portomaso Casino for pulling it all together, and their absolutely wonderful staff – and we'll also leave you with that #apatfamily feeling with a little message from 7th placed Matthew Micallef.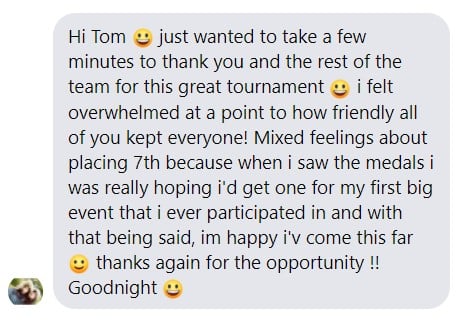 APAT Malta Champion – Daniel (Fernandez) ALCANTARA €4,500
Silver Medalist – Hugo LOUSTAU €2,750
Bronze Medalist – Jascha BERGER €2,050
4th – Dieter FALZON €1,650
5th Chen KEREN € 1,350
6th Craig Smith €1.100
7th Matthew Micallef €900
8th Nikolina Kaligaric €750
9th Jonathan LAHIANI €600

Full result can be viewed on The Hendon Mob APAT
Tom Brady
APAT Live Events Director