APAT Manchester (Man235) 21-23 Oct 2022
We're hugely excited to be hosting APAT Manchester at the Poker Lounge, Manchester 235 Casino, situated right in the centre of the city, over the weekend Friday 21st to Sunday 23rd October 2022, with a Main Event Online Day 1 on the preceding Sunday 16th October.
Manchester 235 Casino,
Great Northern Warehouse,
2 Watson Street,
Manchester,  M3 4LP
APAT MANCHESTER SCHEDULE OF EVENTS
| Date | Start | Event | Buy-in | Stack | Clock |
| --- | --- | --- | --- | --- | --- |
| Sun 16 Oct | 7pm | APAT Manchester Day 1A (Online) | £100+£20 | 25,000 | 12 min |
| Fri 21 Oct | 6pm | APAT Manchester Day 1B | £100+£20 | 25,000 | 25 min |
| Sat 22 Oct | 3pm | APAT Manchester Day 1C | £100+£20 | 25,000 | 30 min |
| Sun 23 Oct | 1pm | APAT Manchester Day 2 | - | - | 40 min |
| Sun 23 Oct | 3pm | APAT Manchester Side Event TBC | | | |
Players may reserve a seat for the Main Event Day 1A or Day 1B via an APAT Eventbrite booking facility, which will be available from 10pm on Sun 9th Oct to 10pm on Thu 20th Oct.  This guarantees your seat until 30 mins prior to the event start time, BY WHICH TIME you must have registered and paid the full buy-in at the venue – if there is a long queue to register, please proceed to the front of the queue and advise the desk you have reserved a seat via APAT Eventbrite.  AT 30 mins prior to the event start time, the APAT Eventbrite booking list will be discarded and no further reservations will be accepted after this time.
Players may pre-register in-person at the venue by paying the full buy-in – chips will go in play from the event start and absent players will have their blinds posted by the dealer when due.
Entry on the day will be available in Man235 on a first-registered basis for available seats, with an Alternates List maintained.
Action will kick off on the weekend prior, with Day 1A Online with Party Poker on the evening of Sunday 16th and playing to 15% of the field to qualify into the live Day 2 on Sunday 23rd at Man235.  With Day 1B Friday 21st at 6pm, and Day 1C Saturday 22nd at 3pm, both will also play down to 15% of entries to return for Day 2 at 1pm Sunday 23rd.
Each Day 1 is run as a Daily Freezeout where players may have 1 entry per Day 1, with late entry until end L8.  Any subsequent Day 1 entry auto forfeits any previous Day 2 stack.
Day 2 blinds start at the level after which the earliest Day 1 completed, or with an average 33 BB stack if earlier, with stacks entered into play for Day 2 'in the money' and paid out on Day 2 in Man235.  The prize fund will be confirmed prior to the start of Day 2.
Entry to the casino is free, and Photo ID is required.  Opening hours are 12:00 noon to 6am with a smart casual (no jacket required) dress code, and jeans and trainers are OK as long as they're not scruffy.
There is also a James Martin Restaurant on site open:
Friday: 5pm – 10pm
Saturday: 12.30pm – 3pm and 5pm – 10pm
Sunday: 1pm – 5pm
Subsidised NCP parking is available right next door to the venue (1 Watson St, Manchester M3 4EE) – contact Man235 for details – though it can be arranged whilst in the venue after parking, and you will need to download the app 'NCP Park Pass'.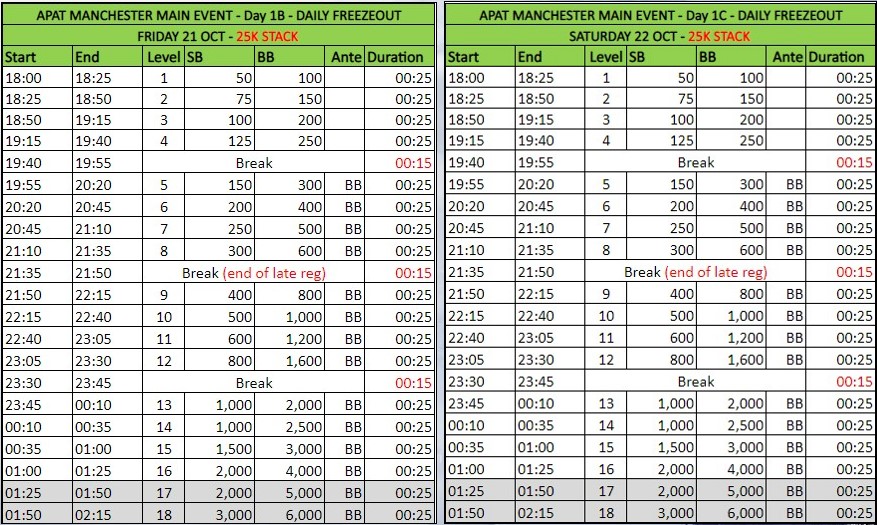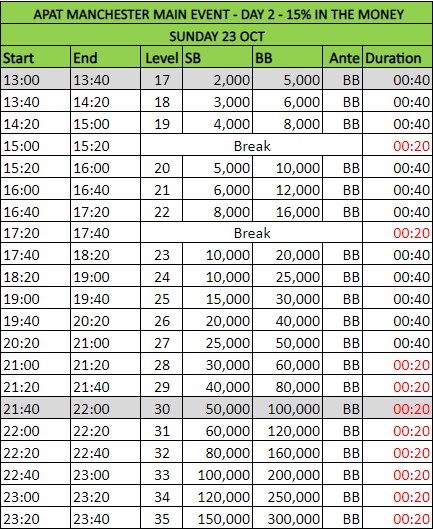 Tom Brady
APAT Live Events