APAT's most recent tour stop touched down at the home of Goliath in Coventry where 460 entrants battled for top honours in the APAT Open Championship, which included Championship Gold, Silver and Bronze Medals for the top 3 players.  With the Final Table 9 all taking home a 4-figure sum, the Champion would walk away with a top prize of £7,500.
Having played down to 15% of the field during the single Day 1 on Saturday, 68 players returned for Day 2 on Sunday with a min cash of £200 locked up – and moving to a 40 min clock would see the usual great structured APAT event run for around 11 hours on Day 2 before crowning a Champion.
| | | | | |
| --- | --- | --- | --- | --- |
| 1st | £7,500 | | 10th | £900 |
| 2nd | £4,500 | | 11th | £800 |
| 3rd | £2,850 | | 12th – 15th | £700 |
| 4th | £2,000 | | 16th – 21st | £600 |
| 5th | £1,750 | | 22nd – 27th | £500 |
| 6th | £1,500 | | 28th – 36th | £400 |
| 7th | £1,300 | | 37th – 45th | £300 |
| 8th | £1,150 | | 46th – 54th | £250 |
| 9th | £1,000 | | 55th – 68th | £200 |
With the departure of Louis Faragher in 10th for £900, the Final Table 9 players:
Dave Garden 3.2m
Ryan Robbins 1.7m
Robert Gray 8.2m
Patrick Hudson 6.1m
Steve Johnson 5.4m
David Wyse 5.6m
David Brady 1.7m
Gerard Bennett 10m
Glen Davage 4m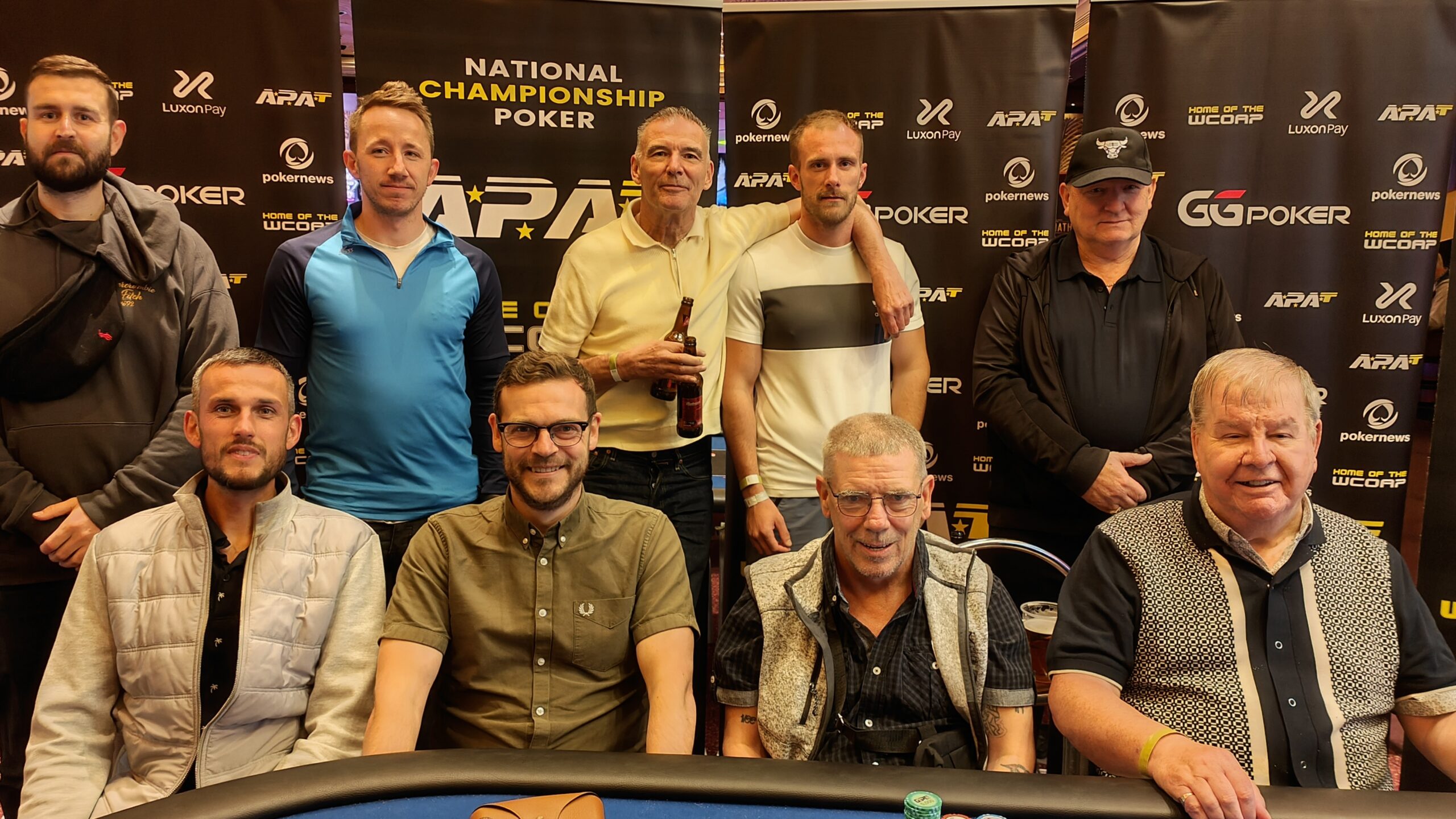 David Brady got a double through when his A7 got the better of the chip leader Gerard Bennett holding AK when David hit a straight on the River with his 7 playing, although soon after he ran his JJ into QQ and he departed in 9th with £1,000.
Ryan Robbins took 8th place with £1,150, before shortly after on a 249 Flop Patrick Hudson shipped his 4.1m chips against the chip leader Gerrard Bennett – Patrick showed AA and Gerrard AJ and Patrick (pic) stayed ahead to put a huge dent in Gerrard's stack.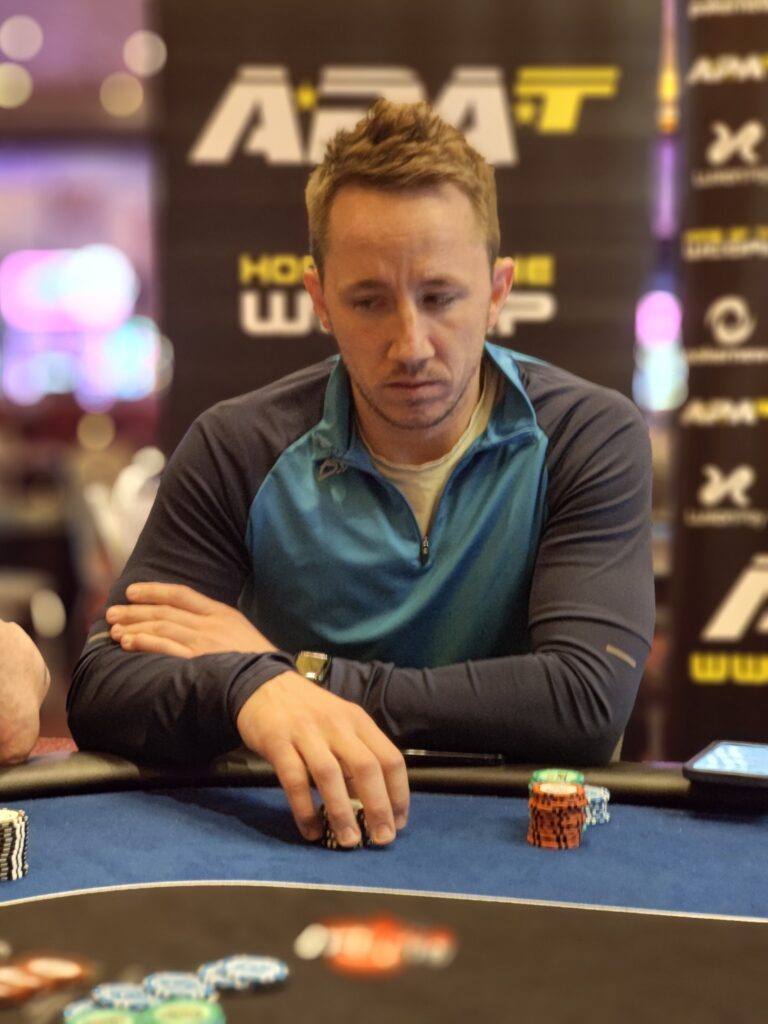 Steve Johnson finished 7th for £1,300 just before Dave Garden found QQ and has his short stack in against 88… looked good until the River when an 8 came and Dave left in 6th for £1,500 – with Dave Wyse departing during L29 in 5th with £1,750.
The usual 'medals on the table' time in APAT events, with 4th spot always just missing out, and this time it was the original Final Table chip leader Gerrard Bennett who hit the rail in 4th when his flopped bottom pair on a 27J flop ran into the 7J of Patrick – and although with no medal, he did take home £2,000.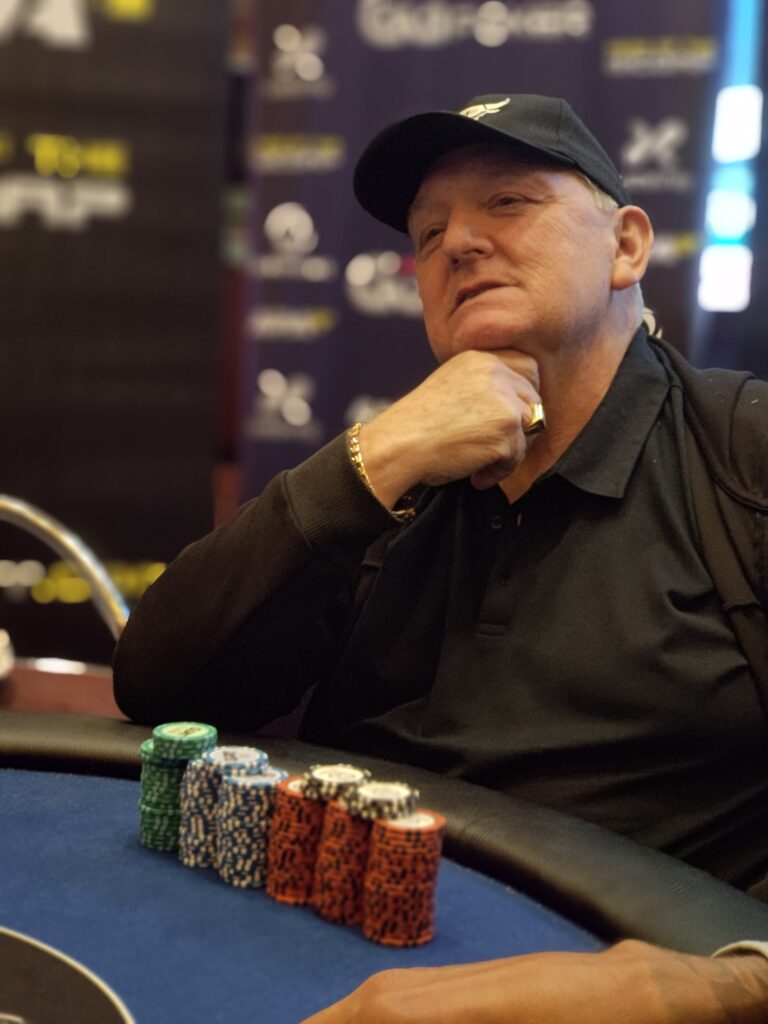 After 50 mins 3-handed it was Glen Davage and Patrick Hudson who went head-to-head pre-flop with Patrick showing Ah10h against the Js9s of Glen, and with 7h 2h 7s 5c 5d it was Patrick's Ace that played to knock out Glen Davage in 3rd place, picking up £2,850 and Championship Bronze Medal.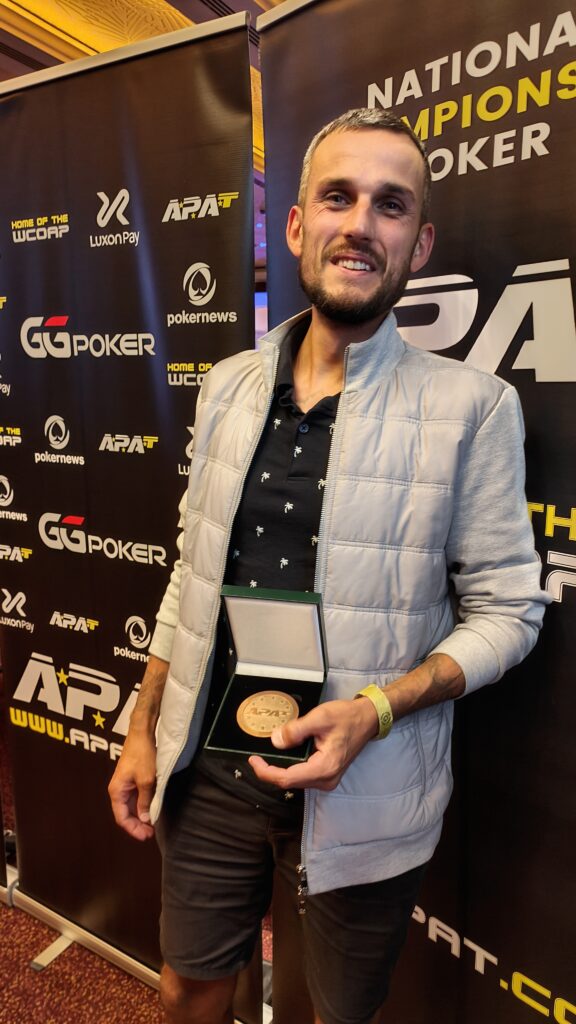 Patrick Hudson 29.5m
Robert Gray 6.5m
And what a battle it was Heads Up, with 40 minutes of action until Robert got the chips looking evenly stacked before they all went in – Patrick showing QsQc and Robert As10c.
The flop did bring Ah for Robert, but it also brought Qh for Patrick, and with 5d also there, the Turn 5c gave Patrick the Full House with Robert needing an Ace on the River, which didn't come – after a count Robert got a small handful of chips back before next hand they were all in again though his Q8 couldn't improve past the A8 of Patrick, and Robert finished in 2nd for £4,500 and Championship Silver Medal.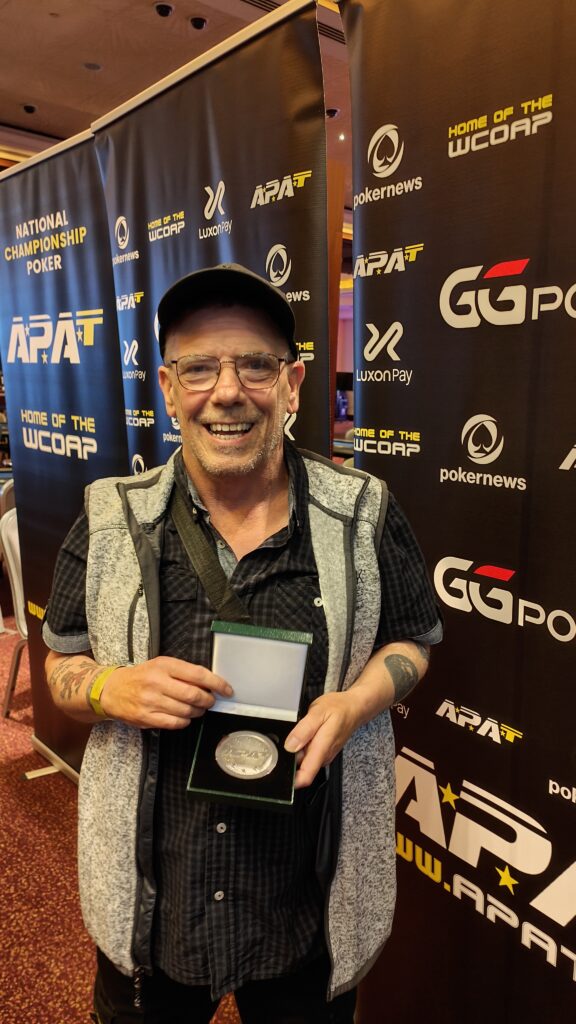 And we crowned our APAT Open Champion, Patrick Hudson, taking home £7,500 and Championship Gold Medal.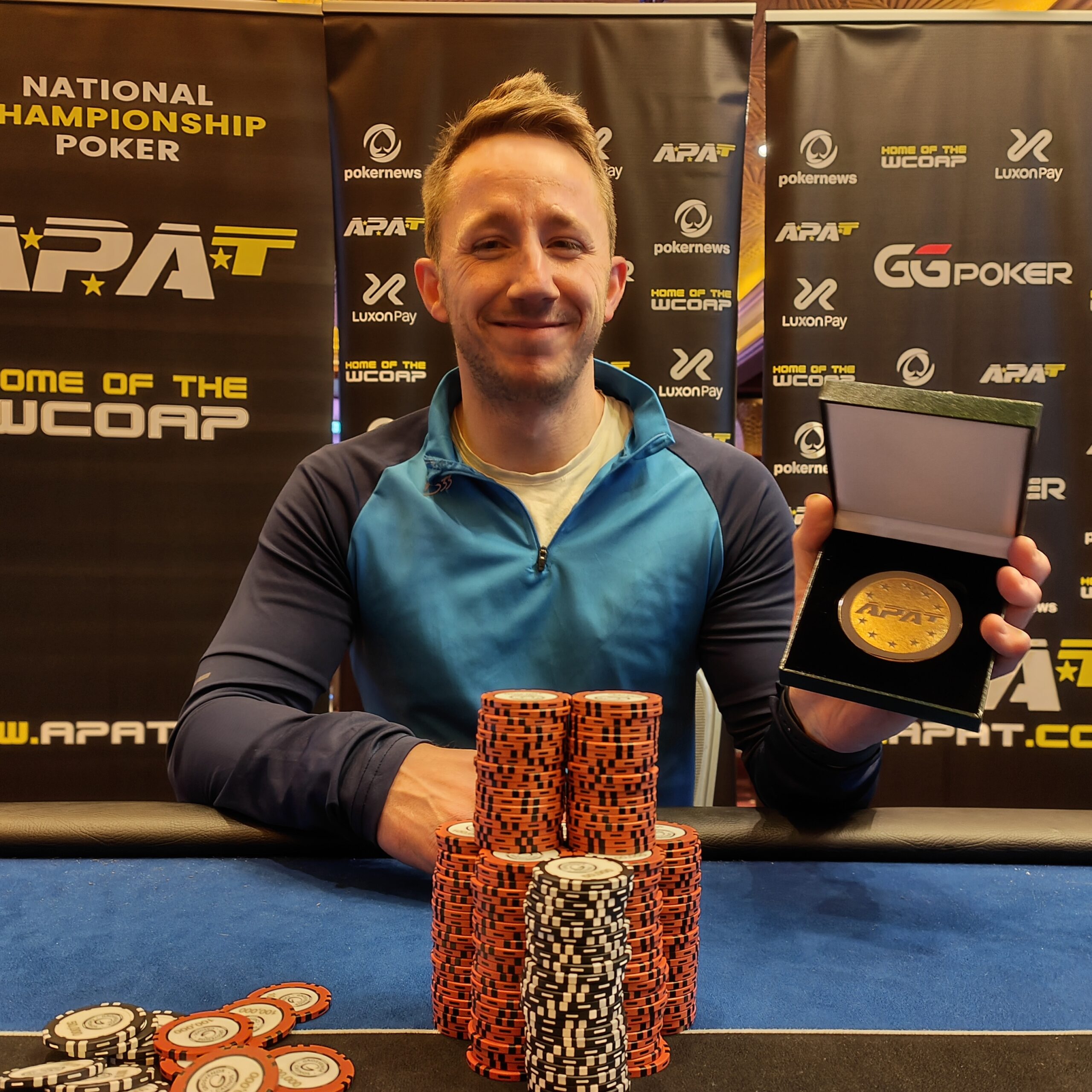 Tom Brady
APAT Operations Director
Live Events & Tour
Email: tombrady[at]hotmail.co.uk
Facebook: https://www.facebook.com/TomBrady65/
WhatsApp: 07957 977 057