Déjà vu at UK Team Championship
The biggest-ever UK Team Championship took place at Dusk Till Dawn Poker Club 25-26 Feb 2023 – 45 teams / 360 players battling it out for a share of the £36,000 prize fund, split between the top 7 teams (£27,000) and top 9 individuals (£9,000).
With 121 individuals qualifying through to Day 2, we had 2 teams that had only lost 1 player each – Bishops Cleeve Bar 9 and LV22 having 7 players each qualify into Day 2 – with LBPN having 6 players and BCPC, Holyrood Vampires, Ilfracombe Poker, North Tyneside Poker and Scotsquad having 5 with teams from Carterton, Frome and London all having 4 each, and it looked to be a fight between those for the top 3 team medal positions – although of course the top 3 individual medals could go to anyone.
As players dropped it was touch and go between Scotsquad, LV22, Bishops Cleeve Bar 9 and LBPN and as those teams started to lost their own players it was with the elimination of Robert Smith from LV22 in 27th place that locked in LV22 for 3rd spot and Bronze Medal position, with LBPN 4th and North Tyneside Poker 5th .
So with 26 players remaining, Scotsquad had 3 and the only other team who could take the title were Bishops Cleeve Bar 9 with 1 player left, but with time, and points running out, and it was with 22 left that history proved to repeat itself when Scotsquad, our friends in the north, re-captured the UK Team Championship title and Gold Medals with Bishops Cleeve Bar 9 taking the Silver Medal position.
Previously winning the UK Team Gold back in Nov 2014 in Manchester, which they followed up with a 3rd in Mar 2017 in Blackpool, Scotsquad proved to be only the 3rd team ever to re-gain the UK Team Championship crown.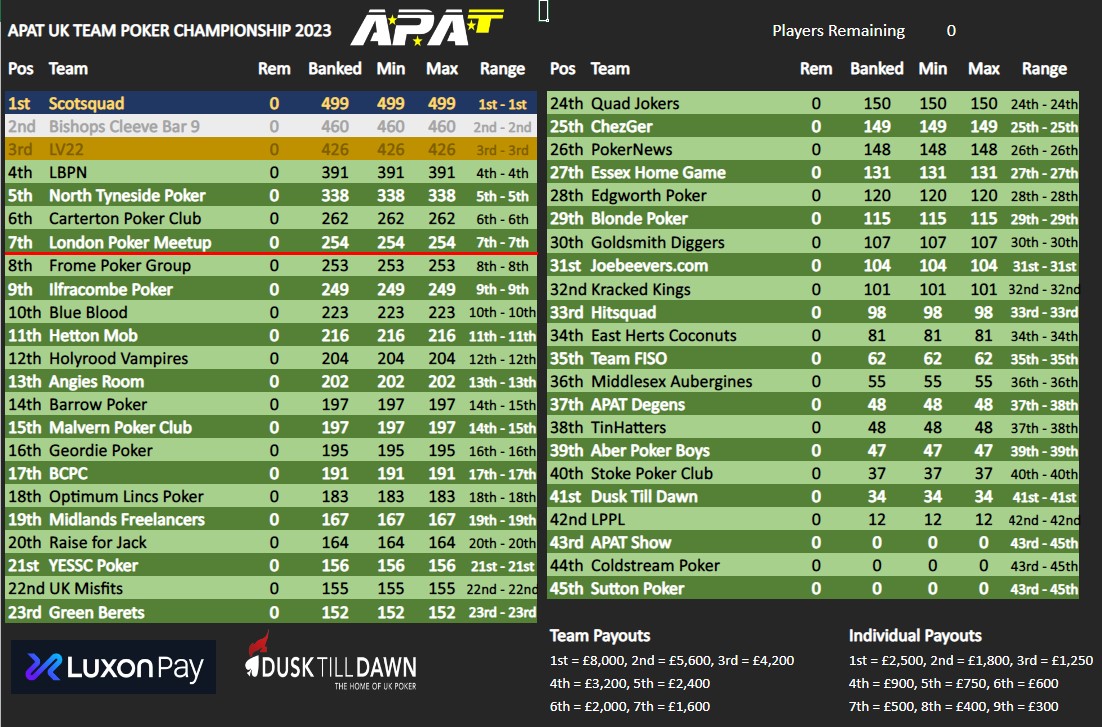 UK TEAM CHAMPIONS – GOLD MEDAL PLUS £8,000 – SCOTSQUAD
Rab Mccarrol / Colin Napier / Willy Higgins / James Marriot / Nicholas Howat / Donald Sloss / Clare Duffy / George Dick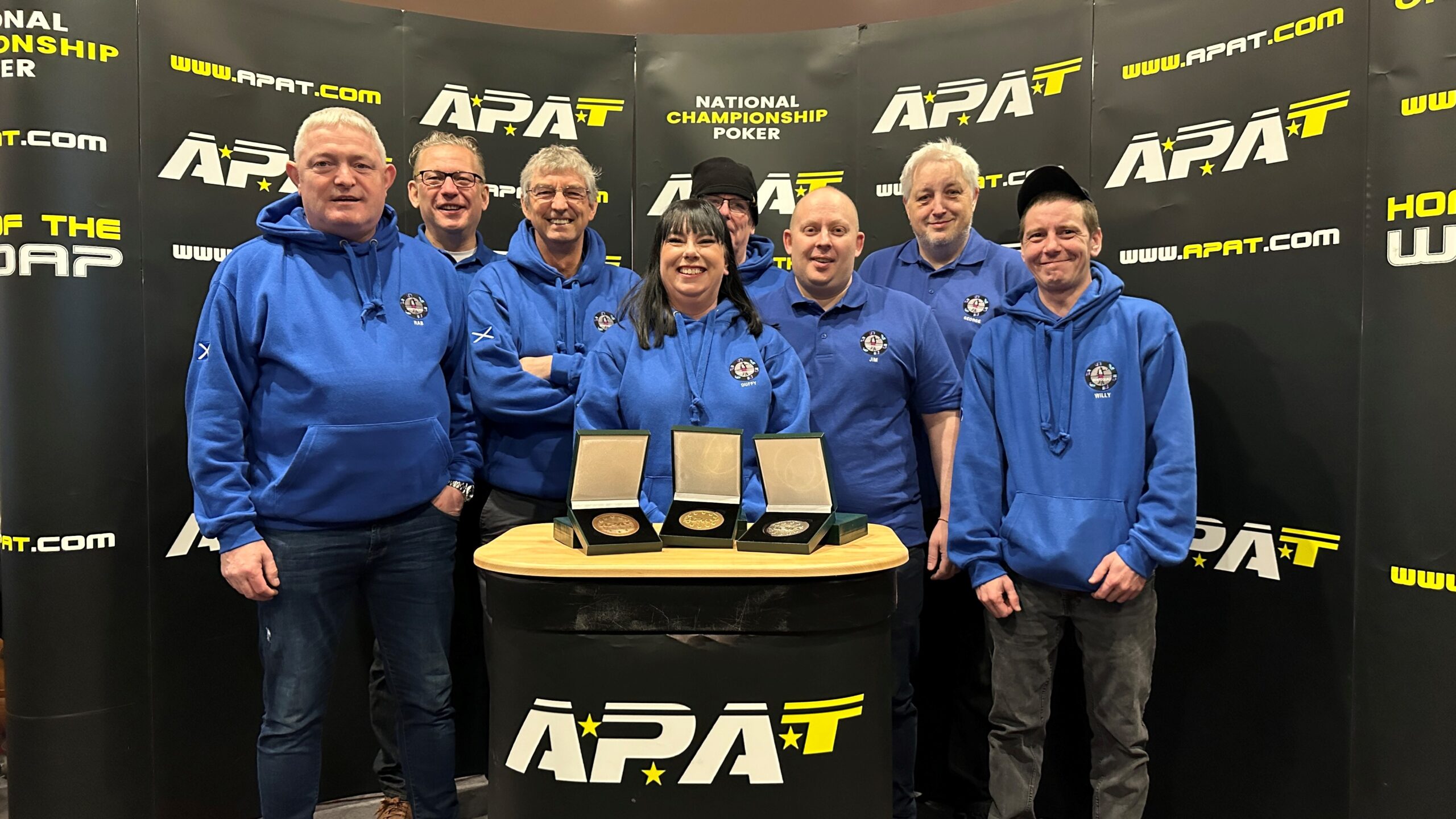 UK TEAM SILVER MEDALS PLUS £5,600 – BISHOPS CLEEVE BAR 9
Fraser Nicoll / Dan Pope / John Gallop / Iain Dicks / John Hext / Matt Keane / Roy Bowles / Jamie Witter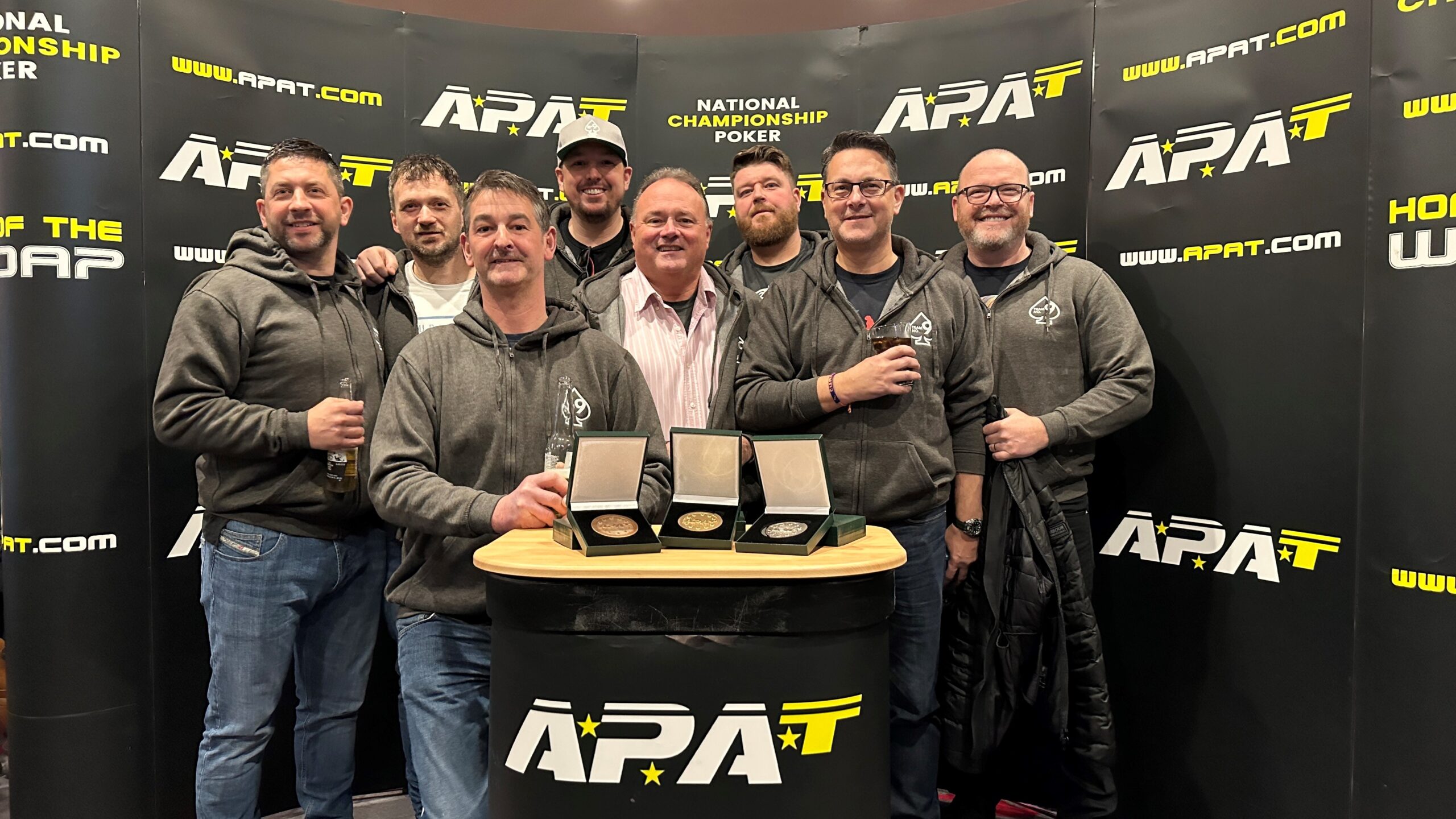 UK TEAM BRONZE MEDALS PLUS £4,200 – LV22
Andy Rooney / Andy Grant / Nick Smith / Robert Smith / Kieran Westbrook / Espen Helland / Graham Muncie / Liam Lapping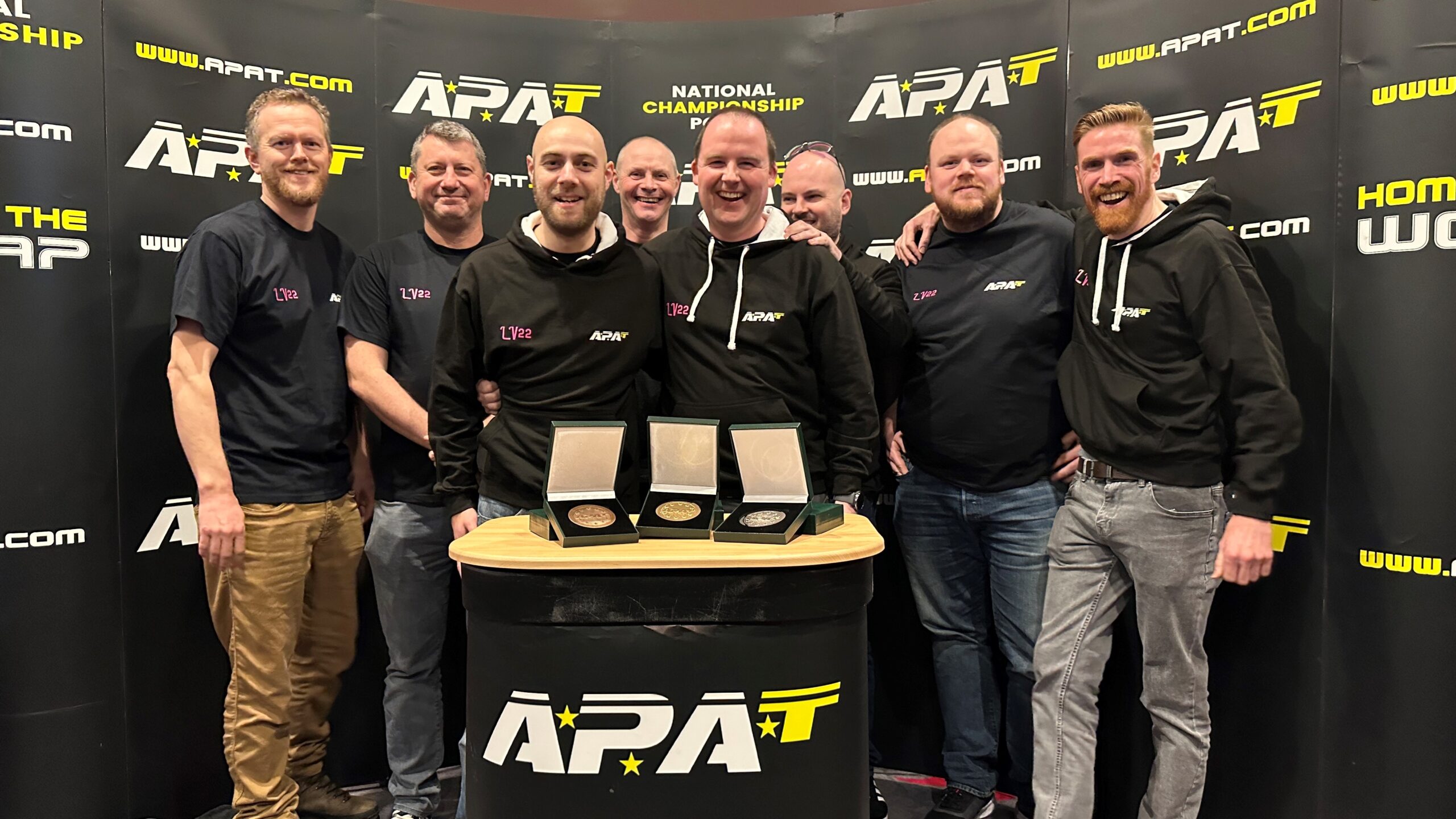 4TH LBPN £3,200
Lee Barrett / Chris Waddington / Callum Wilson / Steve Platt / Antony Lee / Dean Balmforth / Kenny Stewart / Tomo Pilling
5TH NORTH TYNESIDE POKER £2,400
Peter Ashcroft / PJ Henry / Paul White / Paul Herbertson / Ian Smith / Chris Hawkins / Aryan Virabi / Gareth Watson
6TH CARTETON POKER CLUB £2,000
Jon Young / Mark O'Connor / Andy Webb / Derek Potter / Sam Carpenter / Thomas Allen / James Kear / Neil Whitby
7TH LONDON POKER MEETUP £1,600
Mick Doyle / Dave Potts / Mark Oldfield / Jamie Lailey / Neil Stewart / Oliver Burdekin / John Exton / Sarah Exton
Going on to make the Final Table Individual 9 and securing an individual cash: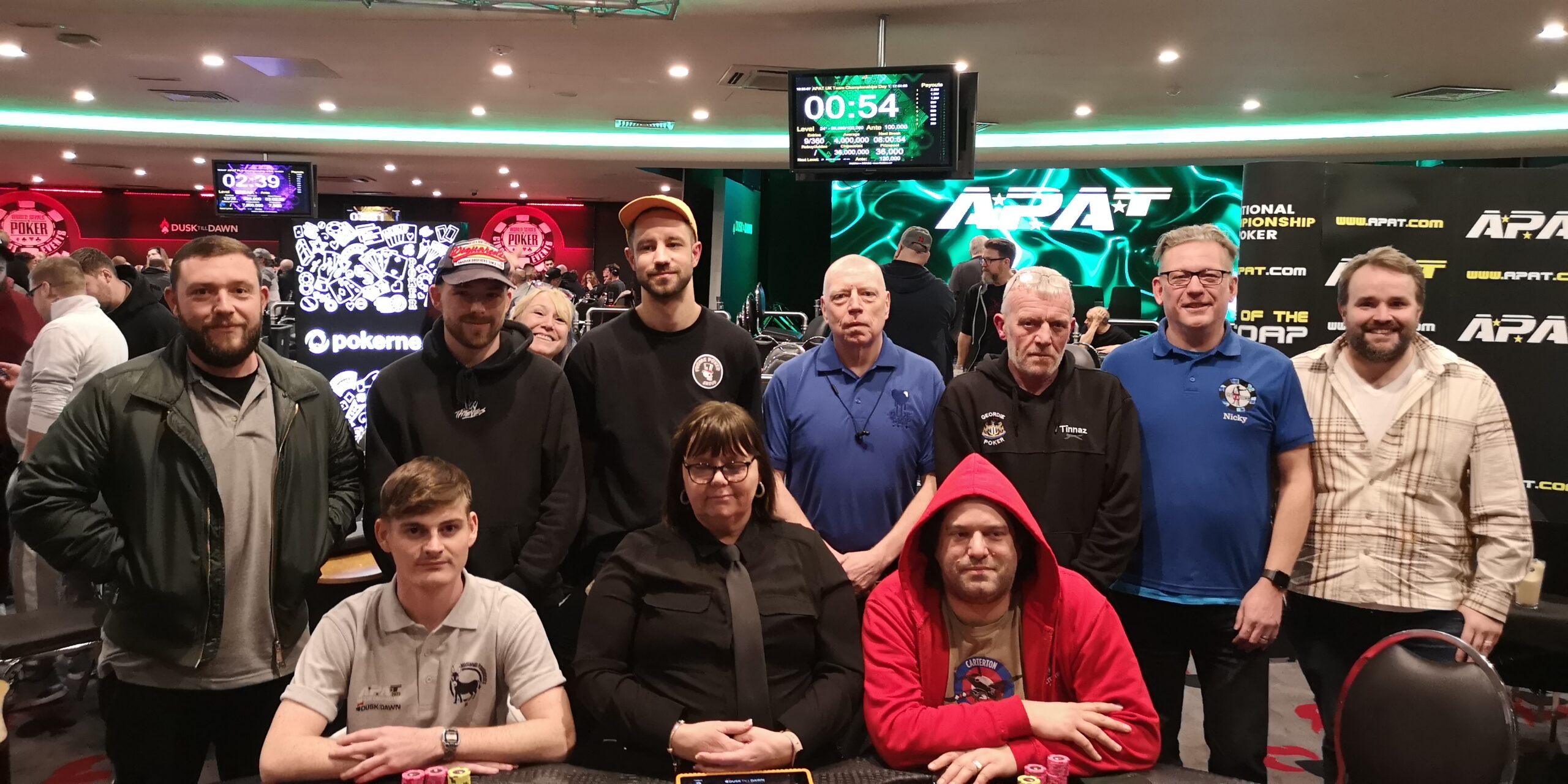 1st Wayne Tinnion (Geordie Poker) £2,500 plus APAT Gold Championship Medal
2nd Jon Young (Carteton Poker Club) £1,800 plus APAT Silver Championship Medal
3rd Ryan Houghton (Angies Room) £1,250 plus APAT Bronze Championship Medal
4th Alastair Hackett (Midlands Freelancers) £900
5th Warren Carless (Malvern Poker Club) £750
6th Nicholas Howat (Scotsquad) £600
7th Chris Roberts (Blonde Poker) £500
8th Dan Crabbe (Frome Poker Group) £400
9th Hugh Cairnie (Blue Blood) £300
UK TEAM CHAMPIONSHIP INDIVIDUAL WINNER – WAYNE TINNION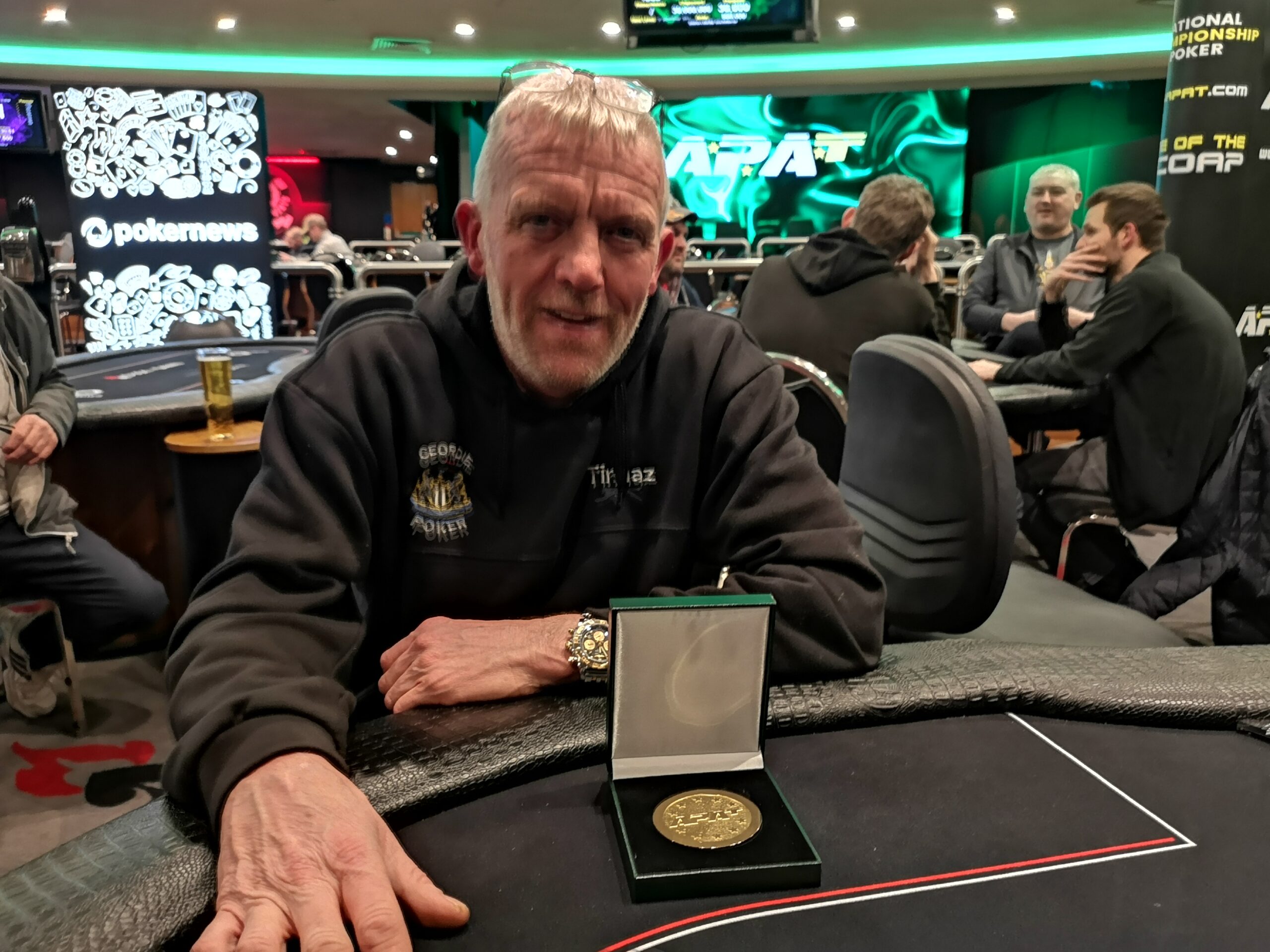 Rounding off an action-packed UK TEAM CHAMPIONSHIP Weekend with plenty of side event action from all FREEZEOUT events from the Bounty Hunter on Friday night, which drew 295 entries, Saturday NLHE 78 entries, Sunday NLHE 102 entries and indeed a SECOND APAT CHAMPIONSHIP MEDAL event on Sunday where 75 players battled it out for the PLO456 CHAMPIONSHIP and where Vahid Amirzahiri bagged himself a Gold Medal to go with his APAT Silver Medal from the June 2022 WCOAP High Roller, with Ian Thompson yet again proving his might with another APAT medal to his impressive tally.
1st Vahid Amirzahiri £2,550
2nd Ian Thompson £1,650
3rd Leo Farodoye £975
4th Andrew Stewart £675
5th Warren Brooks £490
6th Ian Morris £375
7th Waqar Akram £300
8th Ashiq Abdullah £260
9th Anonymous £225
PLO456 CHAMPION – VAHID AMIRZAHIRI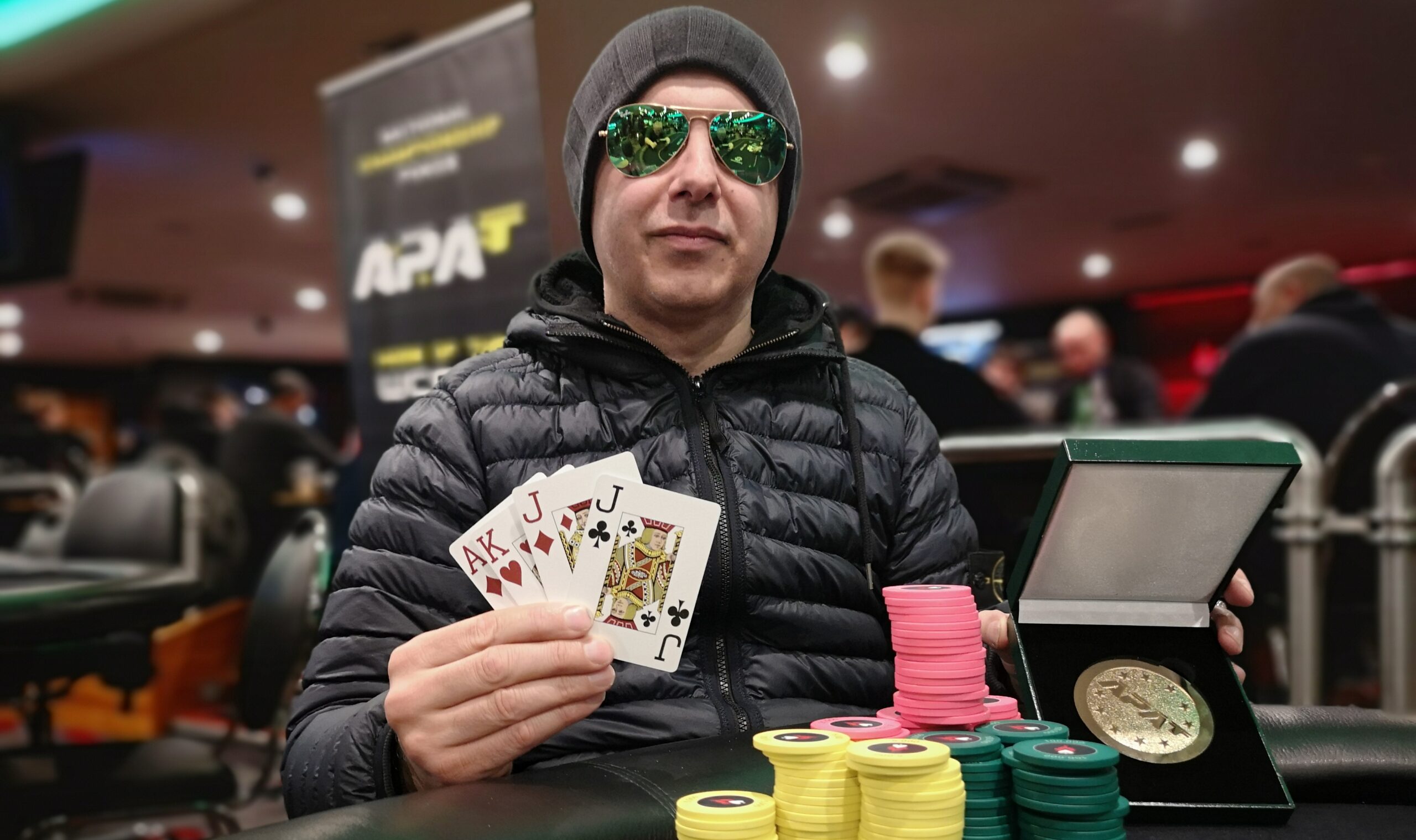 Tom Brady
APAT Operations Director
Live Events & Tour
Email: tombrady[at]hotmail.co.uk
Facebook: https://www.facebook.com/TomBrady65/
WhatsApp: 07957 977 057