Med Champ Makes Good On Promise
"I'll RETURN TO APAT MALTA TO WIN A MEDAL"
APAT's latest annual tour stop weighed anchor in Malta for the inaugural hosting of the APAT Mediterranean Championship, running as part of the Malta Poker Festival Spring Edition, and saw 318 entries compete for the Championship title and coveted APAT Championship Gold, Silver and Bronze medals.
For the €100+€20 buy-in NLHE Championship over 2 days, play progressed through the typical APAT Day 1 structure of 100k stack on 30 min clock to end after 8.5 hours play.
Day 1 action saw Seat 8.3 Mairo Toom (left) looking happy when AIPF in a 5-way pot for his short stack of around 8k… Seat 8.4 Jasper Carlson gives him a chance as he gets rid of the opposition and they are Heads Up with the action… Board 5
 A
 10
 5
 3
 and Jasper turns over J
Q
… Mairo shows pocket 4's and scoops a 5x increase in his stack to 40k
Mario Toom and Jasper Carlson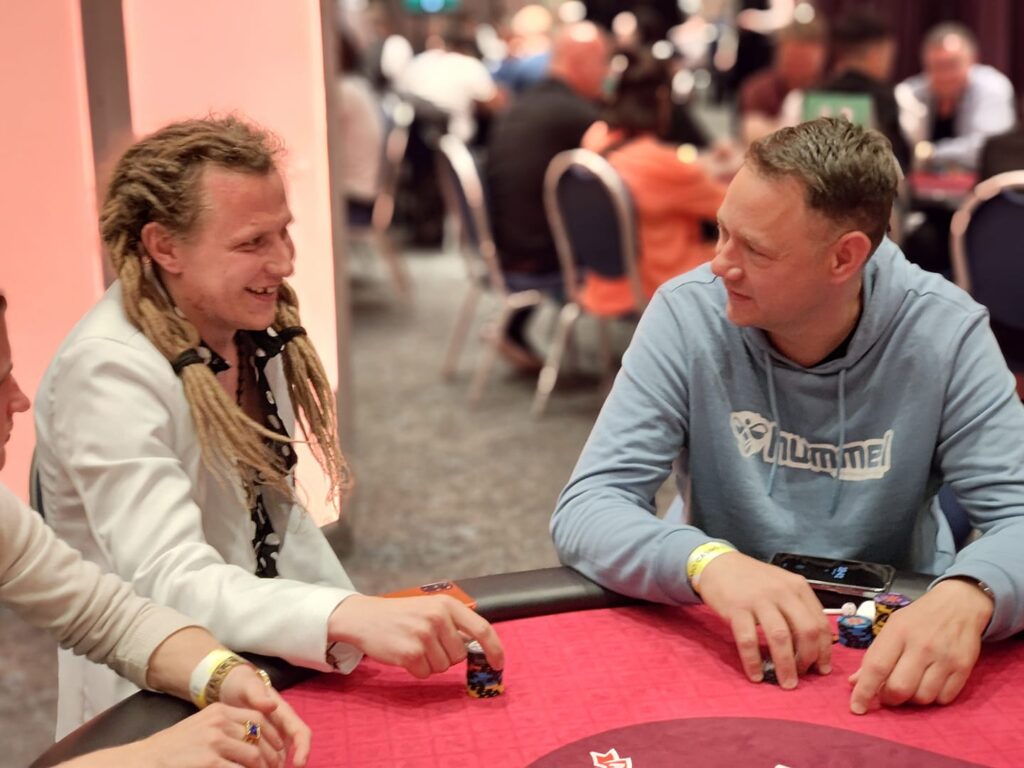 48 players made the Day 2 cut, with all coming back on Day 2 'in the money':
APAT MEDITERRANEAN PRIZE PAYOUTS
| Position | Payout | Position | Payout | Position | Payout | Position | Payout |
| --- | --- | --- | --- | --- | --- | --- | --- |
| 1st | €5,428 | 5th | €1,400 | 9th | €650 | 19th - 24th | €350 |
| 2nd | €3,750 | 6th | €1,100 | 10th - 11th | €550 | 25th - 30th | €300 |
| 3rd | €2,650 | 7th | €900 | 12th - 14th | €450 | 31st - 39th | €250 |
| 4th | €1,900 | 8th | €750 | 15th - 18th | €400 | 40th - 48th | €200 |
First to secure a min cash of €200 was Thomas Merschbrock, and as he slipped out, over on another table the Day 2 chip leader Mairo Toom put in a small raise only to have Daniel Kruger ship his small stack, and Mario, thinking for a short while, said 'show me pocket 9's' as he called and turned over Q 10 off… Daniel showed pocket 9's and held.
Before the first break of the day, Rosarie Roberts made a call against an All In shove with AJoff and was delighted to see Michael Stampf turn over KJoff  – and with Ace in the window Rosarie held and moved onto 2.4m chips – not before standing up and looking away from the table whilst the Board cards were dealt – a trait that would continue all the way to a Final Table appearance for Rosarie.
23 players made it to the first break, with 12 of them surviving by the next:
FINAL 12 PLAYERS AND STACKS
| First Name | Surname | Stack |
| --- | --- | --- |
| Philippe | Pedraza | 5,200,000 |
| Soren | Kristensen | 3,900,000 |
| Rosarie | Roberts | 3,400,000 |
| Christian | Kempf | 3,300,000 |
| Siebe | Obbes | 3,100,000 |
| Pascal | Beerntsen | 2,800,000 |
| Hariganesh | Chithambaram | 2,600,000 |
| Mairo | Toom | 2,500,000 |
| Domenico | Tortomasi | 1,900,000 |
| David | Collins | 1,600,000 |
| William | Lewins | 1,100,000 |
| Sebastian | Rebhan | 450,000 |
With the departure of Sebastian Rebhan in 12th, he was followed by APAT-regular Bill Lewins 11th and the Siebe Obbes in 10th – all picking up €550 each and taking us to a Final Table 9
Final Table 9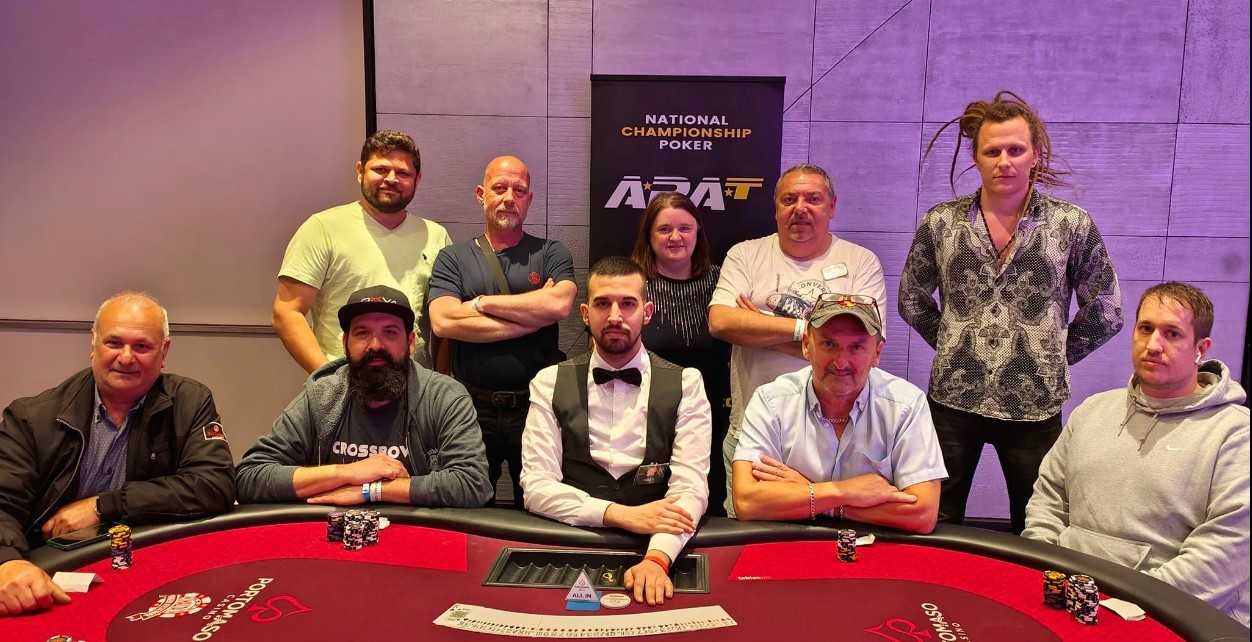 Level 24 – 60k/120k Avg 4m
Dave Collins 1m
Soren Kristensen 4.5m
Philippe Pedraza 9.9m
Rosarie Roberts 3m
Pascal Beerntsen 3.6m
Mairo Toom 1.2m
Hari Chithambaram 1.4m
Domenico Tortomasi 1.1m
Christian Kempf 5.9m
Dave Collins got busy right from the off, firstly shipping with 3
3
  and losing to K
Q
when Q
came on the Turn, and next hand he shipped again with 3
3
 again… though this time he won and took out Domenico Tortomasi in 9th place for €650, before shipping the next hand, this time taking the Blinds and moving onto 2.2m chips.
Mairo double his 2.2m stack when his J
J
 holds up against the big stack of Phillipe with A
 Q
, then Mairo UTG+1 made it 250k, Soren on the Button raised to 475k before Rosarie in the BB shipped for 2.65m – and with Mairo getting out of the way, Soren made the call and had Rosarie at risk of elimination – Soren AJ v Rosarie QQ and with no dangers coming on the Flop or Turn, the J River gave Rosarie a huge pot and reduced Soren to 1.1m chips – which all soon went in the middle to be called Mairo with QQ – Soren holding K10 completely missed the Board and left in 8th for €750.
Rosarie makes it 2.1m whilst Christian ponders, and Rosarie chats about she will show when he folds… though to her surprise, he announced All In instead… Rosarie calls showing 8
8
 and Christian flips over A
A
 and in the window we have A
AQ
 and Christian Doubles Up whilst Rosalie is reduced to 3.6m
Hari Chithambaram departed at the hands of Rosarie in 7th for €900, with Dave Collins 6th for €1,100 and with Rosarie Roberts going in 5th for €1,400 the field was reduced to the 'Championship Medal Bubble', being 4-handed.
Hari Chithambaram / Dave Collins / Rosarie Roberts
Level 28 200k/400k
Philippe Pedraza 12m
Pascal Beerntsen 4m
Mairo Toom 3m
Christian Kempt 10.5m
2m chips went the way of Mairo courtesy of Philippe when All In pre-flop Mairo's KQ spiked a Q in the window which held against Philippe's pocket 10's.  Philippe then pondered the All In shove from Pascal for 5m chips, with 2m already in the pot on a Flop QJ8 rainbow, but eventually folding, then pushed his remaining 6m stack into Christian's now Big Stack, and with Christian having picked up AA and Philippe holding Q10off, Philippe departed in 4th for €1,900 when an Ace in the window sealed his fate.
Philippe Pedraza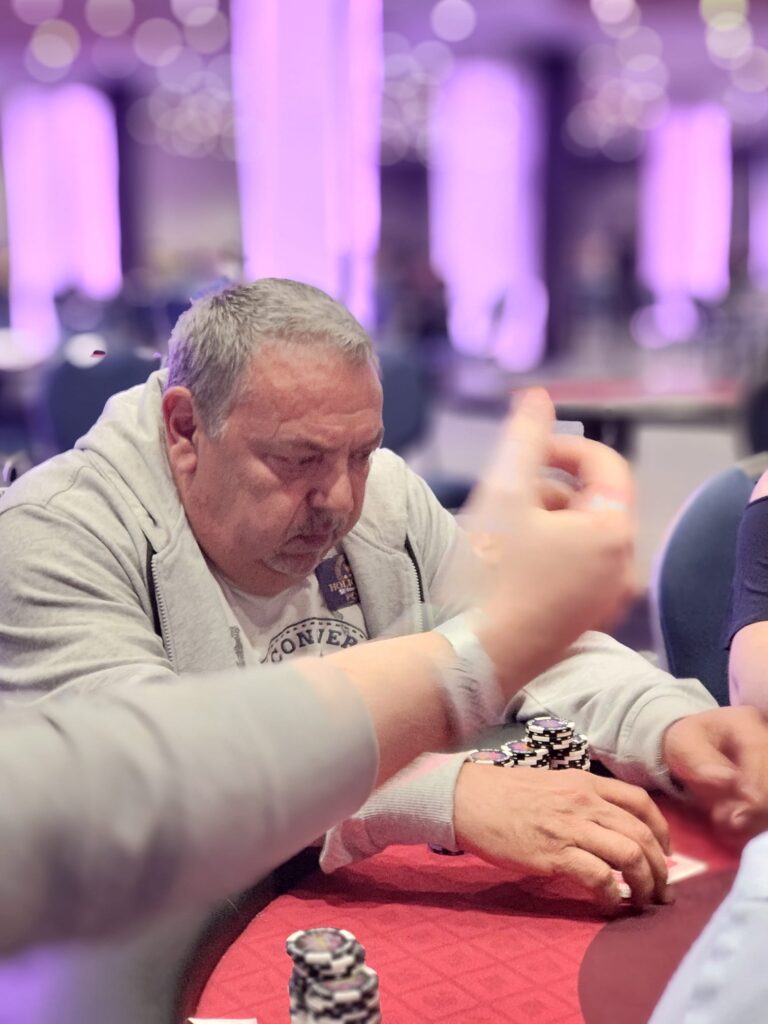 Final 3 Players – Championship Medal Winners – Level 29 300k/600k – 20 min clock 3-handed
Christian Kempf 14m (left)
Pascal Beerntsen 11m (centre)
Mairo Toom 6m (right)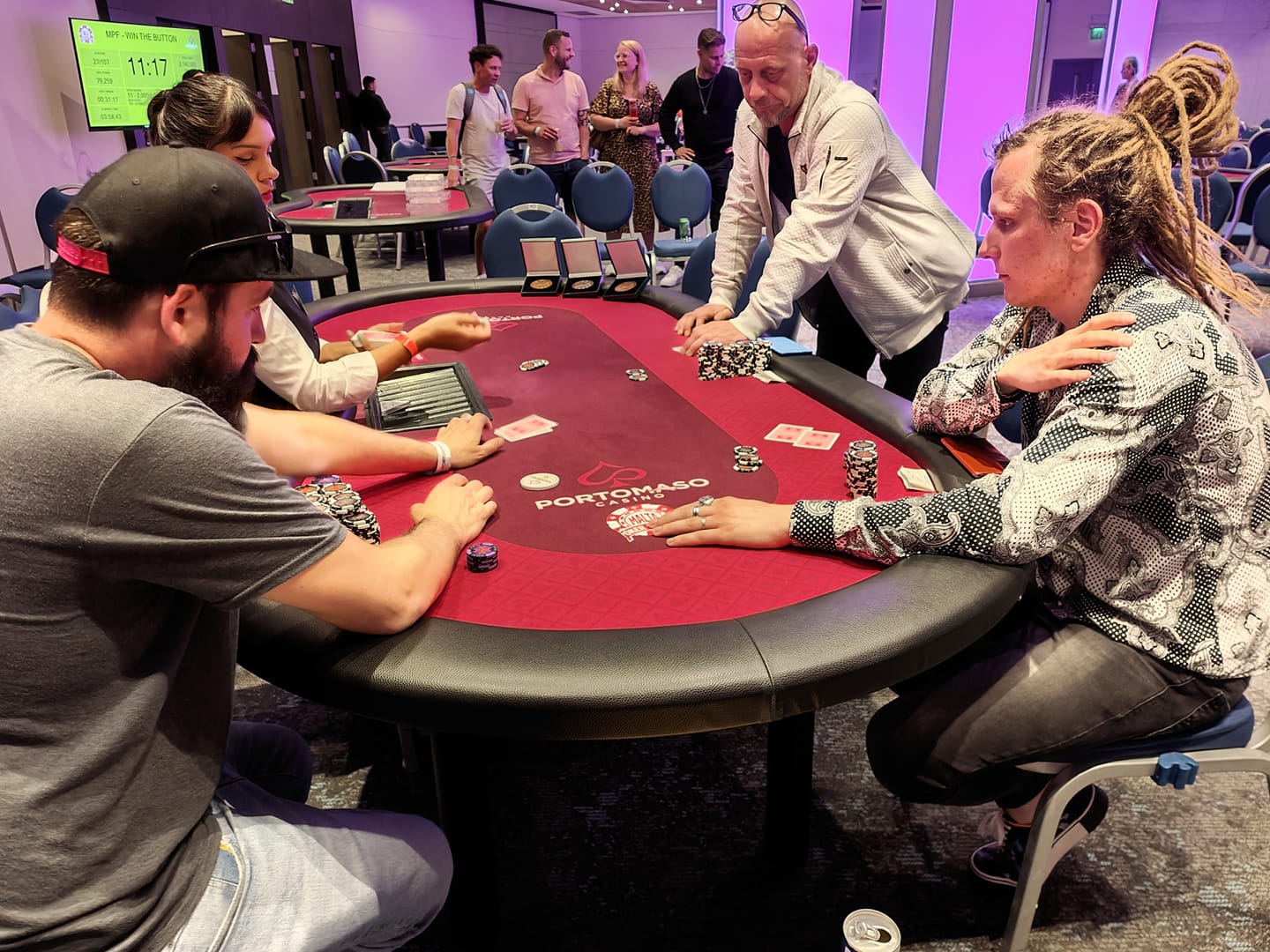 Christian gets away from the AIPF shove of Pascal and shows AJoff… Pascal shows AKoff.  Next Mairo is All In At Risk with A
J
 against Pascal with 9
9
 and when 9
 appears in the window Mairo walks in 3rd for €2,650 and Championship Bronze Medal.
Mairo Toom – Championship Bronze Medal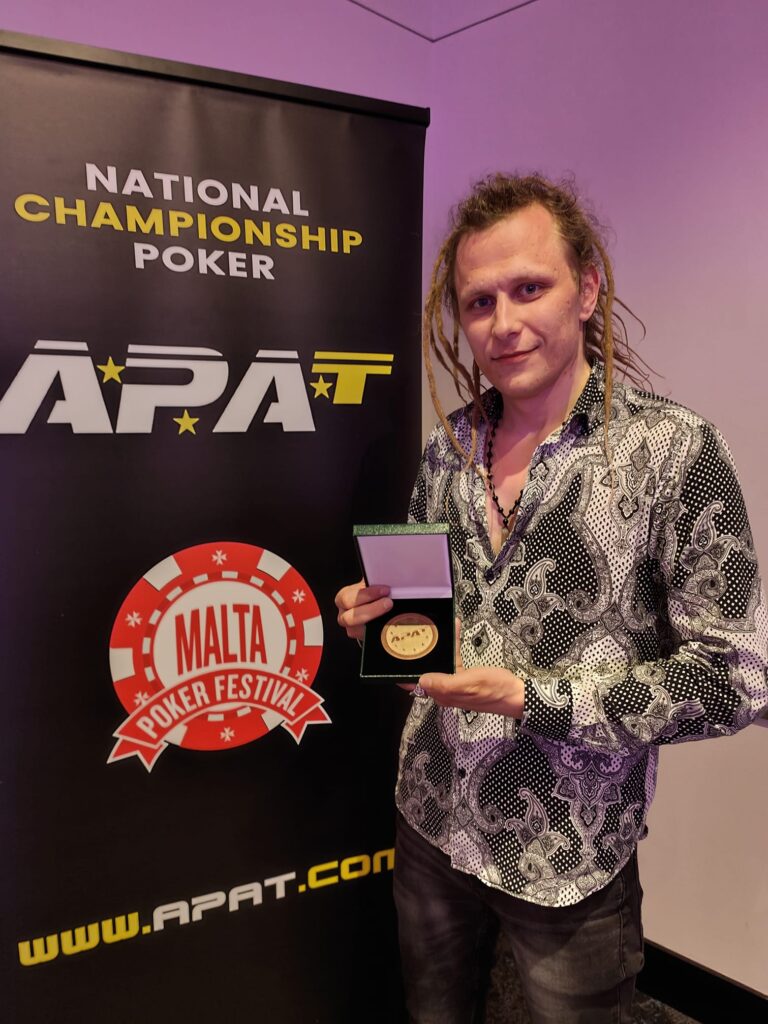 It soon got down to business and with chips roughly evenly stacked, they all go in the middle pre-flop:
Pascal 5
5
against Christian A
4
and the Board runs out A
8
4
6
3
and after a count, Pascal is reduced to circa 2m v the 30m of Christian.
Pascal folds the next hand in the Small Blind, then when first to act Christian announces 'All In' and Pascal immediately calls showing A
8
 only to see Christian flip over A
9
– but a relieved Pascal see's the Board come A
10
3
5
5
for a split pot – then Pascal takes the Blinds (300k/600k) when announcing All In on a Flop 8
7
10
.
Blinds move to 400k/800k and Pascal in the SB is All In – and after a count asked for by Christian (4m) he makes the call:
Pascal J
J
and Christian 8
10
and in the Window we see 8
10
K
to move Christian ahead with 2-pair, and the 4
Turn and 9
River seals the fate of Pascal.
Congrats to Silver Medalist Pascal Beerntsen who also takes home €3,750.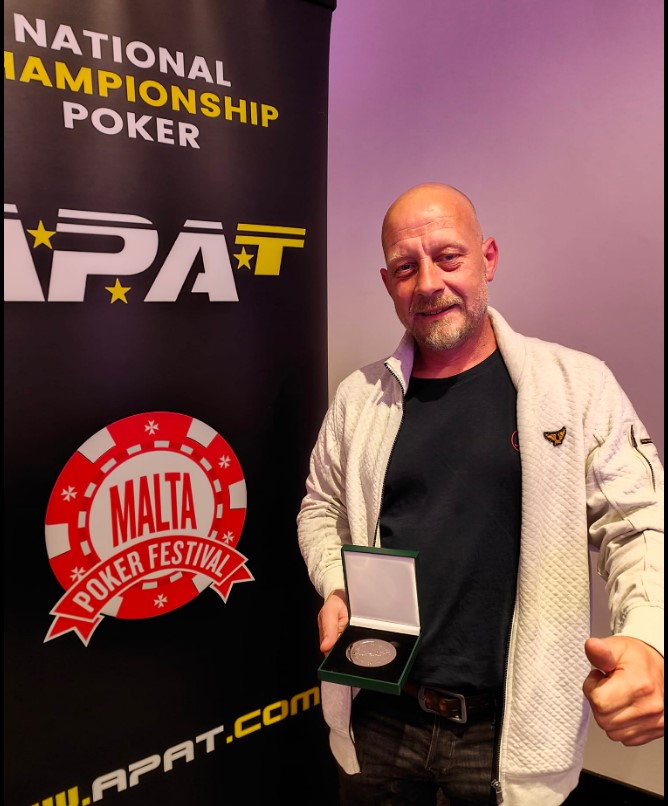 And the inaugural APAT Mediterranean Champion is crowned, Christian Kempf, who played this event in April 2022 finishing 19th and planned to come back this year to win a medal – and he does, collecting Championship Gold Medal along with €5,428
APAT Mediterranean Champion 2023 – Christian Kempf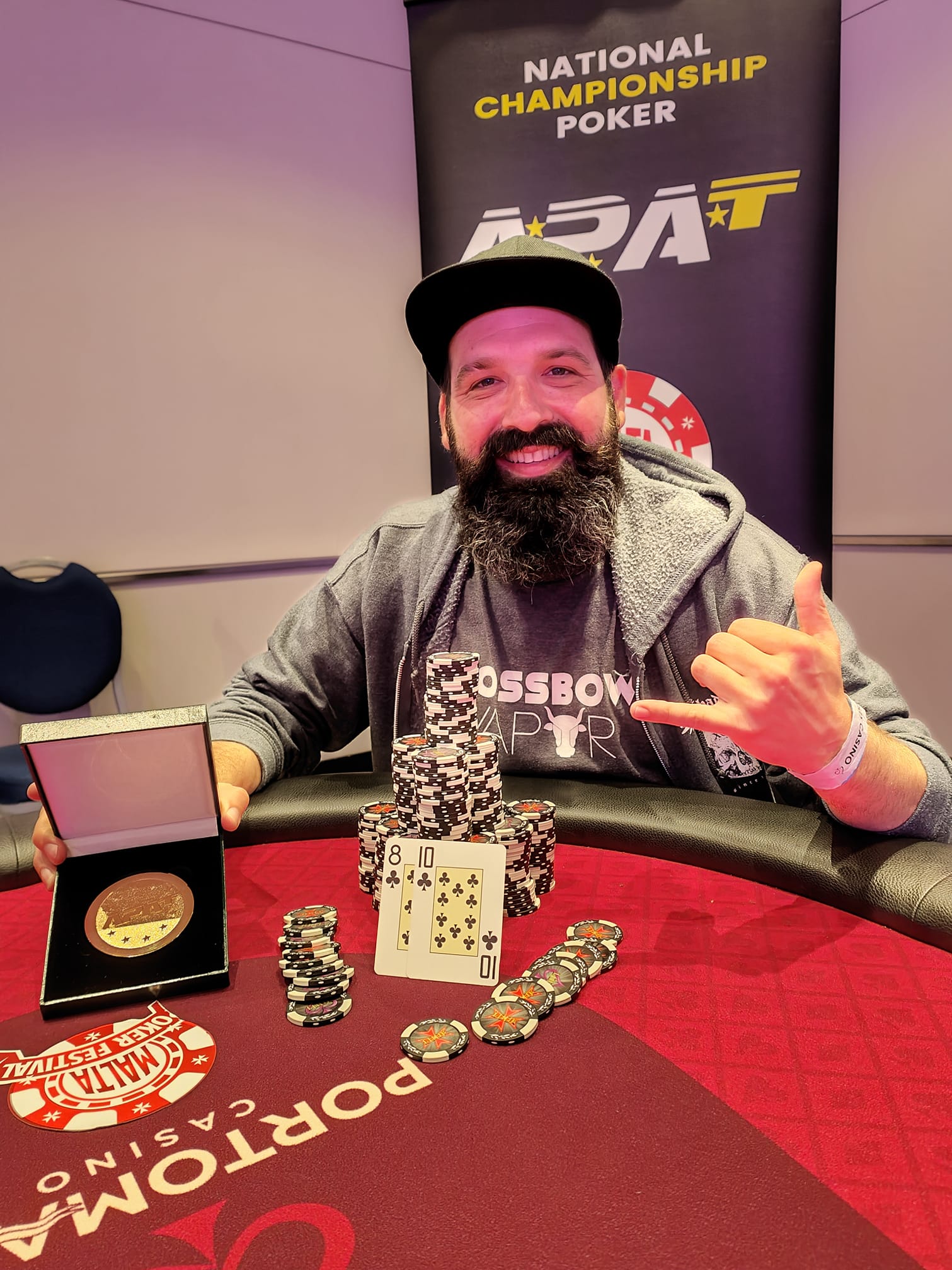 APAT MEDITERRANEAN FULL RESULT AND PRIZES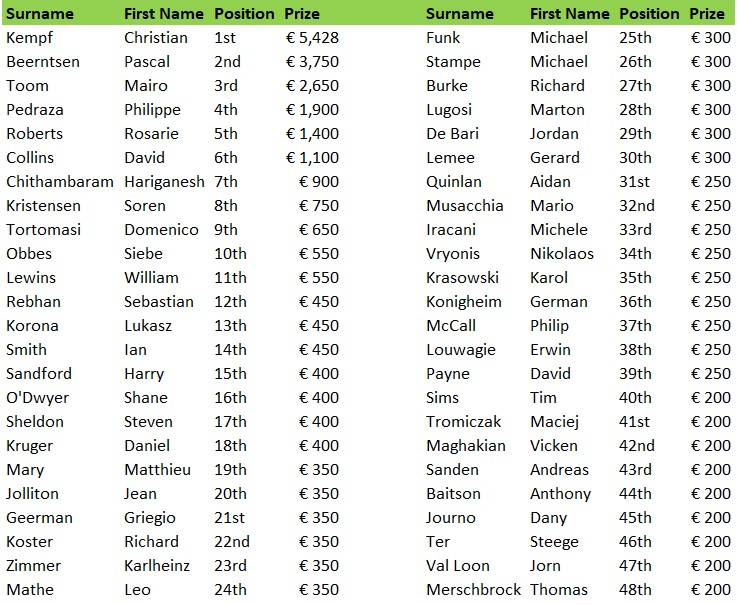 Tom Brady
APAT Operations Director
Live Events & Tour
Email: tombrady[at]hotmail.co.uk
Facebook: https://www.facebook.com/TomBrady65/
WhatsApp: 07957 977 057