International Team Championship
What an incredible two days we witnessed to kick off the live events of the World Championship Of Amateur Poker at Dusk Till Dawn in Nottingham.
Nine countries came together to compete for the WCOAP Bracelets and more importantly the title of 2022 WCOAP Champions.
England got off to a flyer in Phase 1,  picking up 51 of the 59 points available to each team, that put them 18 clear of Northern Ireland who were just 2 points ahead of Portugal.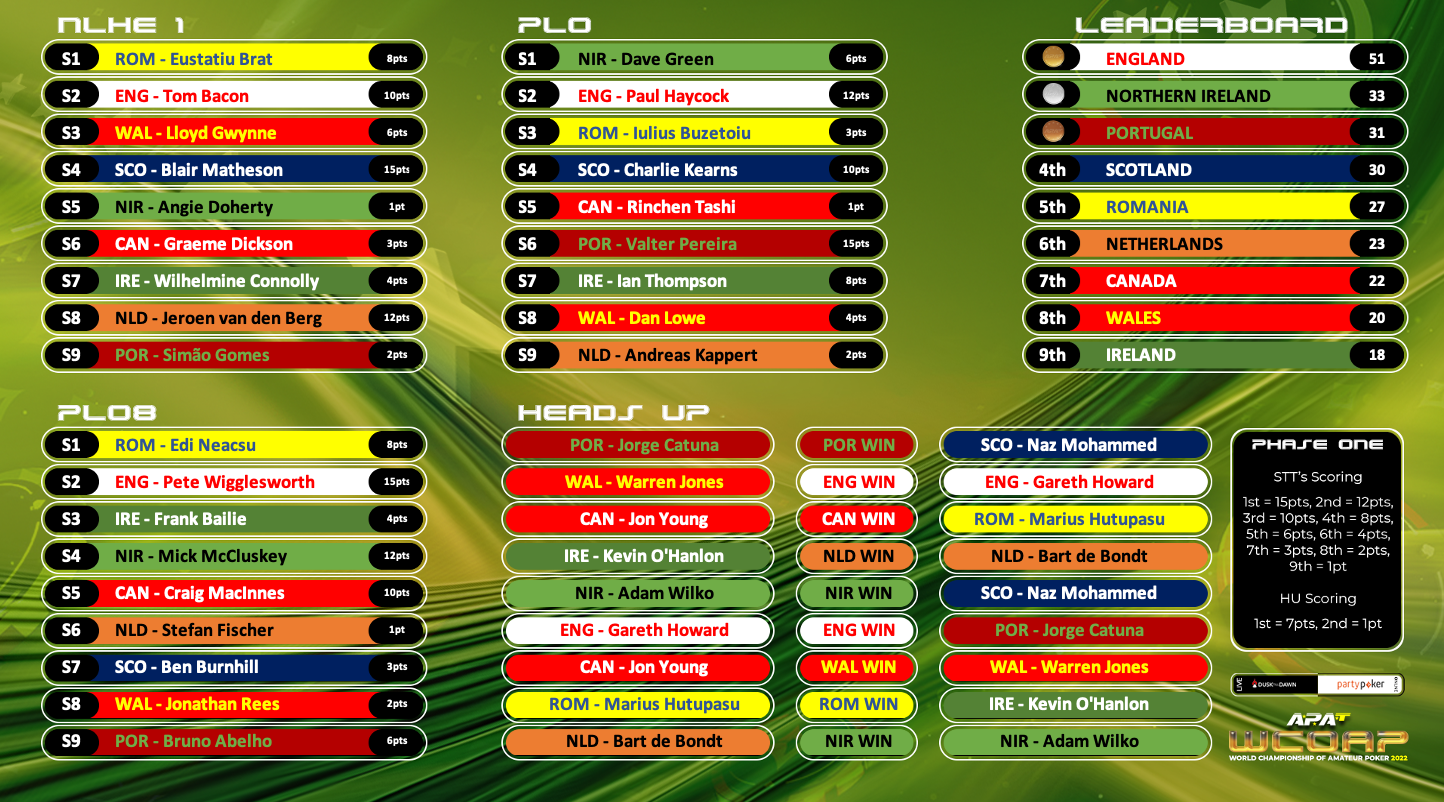 How quickly things can change though, early exits in 9th, 9th and 8th saw the England team reliant on their Heads Up expert Gareth Howard to pick up 14 of their 18 points total from Phase 2.  That meant it was four wins out of four on Day 1 for the young Englishman.  His Day 1 individual score was only bettered by Adam Wilko from Northern Ireland who won both is Heads Up games and also the STT that he played.
Phase 2 saw a balancing out of the teams, England still just remained top at the end of Day 1, but strong performances from Wales, Romania, Northern Ireland and Portugal meant it was all the play for on Day 2.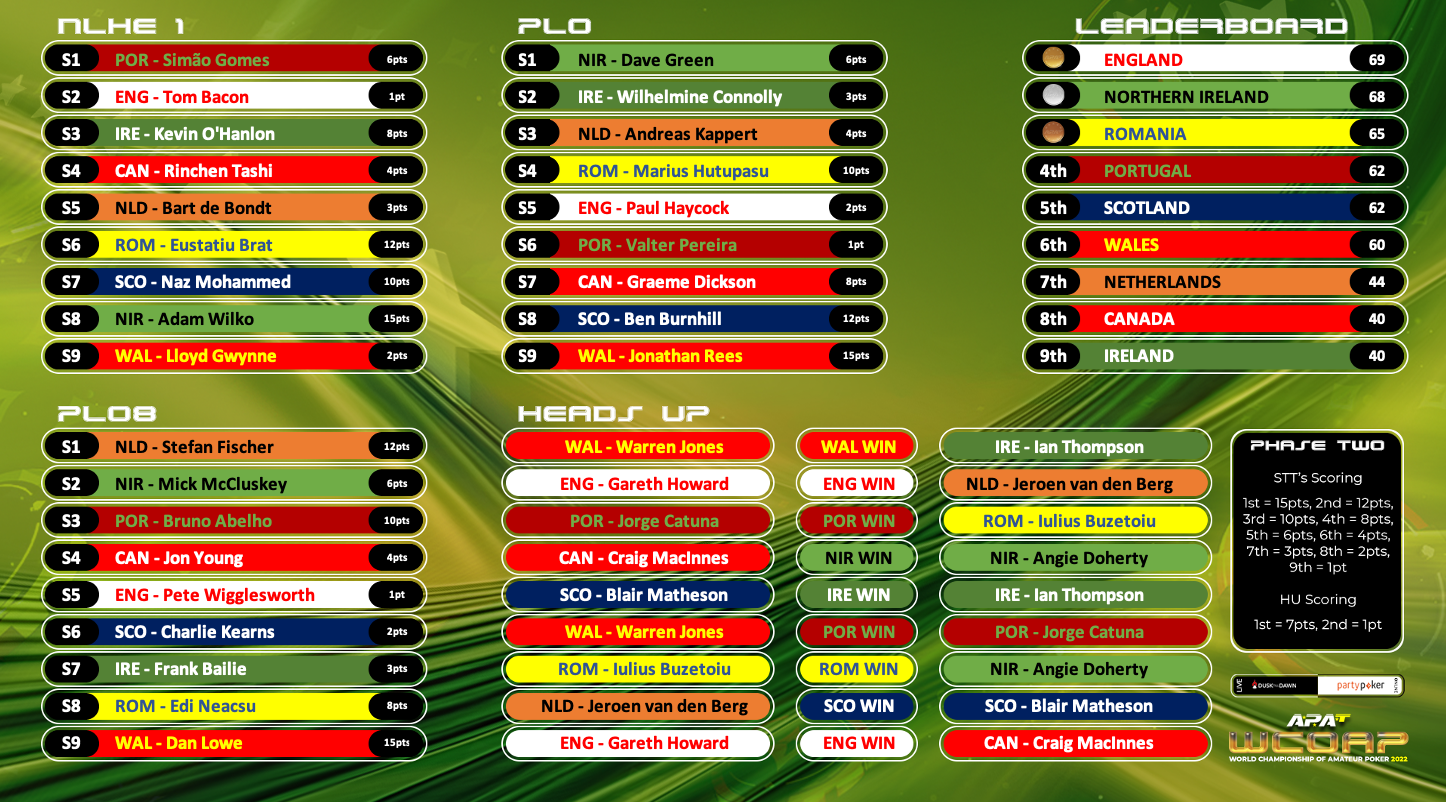 Going into Day 2, England had a one point lead over Northern Ireland.  Romania were just three points further back in third place with both Portugal and a quietly progressing Scotland another three points back.
Phase 3 saw the final 4 STT's. England managed to extend their lead by a few points, but both Ireland and Scotland had closed the gap between themselves and the English in the hunt for the WCOAP Bracelets.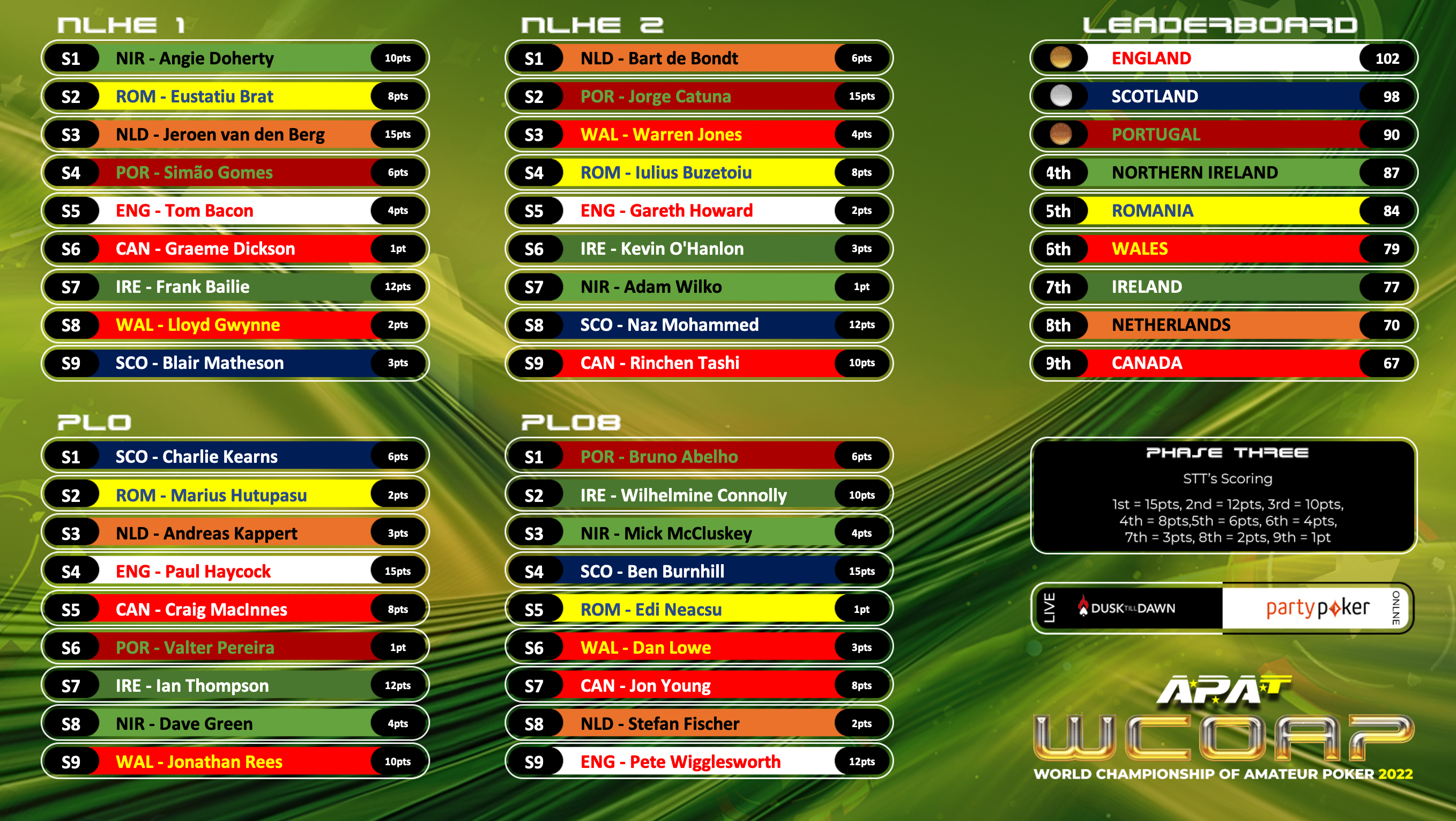 The final Phase of the event saw all 36 players compete in a MTT.  Points available to all, but with those points weighted in the top positions, teams knew if they wanted a chance at those Top 3 Medals, they would need to run deep as a team but couldn't afford to just let their stacks dwindle.  A true tactical challenge for all nine captains to plan and then the teams to execute.
For the reigning live champions from Vienna in 2019 it had been a tough two day.  The Netherlands quickly saw two of their players on the rail, and any hope of picking up another medal seems to have gone.
With each exit, the leaderboard swung.  Both Romania and Wales saw early exits and focus switched for their remaining players in to trying to win the MTT for some pride.
By the time half the field had been eliminated the top of the leaderboard was taking shape.  England still had all four players remaining.  Scotland, Portugal and Canada had three left.
Five more exits and we were down to 13 players.  England still had 4, Scotland 3, Portugal 2 and Canada 2.  It was clear these were the teams that would be fighting it out for the medals, England were in a strong position, but were there still twists to come.
England skipper Paul Haycock was next to bust.  He had been nursing a short stack for a number of levels and was sat on a table with both Ben Burnhill and Blair Matheson from Scotland.  Haycock was clearly their target, and eventually he was sent to the rail.
That felt like a turning point.  England still had three players in, but they were all clearly shorter stacks than the three remaining Scottish players.
By the time we hit the final table of 9, both Gareth Howard and Tom Bacon had departed for England, leaving just Peter Wigglesworth to battle it out against three Scottish players, two Portuguese , two Canadians and one remaining Dutch player.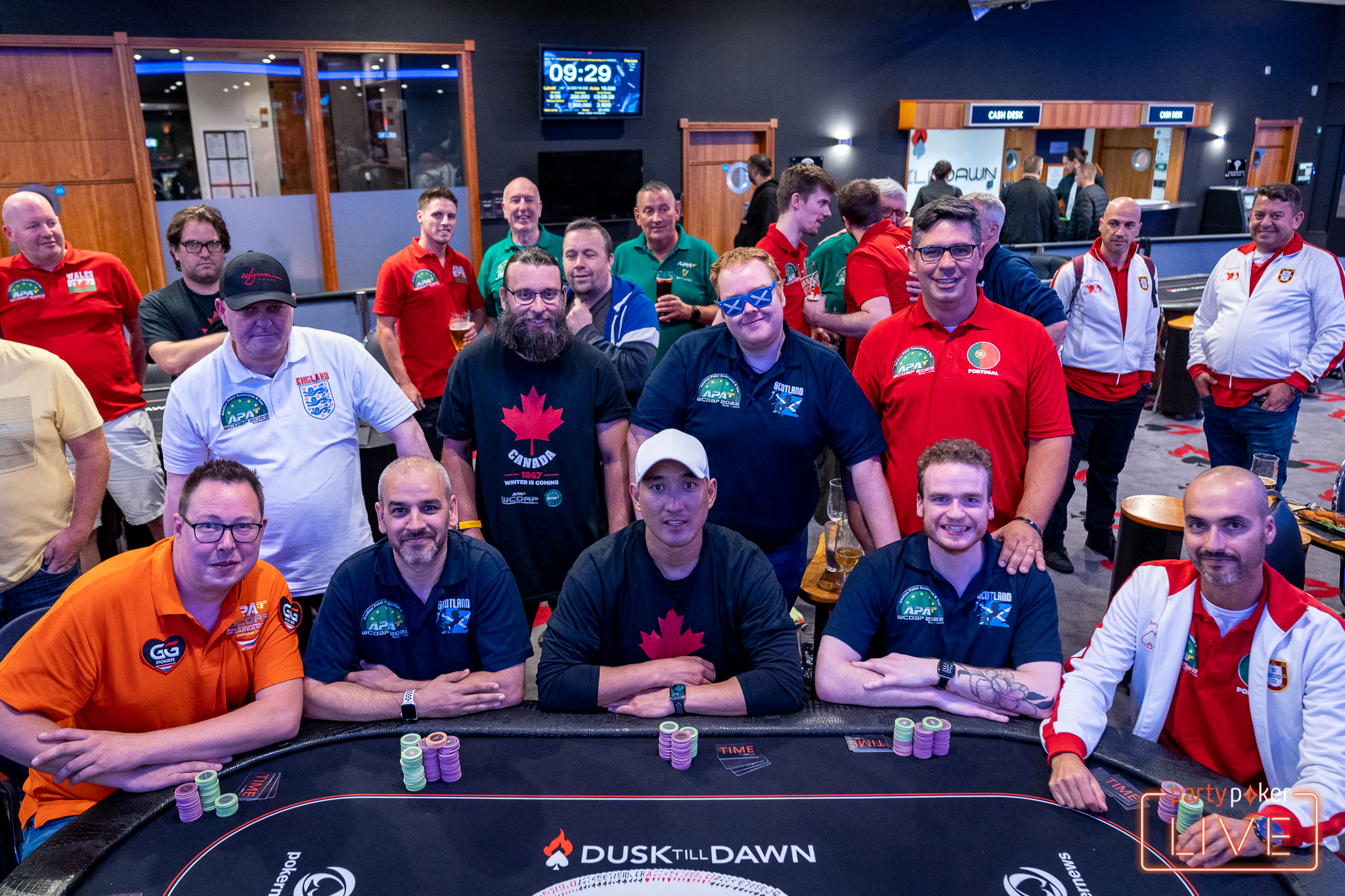 First to exit was Jeroen van den Berg from the Netherlands.  The next exit sent the Scottish team and railing support into frenzied celebration as England's Peter Wigglesworth departed from the tournament.
That exit meant Scotland were guaranteed the title and England would have to settle for the Silver Medals.
As the three remaining Scottish players retook their seats, all focus turned to the Bronze Medal place.  Both Portugal and Canada had two players remaining.  The Portuguese had the advantage having already banked 20 points more than Canada, but the team from North America now knew what they needed to do.
Quick exits followed with the team from Portugal left watching the final three players battled it out.
Graeme Dickson and Rinchen Tashi from Canada were joined by Blair Matheson from Scotland.  The Canadians needed to finish 1st and 2nd to snatch the Bronze Medals from Portugal.
The Canadian dream was over when Blair bust Graeme in third and that sent the Portuguese rail into their own celebrations.
Heads Up and it was Rinchen Tashi from Canada that secured the win, meaning they levelled on points with Portugal, but the Portuguese saw in the knowledge that their STT performances from the two days was enough to win the Bronze Medals on a count back.
Final Leaderboard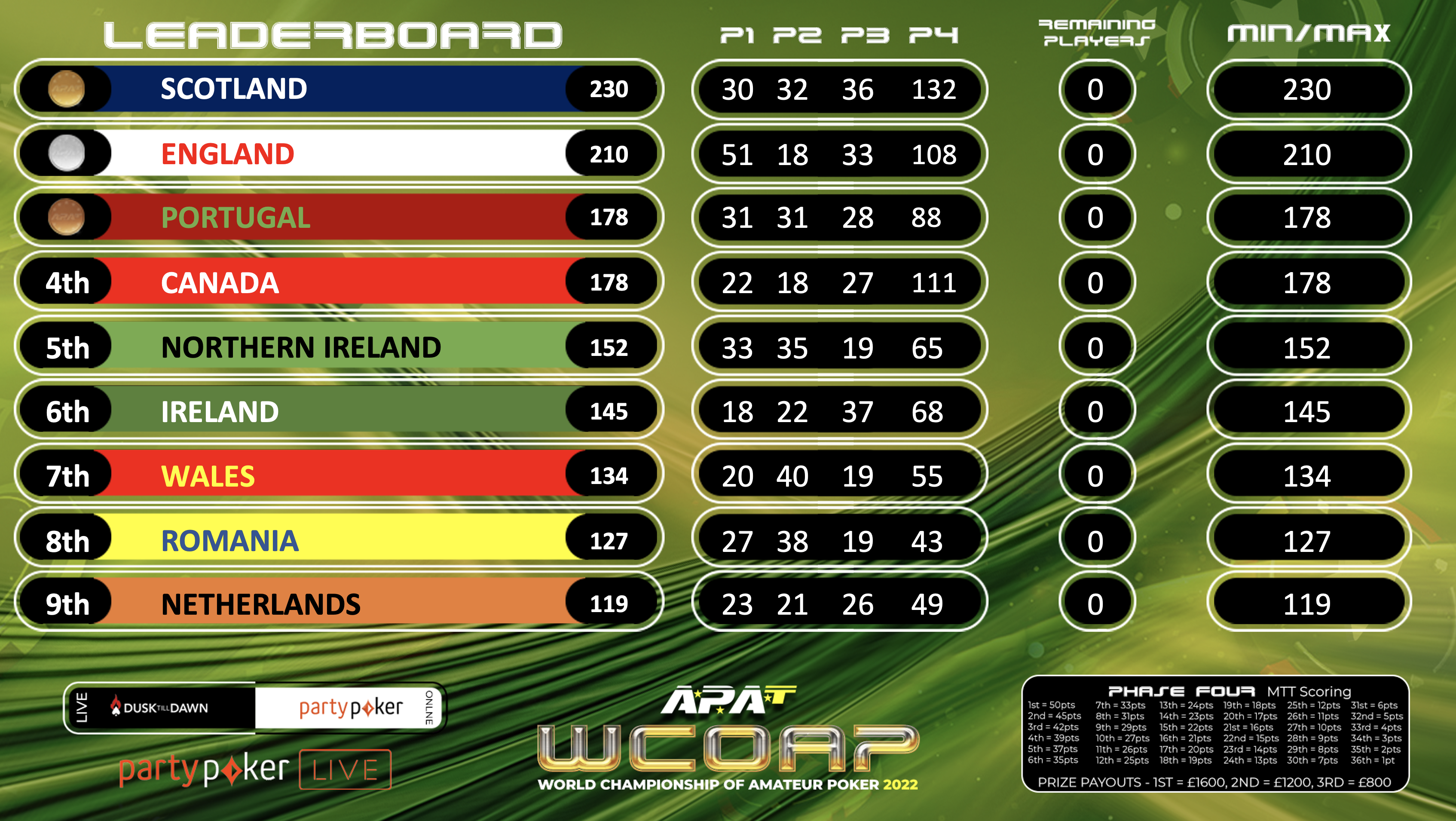 First Place – Scotland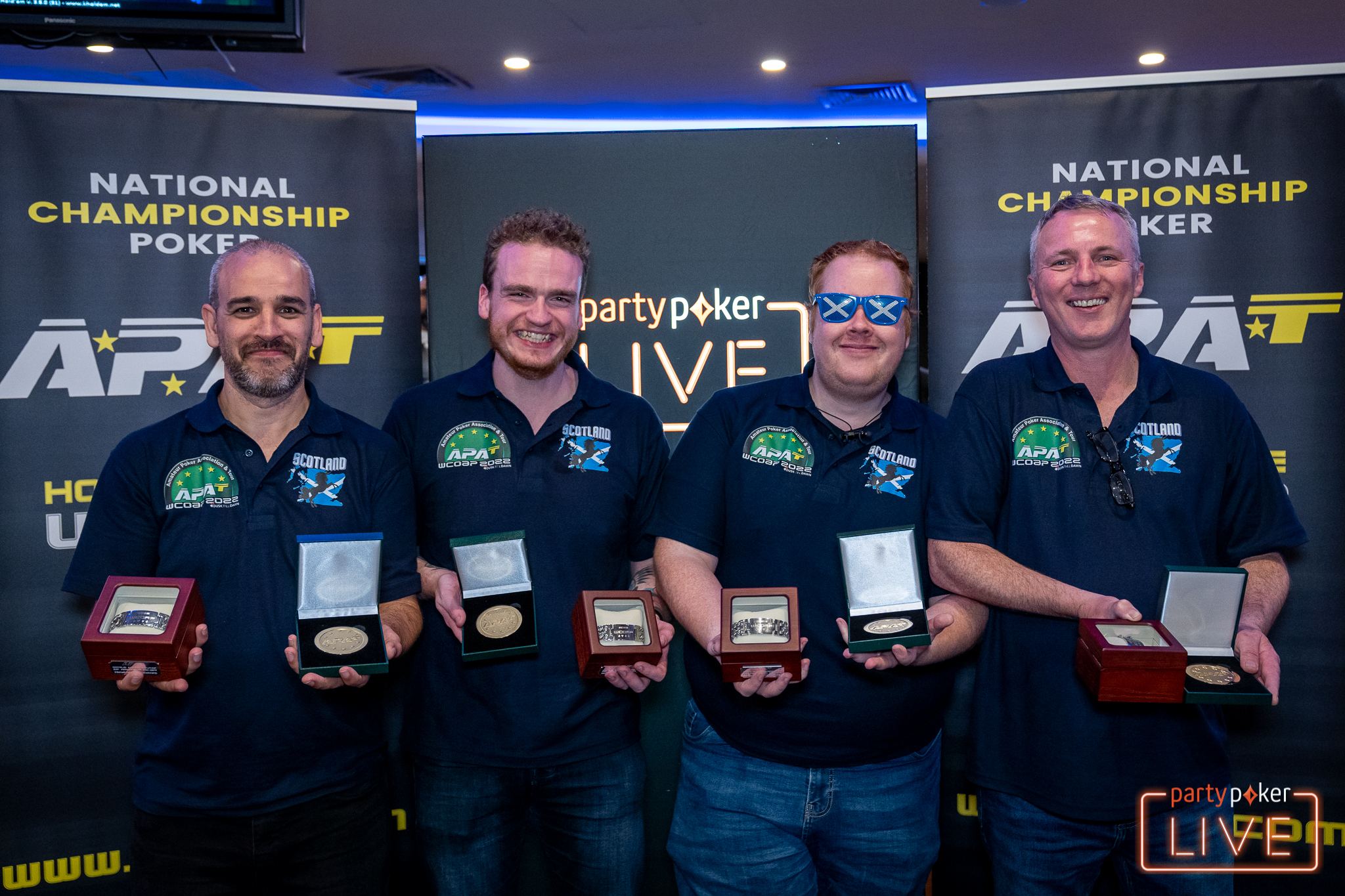 Second Place – England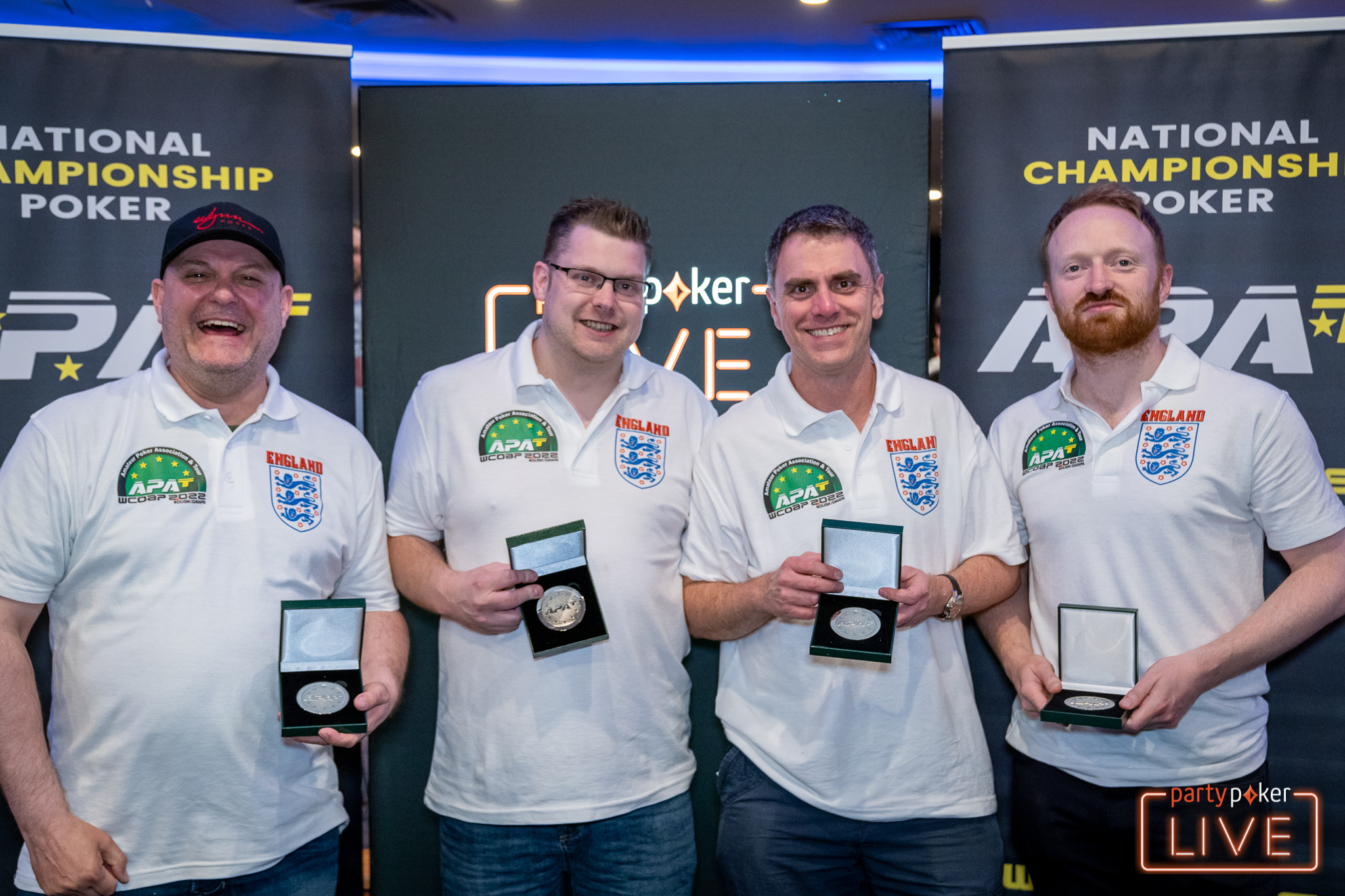 Third Place – Portugal