UKCOAP Day 2 – Triple Stud
Whilst the live High Roller Satellite progressed 5 players into the event for action on Friday, and the first live Main Event Day 1 saw 10 players make it to Day 2, joining the 6 from the online Day 1 and with each guaranteed a min cash locked up in the £50,000 Guaranteed event, the highlight of the day was of course the Triple Stud Championship.
Playing a round of each – Stud Hi – Razz (Stud Lo) – and Stud8 (Hi/Lo) it attracted a field of 51 players for the £50+£10 Freezeout at Dusk Till Dawn for this unique event on UK shores.
6 players made the Final Table
Mustapha CHAM
Ben BURNHILL
Simon TRUMPER
Gary JOHNSTON
Charles MASON
Neeraj MADHVANI
And with all 6 'in the money', it was Charles MASON who was first to exit the Final Table picking up £130, followed by Ben BURNHILL in 5th for £190 and then, just falling short of a medal position Neeraj MADHVANI in 4th with £260.
A delighted Mustapha CHAM went on to secure the Championship Bronze Medal in 3rd, along with £380.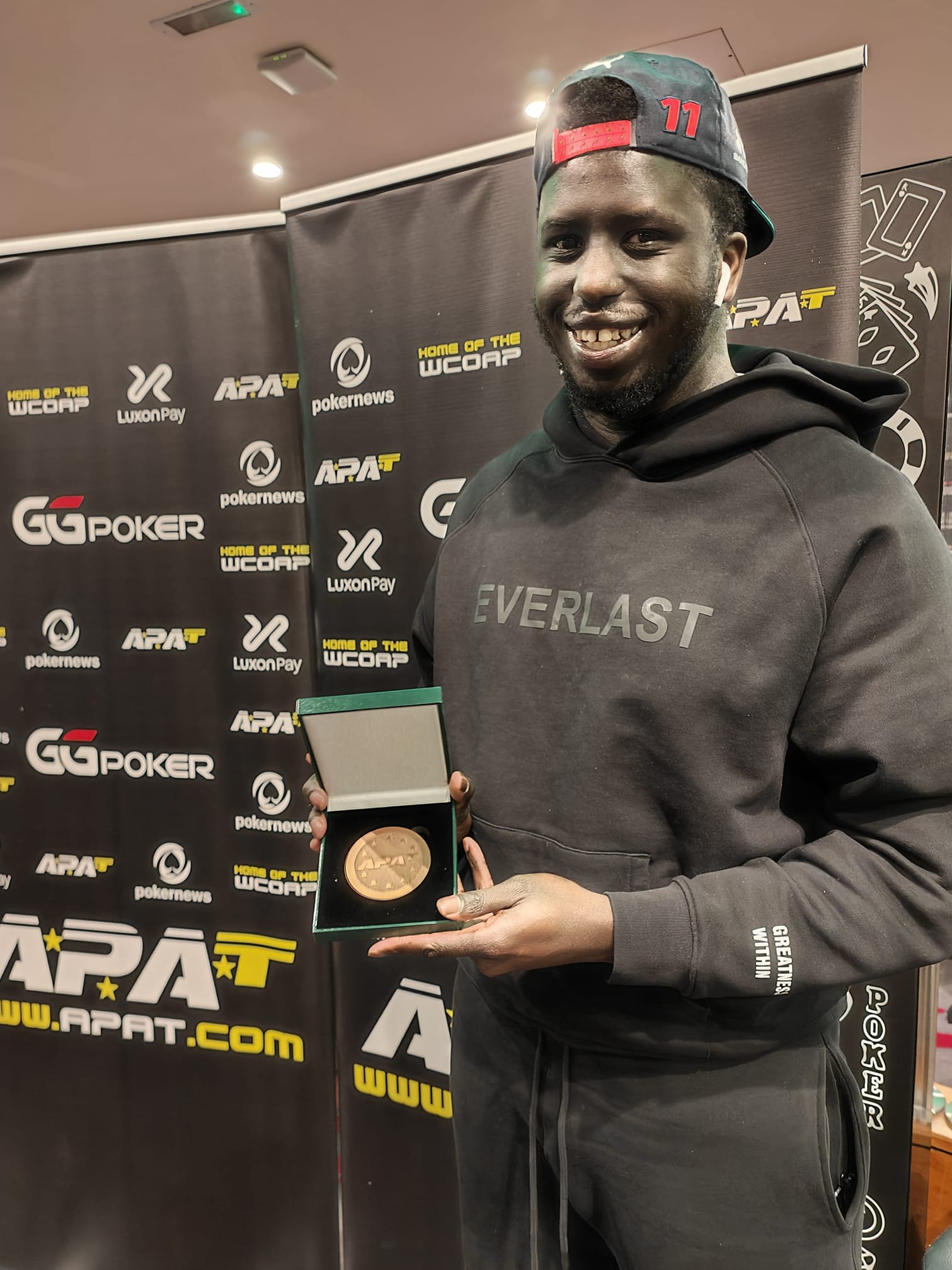 With Gary JOHNSON and Simon TRUMPER now Heads Up, Simon was chasing his second medal of the festival having claimed Bronze the day before in the PLO Championship.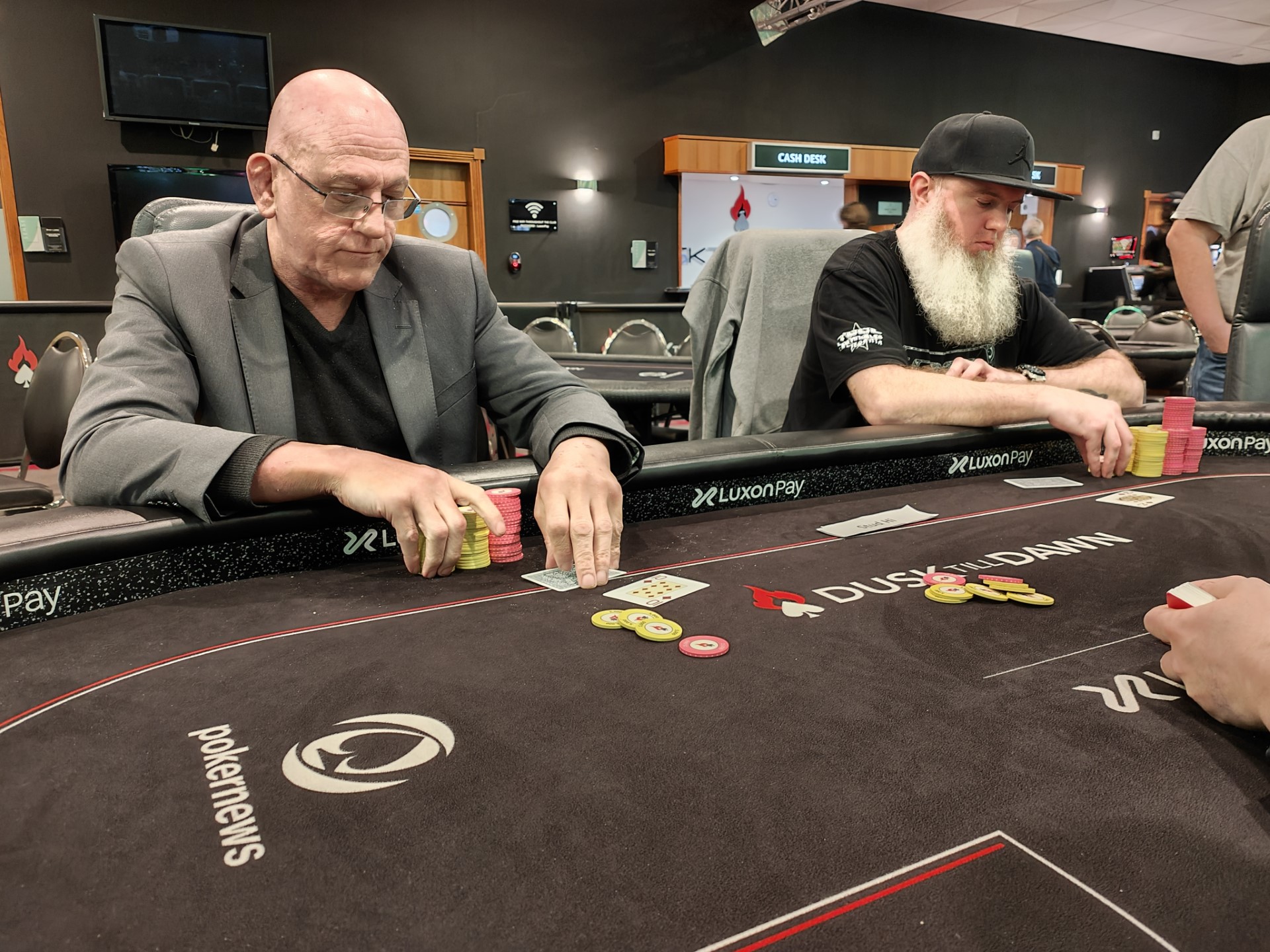 Though with Simon at a huge chip disadvantage it was a short lived Heads Up as he picked up 2nd spot, £635 and this time a Championship Silver Medal.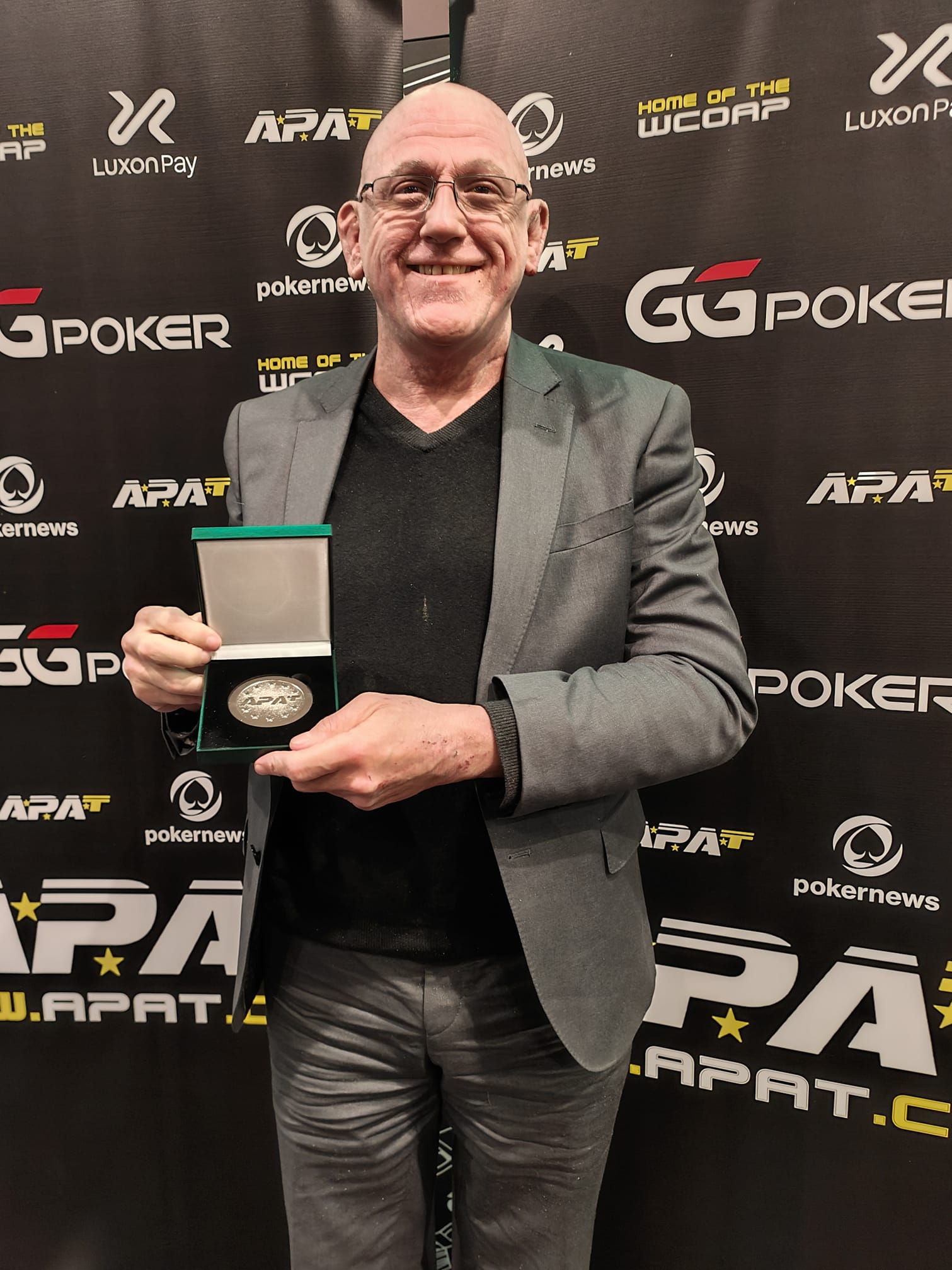 And huge congratulations to
Gary JOHNSON UK Triple Stud Champion
£955 and Championship Gold Medal
Still a full schedule of events over the weekend of UKCOAP action at DTD
UKCOAP Schedule of Events Fri - Sun
| Date | Start | LR End | Event | Buy-in | Format | Stack | Clock |
| --- | --- | --- | --- | --- | --- | --- | --- |
| Fri 19 May | 17:00 | 21:30 | APAT High Roller | £300 + £40 | 1RE | 150k | 30 min |
| | 18:00 | 21:35 | APAT UK Amateur Poker Championship (Day 1B) £50,000 GTD | £100 + £20 | Daily Freezeout | 100k | 25 min |
| | 19:00 | 21:20 | APAT UK HORSE Amateur Poker Championship | £100+£20 | Freezeout | 50k | 25 min |
| Sat 20 May | 13:00 | 16:35 | APAT UK Amateur Poker Championship (Day 1C) £50,000 GTD | £100 + £20 | Daily Freezeout | 100k | 25 min |
| | 13:00 | 15:20 | APAT ROE (NLHE/PLO) Amateur Poker Championship | £50+£10 | Freezeout | 100k | 25 min |
| | 17:00 | 20:35 | APAT UK Amateur Poker Championship (Day 1D) £50,000 GTD | £100 + £20 | Daily Freezeout | 100k | 25 min |
| | 20:00 | 22:15 | WPT SATELLITE | £56 + £9 | RE | 20k | 15 min |
| Sun 21 May | 13:00 | - | APAT UK Amateur Poker Championship (Day 2/FT) | - | - | - | 40 min |
| | 14:00 | 16:20 | APAT UK Bounty Hunter Championship | £50+£50+£20 | Freezeout | 50k | 25 min |
| | 17:00 | 19:15 | APAT Deep and Steep | £50+£10 | RE | 50k | 15 min |
| | 19:00 | 21:15 | WPT SATELLITE | £56+£9 | RE | 20k | 15 min |
Tom Brady
APAT Operations Director
Live Events & Tour
Email: tombrady[at]hotmail.co.uk
Facebook: https://www.facebook.com/TomBrady65/
WhatsApp: 07957 977 057