UKCOAP – Rich Baker takes biggest portion of the dough
A £50k Guaranteed Main Event, a Bounty Hunter and a NLHE Deep & Steep crowned off 5 days of action at the UK Championship of Amateur Poker at DTD.
In the £50k GTD Main Event, following an Online Day 1 and 4 live Day 1's in DTD, 72 qualifiers progressed into Day 2 on Sunday with a min cash of £200 locked up – and first to pick up that min cash was Anthony Harrison as he departed during the first level of the day.
Although on a 40 min clock, the field reduced swiftly to 30 at the first break, and 15 by the second break of the day before reaching a Final Table 9.
UKCOAP Main Event Final Table
In the Medals and with an average stack of 32 Big Blinds playing 250k/500k, Richard Baker gets out of the way on the Button, David Collier raises it and Tahir Ahmed calls – Flop comes Qc Jc 8c and David leads out for 1.5m with Tahir then re-shoving All In and David making the call.
David Ah Ac for over pair and nut flush draw
Tahir 9s 10h for the flopped straight
Turn 3h and then a River 6c to give David the nut flush and we have our Bronze Medalist – Tahir Ahmed, also taking home £3,000 cash.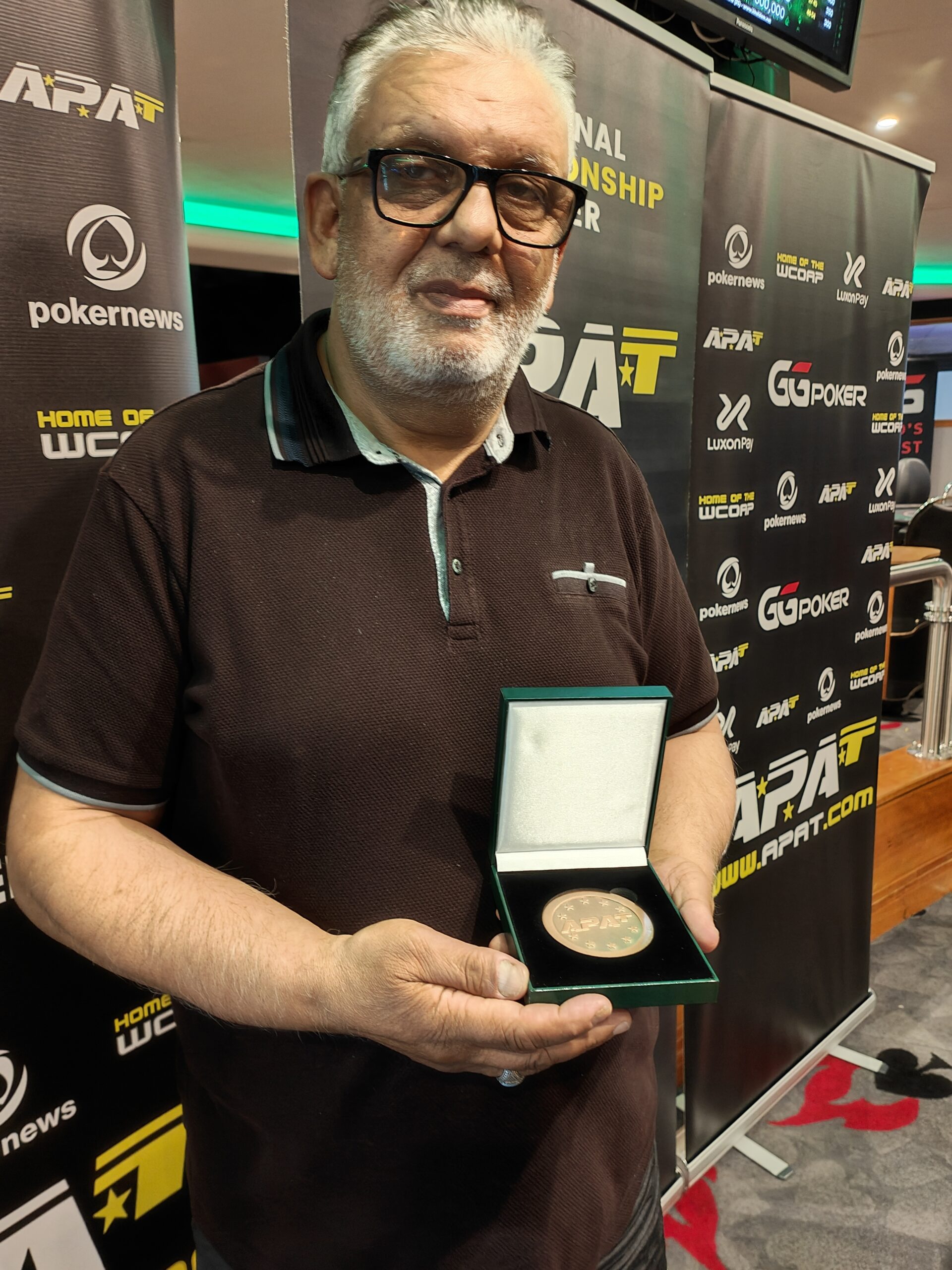 20 minutes of Heads Up action followed between Richard and David, and with David holding a chip advantage we saw a flop of 9d 8d 7s with David betting and Richard calling to see a Ks Turn – Richard takes the pot having bet into David's Check.
Pre-flop Richard raised to 2.5m and on a flop of 6h Jd 6s David bets 4m and we see a Turn 10c, David is All In after Richard Checks – and Richard makes the call – David shows 10d 7h for 2nd pair against Richard holding Kc 10s for the same, but with his Kc currently playing – River 3d and Richard holds and after a count David ships over xxx to Richard who now has a huge chip lead – David with about 2m of the 47m chips in play.
Next hand, 300k/600k and Richard raises and David makes the move over the line.
Richard Kh Kd
David Kc 8h
Board 6h 3c 7s 4d 9h
And we have a conclusion, with David Collier bagging £4,750 and taking home the Championship Silver Medal.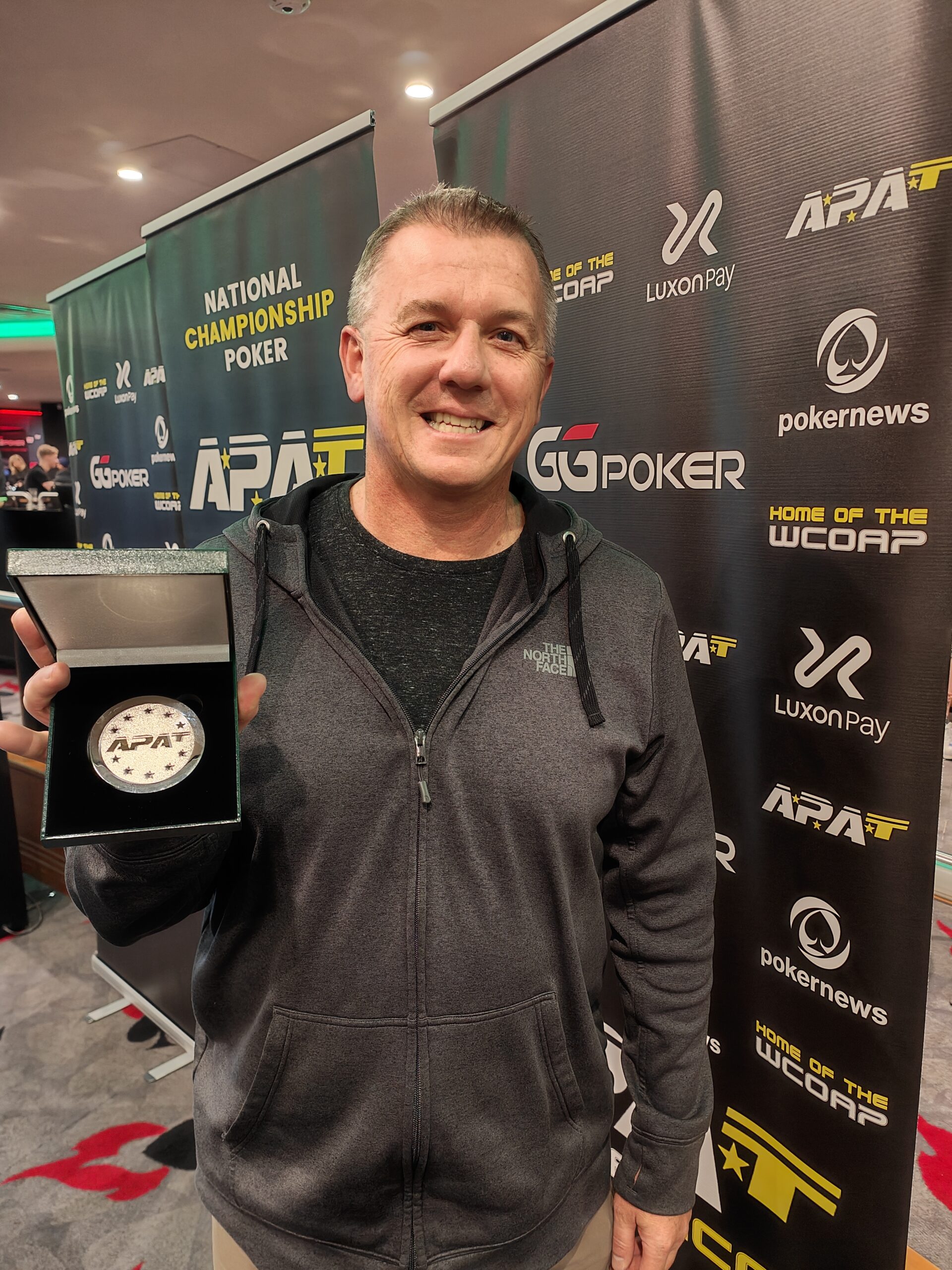 And we crown Rich Baker as he takes home the biggest portion of the dough.
Richard Baker
UK Amateur Poker Champion
Championship Gold Medal and £7,500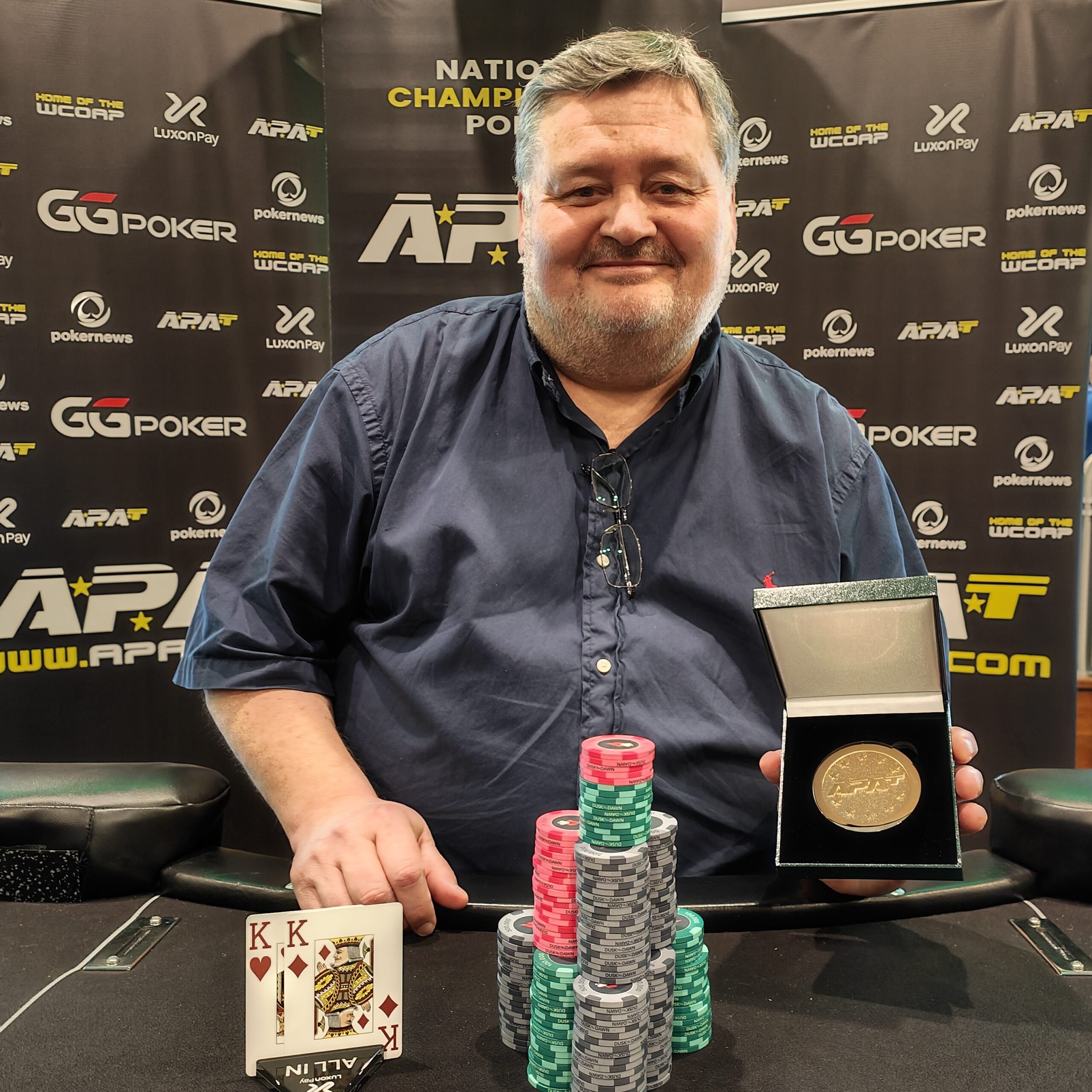 | | | |
| --- | --- | --- |
| Position | Name | Prize |
| 1 | BAKER RICHARD | £7,500 |
| 2 | COLLIER DAVID | £4,750 |
| 3 | AHMED TAHIR | £3,000 |
| 4 | BURKUS ZSOLT | £2,400 |
| 5 | OWSTON DAN | £2,000 |
| 6 | BRINDLEY WARWICK | £1,700 |
| 7 | BURNHILL BEN | £1,500 |
| 8 | GUPTA GAURAV | £1,300 |
| 9 | SIMPSON MICHAEL | £1,100 |
| 10 | Anon | £900 |
| 11 | WISZOWATY MARIUSZ | £900 |
| 12 | DICKSON ASHLEY | £900 |
| 13 | SNELL SEAN | £750 |
| 14 | ROGERS ANTONY | £750 |
| 15 | IWANIAK LINDA | £750 |
| 16 | JOSS ROBERT | £600 |
| 17 | TUXWORTH ANDREW | £600 |
| 18 | GULAMHUSSEIN SHOIB | £600 |
| 19 | O'connor MARK | £500 |
| 20 | CRAW PETER | £500 |
| 21 | HOWARD GARETH | £500 |
| 22 | FARRELL DIANE | £500 |
| 23 | UNDERWOOD STUART | £500 |
| 24 | MCGUIRE DAVID | £500 |
| 25 | KING ANDREA | £500 |
| 26 | PEARSON SARAH | £500 |
| 27 | HEARNE LIAM | £500 |
| 28 | PARSA BAKTASH | £400 |
| 29 | HIBBERD CHRISTOPHER | £400 |
| 30 | THORPE PETER | £400 |
| 31 | NOWROOZI HENRIK | £400 |
| 32 | BENNETT ROSS | £400 |
| 33 | LOVELOCK ADRIAN | £400 |
| 34 | STOKES MARK | £400 |
| 35 | GASCOINE MICHELLE | £400 |
| 36 | JOHNSON ARTHUR | £400 |
| 37 | THAXTON SIMON | £350 |
| 38 | CHILLMAID JOANNA | £350 |
| 39 | ARNOTT COLIN | £350 |
| 40 | BOOTH SIMON | £350 |
| 41 | REZA SYED ADNAN | £350 |
| 42 | CHAPLIN TRISTAN | £350 |
| 43 | WALTERS MARK | £350 |
| 44 | SKITT MICHAEL JOHN | £350 |
| 45 | DOBRITA PAVEL STEFAN | £350 |
| 46 | KOFINA VASIL | £300 |
| 47 | SAKLANE MOHAMMED | £300 |
| 48 | Anon | £300 |
| 49 | KULOTHUNGAN ABISHEK | £300 |
| 50 | JAFARI SAYED | £300 |
| 51 | ABDULLAH ASHIQ | £300 |
| 52 | WAKEFIELD MARK | £300 |
| 53 | STRANGE DANNY | £300 |
| 54 | JACKSON GARY | £300 |
| 55 | WORKMAN ANDREW | £250 |
| 56 | WIGGLESWORTH PETER | £250 |
| 57 | MURRAY JOHN | £250 |
| 58 | HART LUKE WILLIAM | £250 |
| 59 | BAILESS ANDREW | £250 |
| 60 | HOPKIN SEAN | £250 |
| 61 | SANT EMMANUEL | £250 |
| 62 | FREW STEVEN | £250 |
| 63 | HEWLITT ROBERT | £250 |
| 64 | MASTERS SETH | £200 |
| 65 | ABBASSI RAMAZANALI | £200 |
| 66 | SHANNON BEN | £200 |
| 67 | TIMOTHEOU TIMOTHEOS | £200 |
| 68 | HAYCOCK PAUL | £200 |
| 69 | SHAH VIKESH | £200 |
| 70 | ROGERS TRISTAN | £200 |
| 71 | TRAVISS TOBY | £200 |
| 72 | HARRISON ANTHONY | £200 |
Elsewhere, we saw a conclusion to the NLHE Deep & Steep
| | | |
| --- | --- | --- |
| Position | Name | Prize |
| 1 | Ben Whitaker | £1,365 |
| 2 | Neil Gilchrist | £1,080 |
| 3 | Jake Marsden | £950 |
| 4 | Anonymous | £465 |
| 5 | Mike Teague | £355 |
| 6 | Gary Jackson | £255 |
| 7 | Tristan Chaplin | £205 |
| 8 | Anonymous | £155 |
| 9 | Vincent Novotny | £130 |
| 10 | Tabish Zaman | £105 |
| 11 | Amjad Mohammed | £105 |
And concluding the UKCOAP we had a Final Table 9 in the Bounty Championship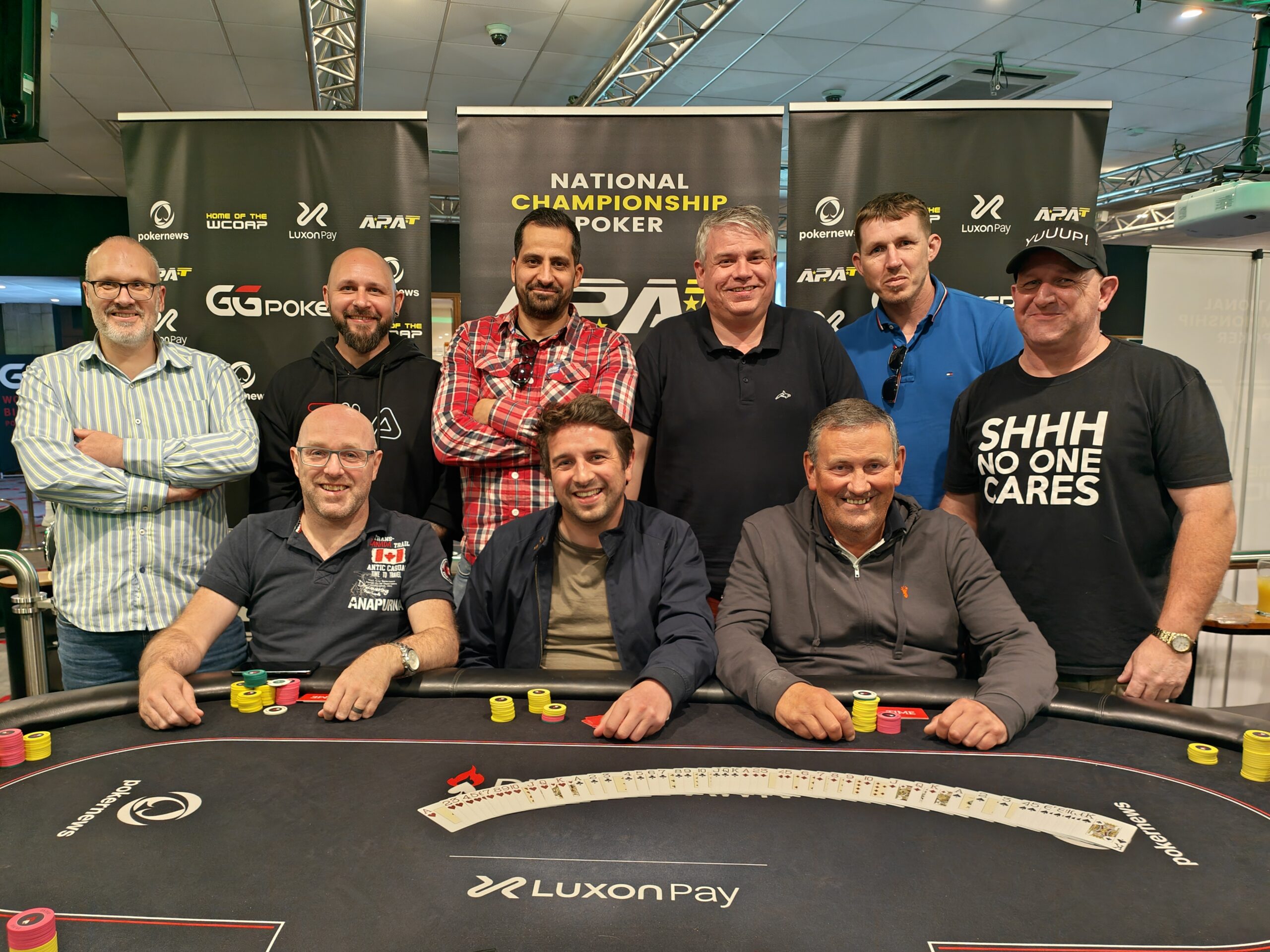 | | | |
| --- | --- | --- |
| Position | Name | Prize |
| 1 | Mark Arkley | £1,880 |
| 2 | Paulius Jocius | £1,220 |
| 3 | Pavel Stefan Dobrita | £725 |
| 4 | Thomas Bult | £520 |
| 5 | James Morris | £375 |
| 6 | Jack Smith | £290 |
| 7 | Ian Gordon Thompson | £230 |
| 8 | Dominic Owen | £175 |
| 9 | Anonymous | £145 |
| 10 | Andrew Papageorgiou | £120 |
| 11 | Anonymous | £120 |
UKCOAP Bounty Bronze Medal – Pavel Dobrita (£725)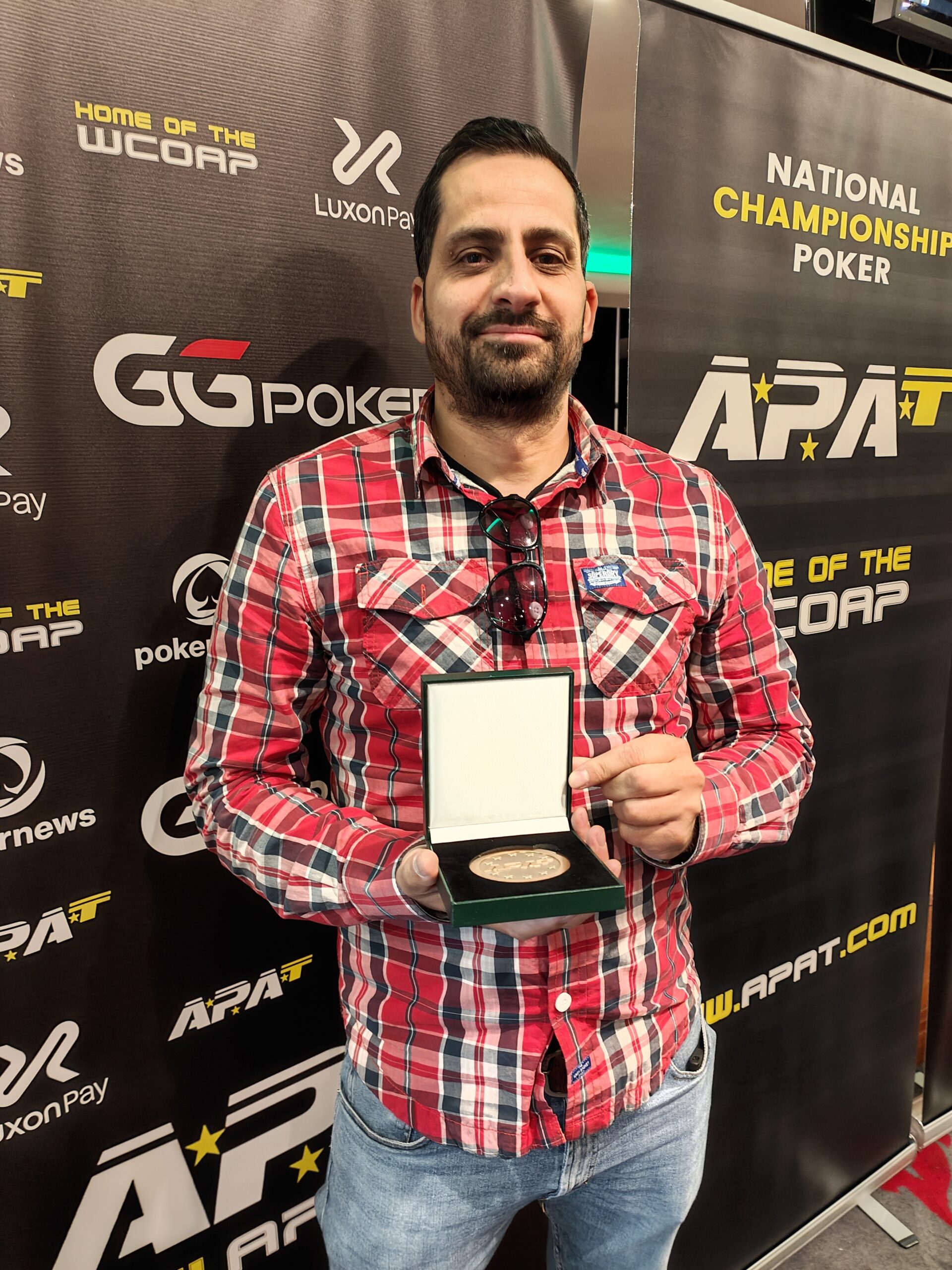 UKCOAP Bounty Silver Medal – Paulius Jocius (£1,220)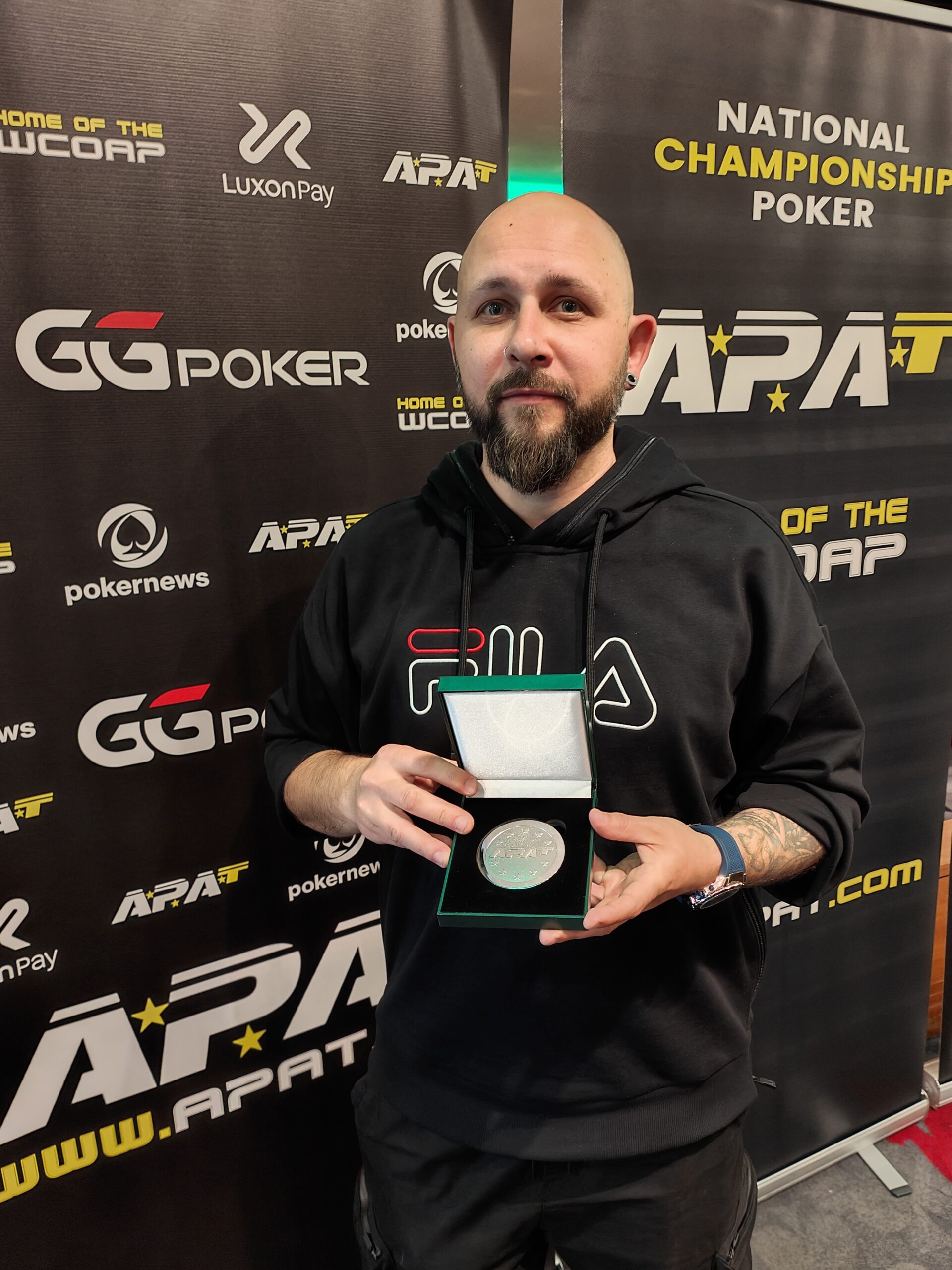 Mark Arkley
UK BOUNTY Amateur Poker Champion
Championship Gold Medal & £1,880 & 10 Bounties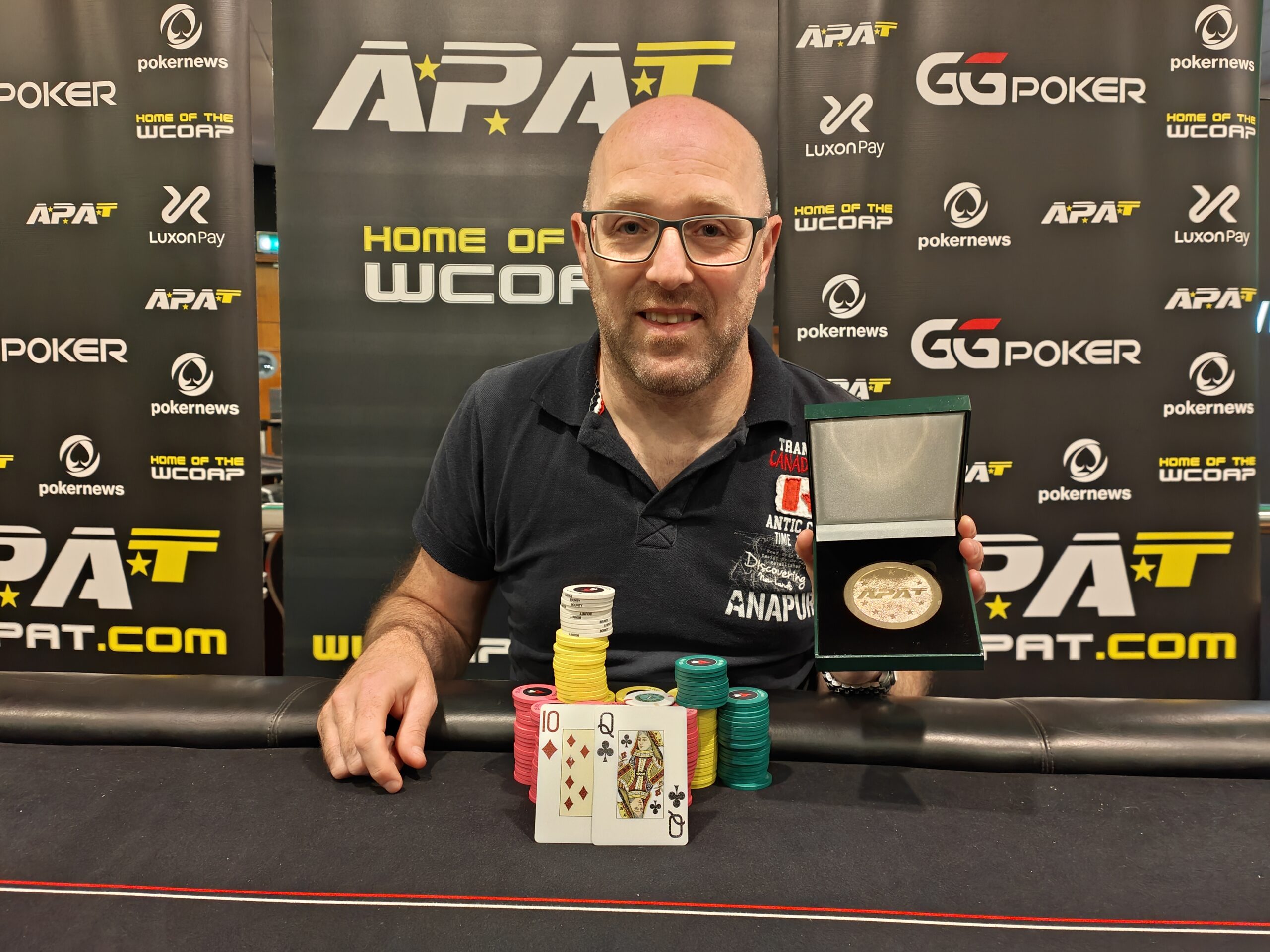 Tom Brady
APAT Operations Director
Live Events & Tour
Email: tombrady[at]hotmail.co.uk
Facebook: https://www.facebook.com/TomBrady65/
WhatsApp: 07957 977 057