Scotsman Chris Ralston can forever call himself the 2023 Amateur Poker Association & Tour (APAT) World Champion after he took down the £180 World Championship Of Amateur Poker (WCOAP) Main Event at Dusk Till Dawn. Ralston heads back north of the border with a coveted WCOAP bracelet plus a bankroll-boosting £15,000.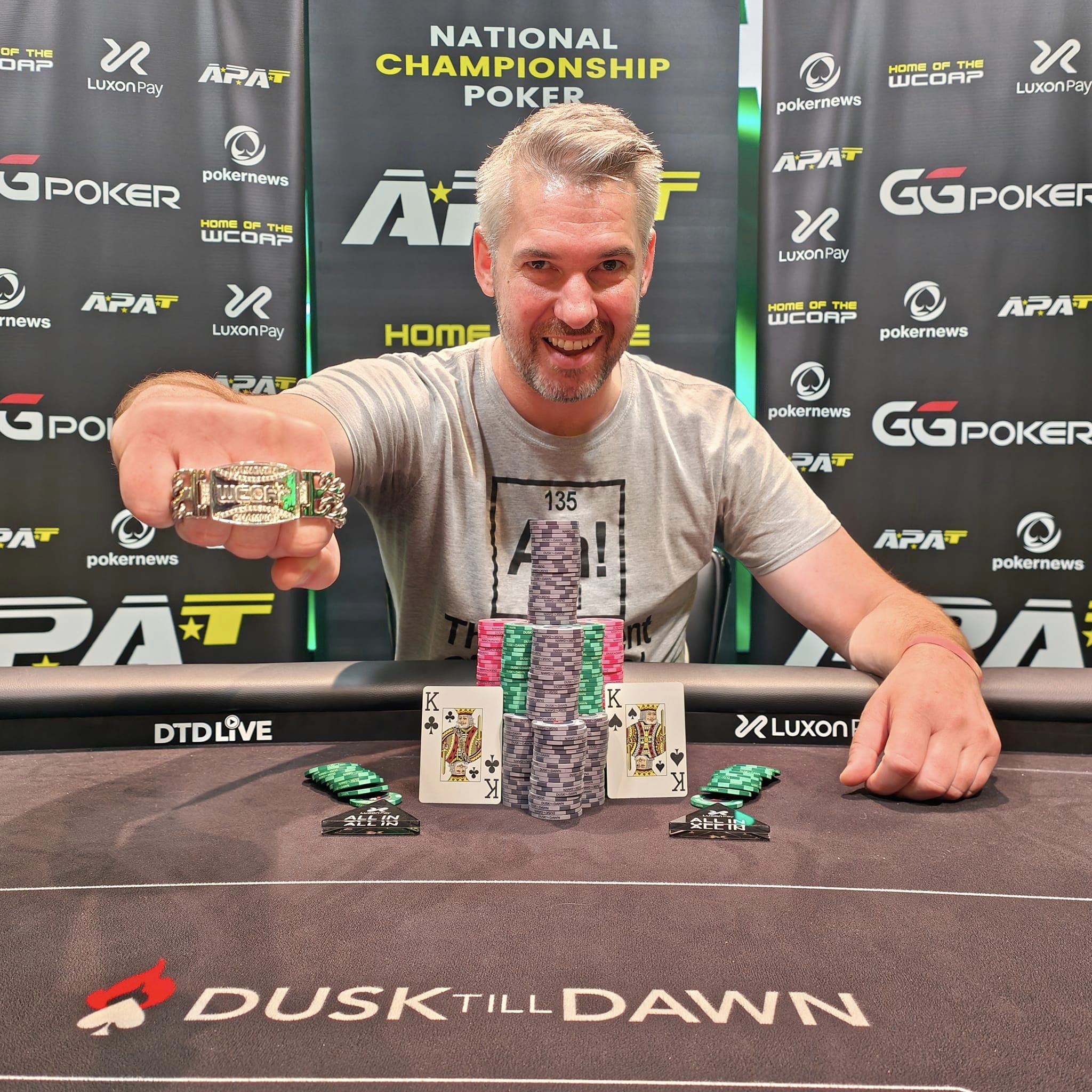 Report courtesy of Matt Pitt at Pokernews
A bumper crowd of 696 entrants created a £104,400 prize pool that the top 103 finishers shared. A min-cash weighed in at £300, with a top 18 finish resulting in a four-figure sum. Anyone reaching the final table secured at least £2,000 for their efforts.
2023 WCOAP Main Event Final Table Results
| Rank | Player | Prize |
| --- | --- | --- |
| 1 | Chris Ralston | £15,000 |
| 2 | James Martin | £10,000 |
| 3 | Elliot Crowder | £7,000 |
| 4 | Matthew Newman | £5,000 |
| 5 | David Amos | £4,100 |
| 6 | Steven Frew | £3,500 |
| 7 | Anonymous | £3,000 |
| 8 | Neil Wyatt | £2,500 |
| 9 | Garry Spinks | £2,000 |
Garry Spinks was the second-shortest stack at the start of the final table's action, but he was the first out of door. Start-of-the-day short-stack Neil Wyatt joined Spinks at the Dusk Till Dawn cashier desk before an anonymous player fell by the wayside, leaving only six players in the hunt for the title of champion.
Steven Frew bowed out in sixth for £3,500, with long-time APATer David Amos finding himself void of chips, and finishing in fifth for £4,100. Amos is a hugely popular APAT member, one who tirelessly raises money and awareness for the Young Lives vs Cancer charity, a charitable organisation who Amos donates 10% of his poker winnings to.
Matthew Newman fell in fourth for £5,000, bursting the all-important medal bubble. Elliot Crowder finished in third for a bronze medal plus £7,000, and James Martin in second for £10,000 and a silver medal, after a incredible final hand.
Ralston opened on the button, a short-stacked Crowder moved all-in from the small blind, only for Martin to move all-in. Ralston snap-called, covering both opponents by some margin, and turned over pocket kings. Crowder showed four-trey suits, while Martin could only muster pocket eights. Ralston improved to a full house on the turn, and became the 2023 WCOAP Main Event champion, an accolade that came with £15,000 in prize money plus a WCOAP bracelet.
2023 APAT WCOAP Results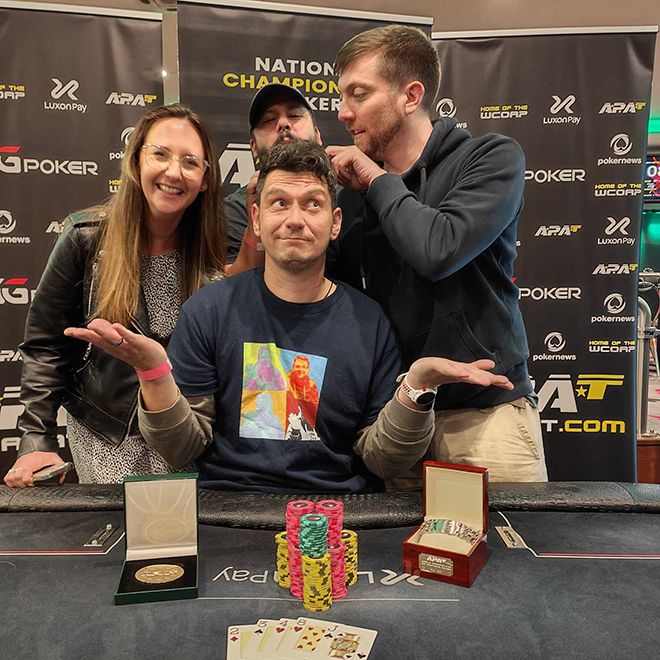 Twenty-two other WCOAP events crowned their champions over the course of the festival, including a gold medal for PokerNews' own Daniel Williams.
Williams bought into the Pot-Limit Omaha 4/5/6 Card event, and bulldozed his way through a talented final table line-up to scoop £2,450 and the aforementioned gold medal. You have likely interacted with Williams if you are member of the PokerNews Discord channel – if you're not, why not? – or are a regular at APAT events or on the APAT Facebook page.
Aside from the Main Event winner and runner-up, Javed Akhtar was the biggest winner of the WCOAP, courtesy of securing a £9,360 payout by triumphing in the £340 buy-in High Roller championship.
In the more unique tournaments, Team England came out on top in the International Teams event, leaving Team Wales and Team Germany to collect second and third place, respectively. PokerNews stated Team England looked strong, and they lived up to the hype, making up for a runner-up finish at the 2022 WCOAP.
There was also an impressive victory for Valerie Bennett and Mark Radford in the £60 NLHE Tag Team Championship. Bennett and Radford each banked £880 and some poker gold after defeating the tag team of Nicholas Crossfield and Gary Lipman heads-up.
| Event | Buy-in | Entrants | Prize Pool | Champion | Prize |
| --- | --- | --- | --- | --- | --- |
| High Roller Championship | £340 | 104 | £31,200 | Javed Akhtar | £9,360 |
| NLHE 6-Max | £120 | 112 | £11,200 | Sean Lliffe | £3,250 |
| PLO8 Championship | £120 | 98 | £9,800 | Grzegorz Staniszewski | £2,945 |
| 8-Game Championship | £120 | 81 | £8,100 | Michael Perry | £2,750 |
| Win The Button Championship | £120 | 83 | £8,300 | Grace Smith | £2,695 |
| PLO 4/5/6 Championship | £120 | 72 | £7,200 | Daniel Williams | £2,450 |
| International Teams MTT | 120 | 48 | £4,800 | Team England | £2,400 |
| Bounty Championship | £120 | 173 | £17,300 | Andrzej Ciesielski | £2,335 |
| H.O.R.S.E. Championship | £120 | 68 | £6,800 | Chris Cooper | £2,315 |
| NLHE 8-Max Championship | £60 | 119 | £5,950 | Quentin Kwan | £1,655 |
| NLHE/PLO ROE Championship | £60 | 107 | £5,350 | Anonymous | £1,600 |
| PLO/PLO8 ROE Championship | £60 | 99 | £4,950 | Danny Strange | £1,600 |
| Pineapple Championship | £60 | 104 | £5,200 | Nicholas Crossfield | £1,555 |
| PLO Championhip | £60 | 87 | £4,350 | Scott Genever | £1,410 |
| NLHE Turbo Championship | £60 | 86 | £4,300 | Daniel Turner | £1,395 |
| 2-7 Triple Draw Championship | £60 | 65 | £3,250 | Ashley Squirrell | £1,370 |
| NLHE Shootout Championship | £60 | 72 | £3,600 | Dean Pearson | £1,260 |
| Mix Max Championship | £60 | 74 | £3,700 | Tariq Mahmood | £1,260 |
| NLHE Ante Only Championship | £60 | 65 | £3,250 | Anonymous | £1,165 |
| Razz Championship | £60 | 61 | £3,050 | Stefan Roder | £1,100 |
| Aviation NLHE (4 Card) | £60 | 63 | £3,150 | Neil Gilchrist | £1,100 |
| NLHE Tag Championship | £60 | 47 | £4,700 | Mark Radford and Valerie Bennett | £880×2 |